Archive: January, 2010
Matt Gelb, Inquirer Staff Writer
Jimmy Rollins and his traveling party that are in the Cayman Islands for Rollins' wedding on Saturday are safe after an earthquake shook the islands on Tuesday.
A Phillies spokesman said the team has been in contact with Rollins and said everyone is safe. A 5.8-magnitude earthquake struck off the Cayman Islands, the U.S. Geological Survey said. No injuries or damage have been reported yet.
Rollins will wed his longtime girlfriend, Johari Smith, on Saturday. A handful of teammates were expected to join him for the ceremony but have not yet arrived.
Matt Gelb, Inquirer Staff Writer
The Phillies officially announced their agreement with reliever Chad Durbin, avoiding arbitration with a one-year, $2.125 million contract. The deal was first reported late Monday night on the team's official Web site.
Three arbitration-eligible players remain unsigned -- Shane Victorino, Carlos Ruiz and Joe Blanton. The soft deadline to sign them is noon today. If there isn't a deal before then, both sides will exchange salary figures. That process is designed to speed up negotiations. The two sides then have until the end of the month to reach an agreement before the case goes to arbitration.
We'll have a better idea of where the Phillies stand with all three players in a short time -- barring a last-minute deal to avoid the exchange of numbers.
Matt Gelb, Inquirer Staff Writer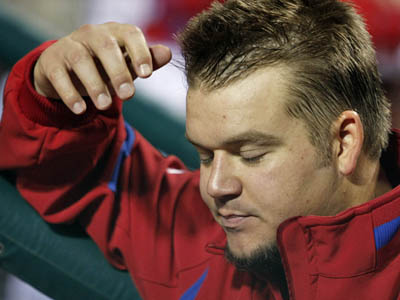 Matt Gelb still here while Andy enjoys some vacation...
The headlining news from players and teams exchanging arbitration figures on Tuesday centered mostly around San Francisco ace Tim Lincecum. The two-time Cy Young award winner is seeking $13 million. The Giants are offering $8 million.
Lincecum is looking to surpass the record for highest salary ever awarded in arbitration -- $10 million.
Matt Gelb, Inquirer Staff Writer
As expected, the four Phillies players -- Shane Victorino, Joe Blanton, Carlos Ruiz and Chad Durbin -- eligible for arbitration, filed before Friday night's midnight deadline.
This step is a mere formality in the process. On Tuesday, the two sides will exchange salary figures and if an agreement cannot be reached before Feb. 1, the case can go to an arbitrator. But that's unlikely considering the Phillies' usual willingness to avoid the hearing and settle with its players. Last season, the team settled with all 10 of its players who filed for arbitration before the cases could be heard.
Blanton and Durbin will both be free agents after the 2010 season. Victorino is one after the 2011 season. For Ruiz, this is his first season eligible for arbitration.
Matt Gelb, Inquirer Staff Writer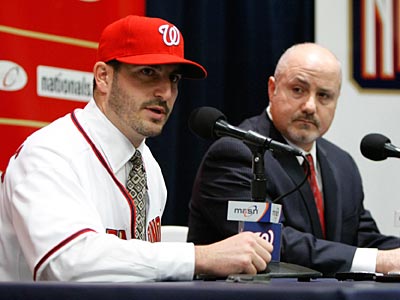 Matt Gelb here, still with the keys while Andy's on vacation. Over the course of this week, we will analyze what the rest of the NL East has done this offseason in an attempt to knock the Phillies off their three-year perch atop the division. The teams have made most of their moves, so we'll take a look at where they stand leading up to spring training.

Tuesday -- Atlanta Braves
Wednesday -- New York Mets
Thursday -- Florida Marlins
Friday -- Washington Nationals

2009 record: (59-103, 5th place, 34 GB -- 710 runs scored, 874 runs allowed)

Last season in 140 characters or less: Another season, another last-place finish. Scandals cost the GM his job; losing forced the manager out. They even misspelled the jerseys.

In with the new: 2B Eric Bruntlett, 1B Josh Whitesell, LHP Eddie Guardado, RHP Jason Marquis, C Jamie Burke, RHP Joel Peralta, C Ivan Rodriguez, RHP Ryan Speier, RHP Brian Bruney, RHP Matt Capps

Out with the old: RF Austin Kearns, 1B Dmitri Young, LHP Ron Villone, C Josh Bard, RHP Livan Hernandez, RHP Mike MacDougal, RHP Saul Rivera

Biggest move: Dec. 22, 2009 -- Signed RHP Jason Marquis

Marquis is about as average as they come. The Nationals know what to expect: about 200 innings of 4.50 ERA pitching. So why is this such a big deal? Well, only one pitcher -- John Lannan went over 200 innings last year. The next closest was Craig Stammen, with 105 2/3 innings. Washington has a young pitching staff and an innings-eater is what the team needs. Not to say Marquis can't be more than that -- he did win 15 games last year for Colorado with a 4.04 ERA. It was arguably his best season since 2004, when he went 15-7 for St. Louis. Marquis should bring stability to a young rotation and at least set an example for future free agents in deciding to go to the Nationals. Plenty of other contending teams were interested in Marquis' services, but he chose Washington, which offered him a two-year, $15 million contract.

Underrated move: Jan. 6 -- Signed RHP Matt Capps

Last season, the Nationals' bullpen had the worst ERA in the National League and it wasn't even close. Washington's relievers compiled a 5.09 ERA -- the next worst was Pittsburgh, with a 4.61 ERA. So Washington went out and signed Pittsburgh's closer, MacDougal it's not a huge upgrade, but consider who the Nationals used to close last season, as ranked by saves: Mike MacDougal (20), Joel Hanrahan (5), Jorge Sosa (2), Kip Wells (2), Logan Kensing (1), Julian Tavarez (1), Joe Biemel (1), Ron Villone (1). Along the way, the Nationals blew 25 saves. (Yes, three more than the Phillies.) Capps had a 5.80 ERA last season along with his 27 saves. Not pretty. But he has had success before. And the Nationals will count on Capps along with Brian Bruney, who was acquired in a trade with the Yankees, to overhaul the back of the bullpen.

Riskiest move: Dec. 11, 2009 -- Signed C Ivan Rodriguez

By definition, the risk was inherently low in this signing because the Nationals will pay Rodriguez $6 million. But they did sign a 38-year-old catcher to a two-year, $6 million deal. The risk is that because of the money owed to Rodriguez, a future Hall of Famer, the team could feel obligated to play him behind the plate instead of Jesus Flores. Flores, the 25-year-old catcher, missed most of last season with a stress fracture in his shoulder. But the former Mets prospect has shown a lot of promise early in his career. And Rodriguez, who spent time with both the Astros and Rangers last season, is steadily declining (just as you'd expect a 38-year-old catcher to). Rodriguez hit .249 with 10 home runs and 47 RBI last season. His .663 OPS was his lowest since 1992. Sure, Rodriguez can become a fine mentor for Flores. But if he blocks the better player from playing, that's an issue.

Projected starters:

C Ivan Rodriguez -- Pudge is 38 and there can't be much left in the tank. He had a .663 OPS for Houston and Texas in 2009.
1B Adam Dunn -- He'll be asked to play first base full time for the first time in his career. He hit 38 home runs with 105 RBI in 2009.
2B Christian Guzman -- Last season, he showed the lack of plate discipline that haunted him in Minnesota.
3B Ryan Zimmerman -- The unquestioned face of the team rebounded from an ugly 2008 with a career-best .292 average and 33 home runs.
SS Ian Desmond -- If the Nats sign Orlando Hudson to play second, Guzman could move back to short, pushing Desmond to the bench.
LF Josh Willingham -- Quietly bashed 24 home runs last season and posted a career-high .863 OPS.
CF Nyjer Morgan -- In 49 games with the Nats after a midseason trade, he hit .351 and won over a lot of fans.
RF Elijah Dukes -- Can he put his troubled past behind him? Dukes has always shown promise. Time is running out.

Projected rotation:

LHP John Lannan -- He's the 25-year-old ace for Washington. Lannan isn't a strikeout pitcher but he's had an ERA under 4.00 the last two seasons.
RHP Jason Marquis -- Marquis is the epitome of an innings-eater, something the Nats need to preserve some of the younger arms.
LHP Scott Olsen -- It was a lost season for Olsen, who started just 11 games before shoulder surgery. But the Nats wanted him back.
RHP Stephen Strasburg -- Let's go out on a limb and say the phenom has a good enough spring to make the team.
RHP Craig Stammen -- This spot could be filled by a plethora of pitchers, including Ross Detwiler, Garrett Mock and Shairon Martis.

Key bullpen figures:

RHP Matt Capps -- The Nationals hope Capps can bring stability to the back of the bullpen that struggled mightily in 2009.
RHP Brian Bruney -- He fell into Joe Girardi's doghouse in New York, but a fresh start could do Bruney well.
RHP Tyler Clippard -- Converted to a reliever last season, Clippard allowed just 36 hits in 60 1/3 innings.
RHP Sean Burnett -- He didn't pitch for three seasons in the majors, but Burnett has thrived in his new role as a middle reliever.

The Skinny: On paper, this team is better than last season. The pitching staff has improved and the back end of the bullpen should blow considerably fewer games. But the Nationals are a long way from even being close to competing. Signing some free agents coveted by other teams is a start, but some of the prospects will have to start coming through. That begins and ends with Strasburg, who has the highest expectations of any prospect ever.
Matt Gelb, Inquirer Staff Writer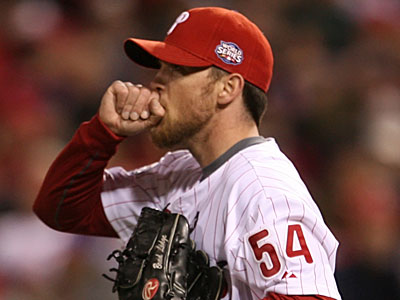 Matt Gelb here, still with the keys while Andy's on vacation...

Just got off the phone with Rex Gary, who represents Phillies closer Brad Lidge, and he said Lidge is feeling "great" after arthroscopic knee surgery on Wednesday.

"There's every reason to expect this procedure took care of what was bothering him in his knee," Gary said. "It was relatively minor."

Gary said the pain in the right knee, which caused Lidge to spend a stint on the disabled list during the season, only became a problem again in recent weeks during Lidge's offseason workouts.

"It flared up on him this offseason," Gary said. "It was increasingly affecting his workouts to a point where he, along with the Phillies, decided it should get checked out. It was increasing discomfort. They brought him in quickly, took a look at him, and the procedure was relatively simple and relatively minor. They cleaned it out a little bit. There were some fragments causing his discomfort. The end result is that everyone is pretty upbeat."

Gary said Lidge will resume throwing in a week or two. Whether or not Lidge is healthy enough for Opening Day remains to be seen, but Gary said it wouldn't be the end of the world. The last time Lidge missed Opening Day, in 2008, he had one of the greatest seasons for a relief pitcher ever.

"Ideally, in a perfect world, he's ready for Opening Day," Gary said. "But he had a pretty good season two years ago when his season started a few weeks late."
Matt Gelb, Inquirer Staff Writer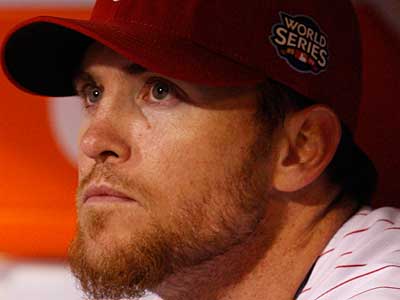 Phillies closer Brad Lidge could miss Opening Day after he underwent arthroscopic surgery on his right knee on Wednesday, his second operation this offseason.

Lidge, who spent time on the disabled list during the season because of pain in the knee, should begin a throwing program in 10 days, Phillies head athletic trainer Scott Sheridan said. The operation was performed by team physician Michael Ciccotti at the Rothman Institute at Thomas Jefferson University Hospital.

"We're not sure if he'll be ready by Opening Day, but we don't expect that he'll be too far behind," Sheridan said. "This surgery was not directly related to any previous surgeries."

A team spokesman said general manager Ruben Amaro Jr. was unavailable for comment because he was traveling.

Earlier in the offseason, Lidge had bone chips removed from his right elbow. Before the 2008 season, Lidge had two arthroscopic procedures on his right knee to repair a torn meniscus.

Wednesday's surgery was done to remove loose bodies and a portion of the meniscus, Sheridan said.
The Phillies now face the reality of what could be a makeshift bullpen to start the 2010 season. With Lidge and J.C. Romero (elbow surgery) still recovering from injury and unlikely to be on the Opening Day roster, along with the departures of Chan Ho Park and Scott Eyre, the relief corps will look very different.

Both Ryan Madson and newly acquired Danys Baez have experience closing games if Lidge isn't ready. Young lefties Antonio Bastardo and Sergio Escalona could have a clear path to making the roster. And hard-throwing Scott Mathieson, fresh off two Tommy John surgeries, could end up being a key piece.
If the Phillies choose to add another reliever before spring training, the market is dwindling. Two left-handed relievers -- D.J. Carrasco (Pirates) and Brian Shouse (Red Sox) -- signed minor-league deals on Wednesday.
Matt Gelb, Inquirer Staff Writer
Matt Gelb here, still with the keys while Andy's on vacation. Over the course of this week, we will analyze what the rest of the NL East has done this offseason in an attempt to knock the Phillies off their three-year perch atop the division. The teams have made most of their moves, so we'll take a look at where they stand leading up to spring training.

Tuesday -- Atlanta Braves
Wednesday -- New York Mets
Thursday -- Florida Marlins
Friday -- Washington Nationals

2009 record: (87-75, 2nd place, 6 GB -- 772 runs scored, 766 runs allowed)

Last season in 140 characters or less: Lowest payroll in the majors? So what. Florida stuck around until September with a ragtag bunch of rookies and overlooked players.

In with the new: LHP Hunter Jones, RHP Clay Hensley, SS Donnie Murphy, RHP Scott Strickland,

Out with the old: RHP Kiko Calero, 1B Nick Johnson, RF Jeremy Hermida, RHP Brendan Donnelly, 1B Ross Gload, Alfredo Amezaga, RHP Matt Lindstrom,

Biggest move: Not trading Dan Uggla

Uggla was the hot rumor all offseason. With the second baseman due a raise in arbitration this offseason, the Marlins wanted to deal him away. He was linked to various teams around the majors, but the Marlins had trouble finding an agreement they liked. Now, with the edict to spend more money from the Commissioner's Office, Uggla could very well be on the Marlins' Opening Day roster -- a possibility that seemed highly unlikely a few months ago. It's possible the Marlins agree to terms with Uggla on a one-year deal, have him start the season with the team and then try to move him again before the trade deadline. He has his faults, especially on defense, but Uggla hit 31 home runs and drove in 90 runs last season.

Underrated move: Nov. 5, 2009 -- Traded RF Jeremy Hermida to Boston Red Sox for LHP Hunter Jones and Jose Alvarez

The Marlins finally gave up on Hermida, the former first-round draft pick from 2002. Hermida never hit more than 18 home runs in a season or post an OPS above .870 in a full campaign. He struck out too many times and proved he wasn't an everyday player. So it's notable that the Marlins decided to cut ties with Hermida -- not so much for what they received in return, but for what it means in the current outfield. Cody Ross will likely shift to right field for good and Cameron Maybin will take over center field. Maybin, who was acquired in the Miguel Cabrera trade a few years back, started the 2009 with the Marlins before being demoted midseason. But he dominated triple-A and then hit .293 in September after his recall to the majors. He looks ready to play regularly.

Riskiest move: Playing hardball with Josh Johnson

He's the Florida ace, but it's time to pay Johnson and the Marlins are wavering. Johnson has two years of arbitration left, so he will definitely be a Marlin in 2010. But beyond that is shaky. The two sides have been negotiating all offseason and appear to be far apart. Johnson is reportedly looking for an extension similar to what Kansas City star Zack Greinke received last winter, a four-year $38.5 million deal. The Marlins have reportedly offered as much as three years and $22 million. If the two sides cannot agree to a contract this season, Johnson's agent said he will not consider signing a multi-year deal next offseason. At that point, Johnson could be one of the hottest commodities on the market and due some big-time cash. The Marlins don't spend, but this is one time where they should seriously consider it.

Projected starters:

C John Baker -- He started the majority of games and proved he could handle it. The Marlins will take a catcher with a .759 OPS.
1B Logan Morrison -- He's never played above double-A, but the Marlins believe he can win the starting job.
2B Dan Uggla -- It's been a contentious offseason for Uggla, who wants a raise. That meant the Marlins tried to trade him, to no avail.
3B Jorge Cantu -- Cantu played most of the time at first last year. Third base is his to lose after a 100-RBI season.
SS Hanley Ramirez -- He's one of the premiere players in the game. His steals (27) were down, but the batting average (.342) was way up.
LF Chris Coghlan -- The reigning rookie of the year, Coghlan has excellent plate discipline and is a good top-of-the-order guy.
CF Cameron Maybin -- The starting job is Maybin's, the 22-year-old phenom who struggled last season.
RF Cody Ross -- The pesky outfielder finished with 24 home runs and 90 RBI, both career highs. He strikes out a lot, though.

Projected rotation:

RHP Josh Johnson -- Is this his last season with the Marlins? When healthy, Johnson is one of the most dominant around.
RHP Ricky Nolasco -- The home runs became an issue for Nolasco, but he remains a good strikeout pitcher.
RHP Anibal Sanchez -- Durability is always the concern with Sanchez, who has never started more than 17 games in one season.
RHP Chris Volstad -- He'll need a good spring to secure this spot. Control is the problem for Volstad, who walked 3.3 batters per nine innings.
LHP Sean West -- The rotation is far from set in stone. The last two spots are up for grabs between Volstad, West, Rick VandenHurk, Andrew Miller and Hayden Penn.

Key bullpen figures:

RHP Leo Nunez -- He took over the closer's role midseason and saved 26 games after never having saved a game in his five-year career.
LHP Renyel Pinto -- Pinto struck out 58 batters in 61 innings but walked 45. That needs to improve.
LHP Dan Meyer -- Converted to a reliever full time, Meyer was impressive. His strikeout to walk ratio was 2.67.
RHP Brian Sanches -- Someone needs to step in and replace Calero and Lindstrom. Sanches, the former Phillie, could be the guy.

The Skinny: They don't spend much -- ever -- but the Marlins always find a way to compete. No, they have not made any notable additions whatsoever, but there is still a little bit of time to do so. And even if the Marlins don't make any moves, they have a decent enough offense and rotation to stay in the race. But is there enough talent to do more than just hang around?