Archive: September, 2012
Matt Gelb, Inquirer Staff Writer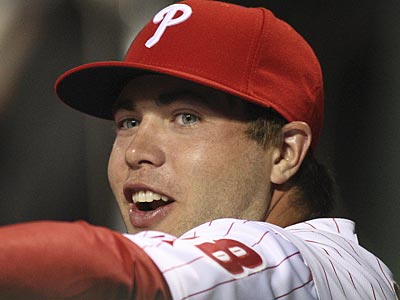 Darin Ruf will make his first major-league start in left field, a sign the Phillies are willing to use the final nine games of the season for experimentation rather than contention.
They trail St. Louis by 5 1/2 games, about as close to being mathematically eliminated without official. Any combination of four Cardinals wins and Phillies losses will do it.
Ruf has batted three times in 16 games since his recall from double-A Reading. His 38 homers made him the home-run king of the minors.
Matt Gelb, Inquirer Staff Writer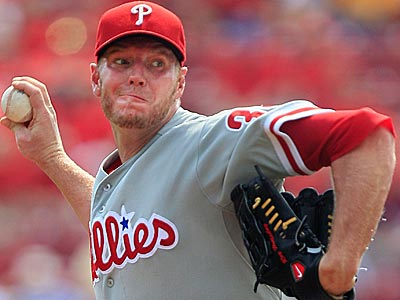 The Phillies have not internally discussed a shutdown for Roy Halladay, who is "in position" to make his next start, Ruben Amaro Jr. said Monday.
Amaro, the Phillies' GM, said all examinations of Halladay's shoulder and back have "seemed OK." He said Halladay, at this point, is scheduled to make his next start. That should come Thursday against Washington.
Halladay described his latest injury as "spasms" behind his shoulder. Amaro said it is "tightness in his mid-to-upper back."
Matt Gelb, Inquirer Staff Writer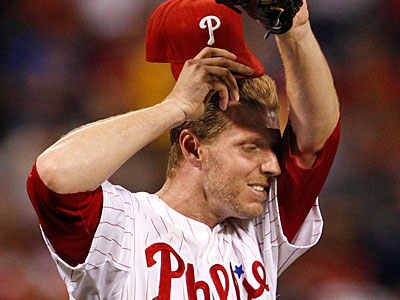 A day after Roy Halladay failed to finish two innings and revealed he had visited a doctor prior to his start, there was little clarity on the pitcher's status.
When asked what his rotation is following Monday's day off, pitching coach Rich Dubee said, "I don't know yet." The team's official game notes listed Cole Hamels as Tuesday's starter, Kyle Kendrick slotted for Wednesday and TBA on Thursday.
Tyler Cloyd's scheduled day is Wednesday, so the Phillies already made one shuffle by inserting Kendrick there. Cloyd could pitch Thursday, which is Halladay's next turn. Originally, while the Phillies were in contention and Halladay was healthy, skipping Cloyd was a likelihood.
Philly.com Sports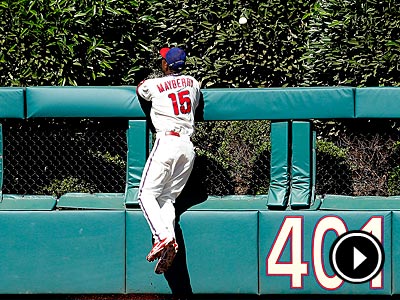 Video: Cliff Lee and the Phillies were edged by the Braves 2-1 in the finale of a three-game series on Sunday afternoon. The Inquirer's Matt Gelb breaks down the loss.
---
Have a question? Send it to Matt Gelb's Mailbag.
Matt Gelb, Inquirer Staff Writer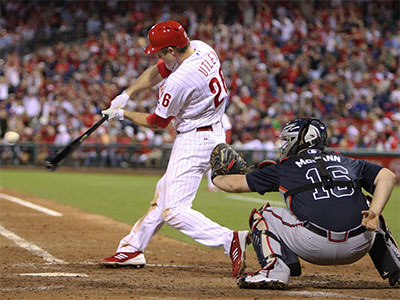 Even with a lefty on the mound, Charlie Manuel is using his go-to lineup as the Phillies seek their ninth straight win at Citizens Bank Park.
Ty Wigginton had started in left field the previous three times the Phillies opposed a lefty starter. Juan Pierre, riding a hot streak, keeps his place Saturday:
1. Jimmy Rollins 6
2. Juan Pierre 7
3. Chase Utley 4
4. Ryan Howard 3
5. Carlos Ruiz 2
6. John Mayberry Jr. 8
7. Domonic Brown 9
8. Kevin Frandsen 5
9. Roy Halladay 1
Marc Narducci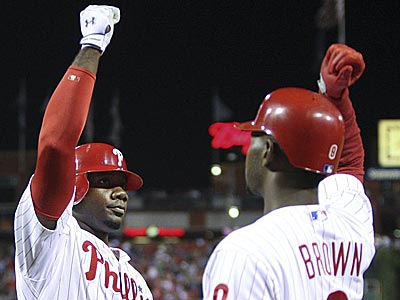 Ryan Howard said he kept a simple outlook as he and his Phillies teammates continued to grind things out when most had counted them out.
Not that the Phillies still don't have major work to do, but they are within three games of the St. Louis Cardinals for the second wild card spot with 11 to play after Friday's 6-2 win over the Atlanta Braves.
To be honest, not many, including this reporter, ever though that Phillies games entering the fourth week of September would have so much meaning. Howard insists he never bought into the talk of the Phillies demise.
Marc Narducci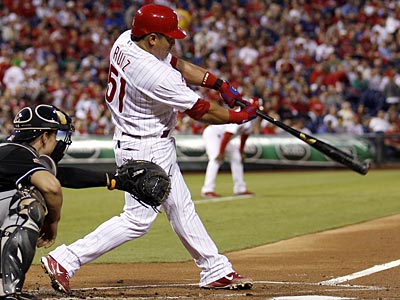 The Phillies begin their final home stand of the season, still alive for the second wild card spot, but with keen interest on the happenings of the St. Louis Cardinals.
Entering tonight's game at Citizens Bank Park against the Atlanta Braves, the Phillies were four games behind the Cardinals for the second wild card spot with 12 to play.
The Cardinals are playing this afternoon against the Chicago Cubs.
Matt Gelb, Inquirer Staff Writer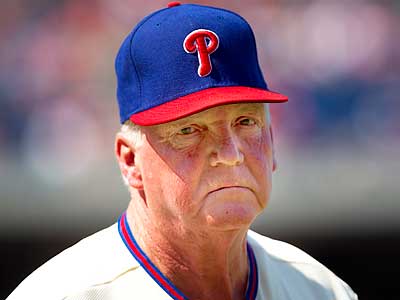 NEW YORK — The forecast was so dour Tuesday, the decision to postpone baseball came nearly three hours before scheduled first pitch.
So the Phillies and Mets will lose a day off Thursday and instead play a makeup game at 7:10 p.m.
The postponement actually means more favorable pitching matchups for the Phillies. They will keep Cole Hamels on Wednesday, his regularly scheduled day. He will oppose Mets rookie Matt Harvey.