Archive: August, 2012
Matt Gelb, Inquirer Staff Writer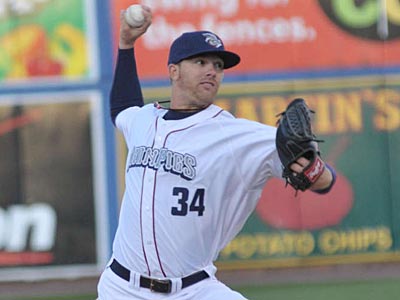 Tyler Cloyd was named the International League's most valuable pitcher, becoming the first Phillies minor-leaguer to win such honors since Brandon Duckworth in 2001.
Cloyd, 25, is 12-1 with a 2.35 ERA at triple-A Lehigh Valley. He leads the league with a 1.01 WHIP and his .210 batting average against ranked second best. Earlier in the season, he started at the triple-A all-star game.
He's done it all with pinpoint control and a fastball that rarely eclipses 90 m.p.h.
Philly.com Sports
Video: Cliff Lee earned his first home win of the season as the Phillies beat the Nationals 4-1 on Sunday. Charlie Manuel and Lee spoke after the win. The Inquirer's Bob Brookover reports from Citizens Bank Park.
Matt Gelb, Inquirer Staff Writer
For the first time since the day of his recall, Domonic Brown is not in Charlie Manuel's starting lineup.
Brown is sitting due to soreness in knee. It is not considered serious, but it is enough to keep him out of tonight's game against the Washington Nationals.
After a victory Friday, Manuel sauntered through the clubhouse and went straight for Brown. He said a few words to his outfielder, patted him on the back and walked away.
Matt Gelb, Inquirer Staff Writer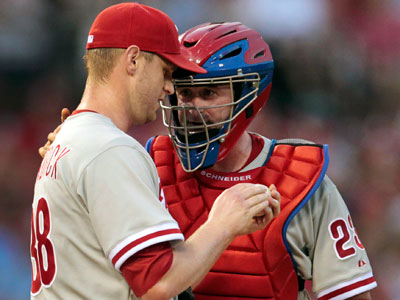 The Phillies, down to their fourth-string catcher, have dipped into double-A Reading for their latest replacement.
Steven Lerud, a 27-year-old with only nine career triple-A games, was added to the 40-man roster when Brian Schneider was placed on the disabled list with a strained hamstring.
The moves make Erik Kratz the starting catcher for the foreseeable future.
Matt Gelb, Inquirer Staff Writer
For the first time ever, a Phillies home opener will be against an American League team.
The 2013 season will begin with a three-game series in Atlanta on April 2 followed by the April 5 opener at Citizens Bank Park against the Kansas City Royals. Major League Baseball has yet to officially release next season's schedule, but three sources with knowledge of it confirmed details.
Year-round interleague play is forced by MLB's impending realignment that evens the two leagues to 15 teams each. (The Houston Astros are moving to the American League West.) Every division will be paired with another in an effort to balance the scheduling.
Matt Gelb, Inquirer Staff Writer
Nate Schierholtz is eligible to return from the disabled list Tuesday and the outfielder believes it will happen then.
Schierholtz did some running to test his broken toe and took batting practice Thursday. He said he cannot yet run full speed. He expects the injury to improve but not complete heal until the winter.
"I don't think it is going to completely heal in a few weeks," Schierholtz said. "So it is definitely something I could deal with."
Matt Gelb, Inquirer Staff Writer
In somewhat of a surprise move, it was Michael Schwimer who temporarily lost his job Thursday in the latest Phillies bullpen shuffle.
Schwimer was optioned to triple-A Lehigh Valley to make space for lefty Jeremy Horst, who was activated from the paternity leave list. It's temporary, solely because Schwimer will almost certainly be back once rosters expand Sept. 1.
For now, it secures a spot for Phillippe Aumont, who is likely to spend the remainder of the season in the majors.
Matt Gelb, Inquirer Staff Writer
There is a certain lack of anticipation for Phillies baseball on most nights because reality dictates it. Then, even when the season is rendered irrelevant, there are still nights like Thursday:
Cueto vs. Hamels.
It's a matchup of two of the best pitchers in the National League. Johnny Cueto leads everyone with 16 wins and a 2.44 ERA. Hamels has a 2.94 ERA with 168 strikeouts in 171 1/3 innings. He is seeking his 15th win, which would tie a career high.
Marc Narducci
Charlie Manuel is usually upbeat but this season is wearing on him. He sees a group of hitters who don't show patience at the plate. His starting pitchers not named Cole Hamels and his relievers have produced a season of inconsistent performances.
So Manuel has said that jobs are to be won in these final 38 games. And even though he loves the game, Manuel couldn't hide his frustration when asked how hard this season has been on him.
"It's tough for me," he said after Wednesday's 3-2 loss to the Cincinnati Reds at Citizens Bank Park. It's a challenge and that is good but at the same time I want us to keep playing hard and improving."
Marc Narducci
The Phillies had won seven in a row against the Cincinnati Reds dating back to last year before Tuesday's 5-4 loss.
The two teams now play the third game of their four-game series at Citizens Bank Park with Vance Worley (6-8, 4.11) against Bronson Arroyo (9-7, 3.96).
Charlie Manuel indicated the other night that he would ease Placido Polanco back into the lineup. Polanco returns at third base after Kevin Frandsen went 3 for 4 with a triple, RBI and a sensational defensive play.