Archive: August, 2012
Marc Narducci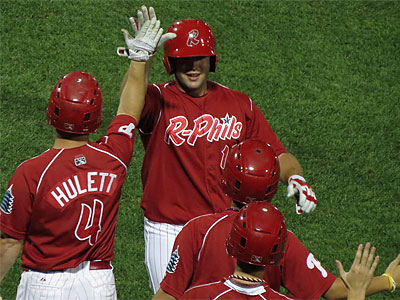 READING -- Darin Ruf has tied the single-season Reading Phillies club record with his 37th home run in tonight's 12-8 win at First Energy Stadium against the Binghamton Mets.
His home run tied Ryan Howard's Reading team record that was set in 2004.
"He is a special player and it's great to be tied with him right now," Ruf said.
Matt Gelb, Inquirer Staff Writer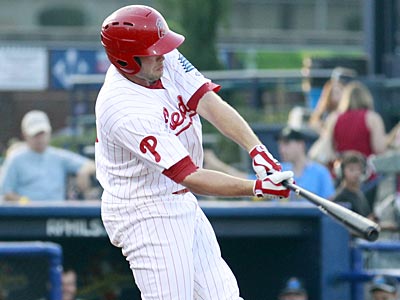 If you can hit the ball really far, it will not take long for Charlie Manuel to notice. If you can hit the ball really far and with great frequency, Manuel will do more than notice. If you can do all of this while the Phillies flounder, Manuel will start thinking big things.
Such is the case with Darin Ruf, the 26-year-old slugging first baseman at double-A Reading. Manuel has watched recent video of Ruf's assault on the Eastern League.
The Phillies manager is interested.
Matt Gelb, Inquirer Staff Writer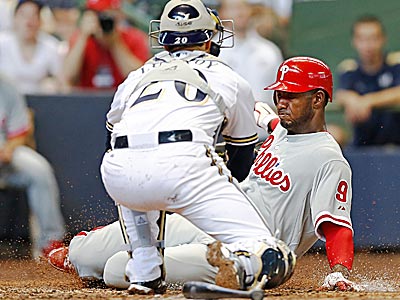 Domonic Brown returns to Charlie Manuel's lineup Tuesday after a two-game, three-day break. Brown was suffering from minor left knee soreness. He dealt with right knee injuries earlier this season while at triple-A Lehigh Valley.
Here is the lineup against New York's Chris Young as the Phillies go for five wins in a row:
1. Jimmy Rollins 6
2. Kevin Frandsen 5
3. Chase Utley 4
4. Ryan Howard 3
5. John Mayberry Jr. 8
6. Domonic Brown 7
7. Laynce Nix 9
8. Erik Kratz 2
9. Vance Worley 1
---
Philly.com Sports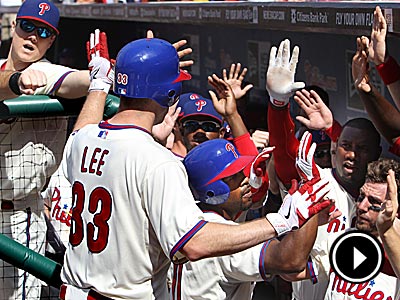 Video: Cliff Lee earned his first home win of the season as the Phillies beat the Nationals 4-1 on Sunday. Charlie Manuel and Lee spoke after the win. The Inquirer's Bob Brookover reports from Citizens Bank Park.
Matt Gelb, Inquirer Staff Writer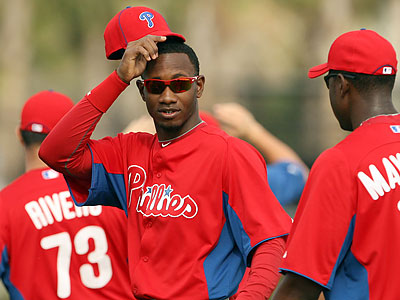 For the first time since the day of his recall, Domonic Brown is not in Charlie Manuel's starting lineup.
Brown is sitting due to soreness in knee. It is not considered serious, but it is enough to keep him out of tonight's game against the Washington Nationals.
After a victory Friday, Manuel sauntered through the clubhouse and went straight for Brown. He said a few words to his outfielder, patted him on the back and walked away.
Matt Gelb, Inquirer Staff Writer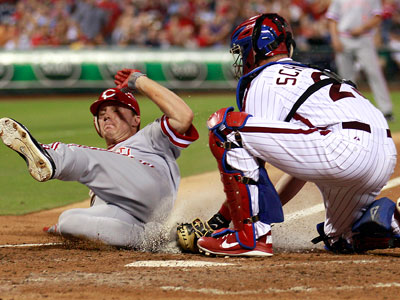 The Phillies, down to their fourth-string catcher, have dipped into double-A Reading for their latest replacement.
Steven Lerud, a 27-year-old with only nine career triple-A games, was added to the 40-man roster when Brian Schneider was placed on the disabled list with a strained hamstring.
The moves make Erik Kratz the starting catcher for the foreseeable future.
Matt Gelb, Inquirer Staff Writer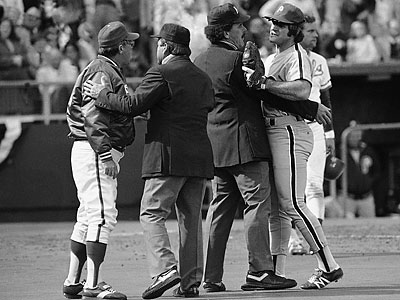 For the first time ever, a Phillies home opener will be against an American League team.
The 2013 season will begin with a three-game series in Atlanta on April 2 followed by the April 5 opener at Citizens Bank Park against the Kansas City Royals. Major League Baseball has yet to officially release next season's schedule, but three sources with knowledge of it confirmed details.
Year-round interleague play is forced by MLB's impending realignment that evens the two leagues to 15 teams each. (The Houston Astros are moving to the American League West.) Every division will be paired with another in an effort to balance the scheduling.
Matt Gelb, Inquirer Staff Writer
Nate Schierholtz is eligible to return from the disabled list Tuesday and the outfielder believes it will happen then.
Schierholtz did some running to test his broken toe and took batting practice Thursday. He said he cannot yet run full speed. He expects the injury to improve but not complete heal until the winter.
"I don't think it is going to completely heal in a few weeks," Schierholtz said. "So it is definitely something I could deal with."