Archive: August, 2009
Andy Martino
Hours before the 11:59pm signing deadline for this year's draft picks, a report from Louisiana's 2theadvocate.com, among other reports from Lousiana, says that the Phillies have agreed to a deal with highly-regarded righthanded pitcher Brody Colvin. Colvin slipped to the seventh round because of a commitment to play at LSU. Colvin participated in a workout at Citizens Bank Park this week. A Phillies official could not confirm this for the Inquirer a few minutes ago.
UPDATE 10:06p.m.: The Phillies have confirmed the Colvin signing to the Inquirer.
Andy Martino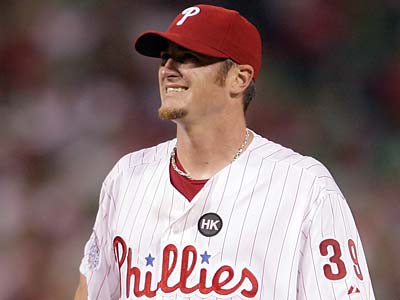 ATLANTA-- Brett Myers says that he was not involved in an altercation that occurred while he was at a Jacksonville, Fla. bar early Saturday morning, and multiple eyewitnesses confirmed his account.
Witnesses who were in Shannon's Irish Pub, 111 Bartram Oaks Walk in Jacksonville at the time of the incident, said Myers and several friends were at the bar and listening to a band called Chuch Nash at about 12:45 a.m. Saturday. One witness saw an elderly man, passing through a dance floor in front of the stage, fall into a musician.
An altercation ensued that lasted for "a pretty good while," the witness said, and ended when officers from the St. John's County Sheriff's office intervened. Both Myers and other witnesses said that one of Myers' friends was involved in the incident, but Myers was not.
Andy Martino
Just heard that Brett Myers' scheduled first rehab start tonight was cancelled because the pitcher was struck in the eye by a ball while playing catch with his four-year-old son Kolt. That's all we know right now, but we're expecting more infor from Ruben Amaro today.
Andy Martino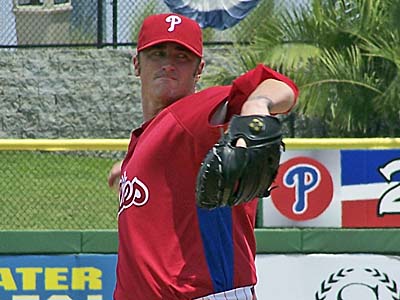 Okay, we were just informed by Ruben Amaro via Phillies spokesman Kevin Gregg that Brett Myers has changed his story about how he hurt his eye. Myers initially informed the team that a ball hit him in the face during a game of catch with his four-year-old son.
Here's what Gregg said a few minutes ago: "What actually happened was, he slipped getting out of his car last night, hit his face and suffered significant swelling around his eye—I don't know which eye yet, I'm trying to find out. He's icing it today, he's going to see our medical staff tomorrow in Clearwater...We were misinformed by Brett."
I asked, so Brett told the Phillies two different stories?
"He told one story, and then told us this story," Gregg said.
Amaro has so far not returned a phone message I left immediately after Gregg's update.
That's all we know right now. There are obviously lingering questions, and I'm working on getting answers.
***
UPDATE:
The Inquirer's Jim Salisbury reached Myers by telephone, and here is the story related by the pitcher and his wife Kim:
Myers said he had arrived home from dinner last night in Jacksonville, Fla. They were in Jacksonville because Myers had the day off from rehab activities in Clearwater. He said he had two beers at dinner and rode home in the back seat of his wife's Escalade in a car filled with friends, and that the family's babysitter was driving. Myers' parents were at home with the children.
In the Escalade, the back seat is a bench-style seat, and the middle seats are separate chairs. Myers said that he tripped while passing through those middle chairs. He said his feet got tangled in children's toys. He then fell out of the Escalade and hit his face on the side of the door.
He was not cut, but his left eye was "swollen like a balloon" when he woke this morning. Late this morning, Myers said he called minor league athletic trainer Brian Cammarota and told the fanciful story about his son and the game of catch. He said he called Cammarota back about five minutes later and told him the real story becuase "I didn't feel right about that."
Soon after that, Myers received a text message from Amaro asking Myers to call the GM. They talked, and that was the end of it. The Phils refused to make Cammrota available for comment.
Asked why he made up the story about playing catch with his son, Myers said: "Because I felt like an idiot."
Kim Myers called it a "freak accident," and both she and Brett insisted that was the entire story. They conceded that, because of Myers' 2006 arrest for assaulting Kim in Boston (charges were later dropped), the current situation would raise questions.
"No, I did not hit him with a frying pan," Kim Myers said, with a laugh, while teasing her husband for being a "klutz."
I placed a call to the Jacksonville Sherrif's department to see if any incidents had been reported involving Myers in the past 24 hours, but my message has not been returned.
Andy Martino
Not that you were thinking about this on an August night after the Phils swept the Cubbies and Beergate continues to rivet the nation, but I thought it was of interest nonetheless.
Though the official 2010 Major League Baseball schedule will not be released until leater this season, I'm hearing from a baseball source that a tentative schedule for next year has the Phillies playing interleague series in New York's Yankee Stadium, Boston's Fenway Park and Toronto's Rogers Centre. The Phils will host the Minnesota Twins and Cleveland Indians and likely one other American League team at Citizens Bank Park.
The Phillies are slated to open the season on the road in Washington, DC, against the Nationals, the source said. The team will play just seven home games in April and will also close the regular season on the road. The schedule is still subject to change before MLB releases it to the public.
Andy Martino
An unidentified man has turned himself in to Chicago police in connection with the Shane Victorino incident, according to a police spokesman. A fan threw a beer and plastic cup on the Phils outfielder during Wednesday night's game, and Victorino filed a complaint today.
"We are talking to a man that did turn himself in to our officers," police spokesman John Mirabelli told the Inquirer. "It is an ongoing investigation."
Andy Martino
To address one of the issues floating around the Moyersphere in the wake of his angry comments yesterday, yes, his contract is laden with incentives based on innings-pitched and appearanced. But no, the team was not likely in any way influenced by money when it decided to bump Moyer out of the rotation.
A baseball source confirmed to the Inquirer that Moyer's contract, which is worth $13 million over two years, contains innings and appearance-based incentives. He would receive an additional $250,000 for his 150th inning this season, 160th ,170th, 180th, 190th.
His 2010 salary would increase by $250, 000 for 150 innings pitched this season, and 23 starts. He currently has 123.1 IP and 22 starts.
These bonus amounts are by no means miniscule, but they do not represent a sum large enough to influence a baseball decision for a team attempting to defend a World Series Championship. The Phillies signed Pedro Martinez to a contract worth about $1 million, for example, to replace Moyer in the rotation, and are paying released outfielder Geoff Jenkins $9 million dollars this season. If the team felt that Moyer was among its five best starters, they would certainly have kept him in the rotation. This was a decision based on performance, not dollars.
Andy Martino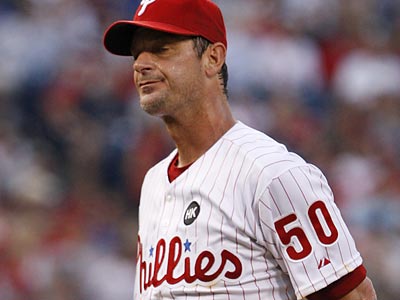 I was on the radio before the clubhouse opened and was asked if Moyer would criticize the team for moving him to the bullpen. I said no, Jamie Moyer might be privately grousing, but he is way to savvy and protective of his own image to rip the team in public. I was very, very, wrong.
Here's a more fully fleshed out description of the events as they unfolded:
Jamie Moyer sat alone in the stands at Wrigley Field this afternoon, staring at the infield. He made his major league debut here on June 16, 1986, pitching for the Cubs against the Phillies and his boyhood hero, Steve Carlton.
After a few silent minutes, he sent for the media, and expressed strong displeasure about a late-career development. Moyer, 46, is 10-9, with a 5.47 earned run average this season, and Monday was assigned to the bullpen to accommodate Pedro Martinez, who will make his Phillies debut today as a member of the starting rotation.
"I'm really not happy with this decision that the Phillies have made," Moyer said. "I will take what they've asked me to do, but I'm not real excited about the decision that's been made."
Moyer said that, when he negotiated his TK contract with the Phils last winter, he felt that an understanding existed between him, general manager Ruben Amaro Jr. and owner David Montgomery that he would start.
"I feel like I've been misled," Moyer said. "I'm a little disheartened a little bit because I know this past winter when I was negotiating with the Phillies, this was a sore thumb, if you will, about this potentially happening. Ruben [Amaro Jr.], you can't promise anything in this game, but I really felt that Ruben kind of parlayed to me that this type of situation would not happen.
"I actually even had some conversation with David [Montgomery], and them reassuring me this type of situation won't happen. Again, I'm a little disheartened by the way it's happened, how it's happened."
Amaro and Montgomery were not in Chicago with the team. Amaro said through a team representative that "When we signed Jamie Moyer it was under the pretense of him being a starter. But right now circumstances have changed….we're not going to get into any contract negotiations. That's between players and club."
Manager Charlie Manuel said that the decision to remove Moyer from the rotation was agonizing. "The toughest decision I ever made," Manuel said. "It was very hard. What do you want me to say?"
Manuel added that while he did not know what Moyer's role in the bullpen would be, he would feel comfortable utilizing the lefty as he does Scott Eyre, in hey situations against lefthanded hitters.
"We will look for places to pitch him and keep him sharp and you never know what's going to happen," he said.
Martinez said that "he has all the regard in the world" for Moyer. "I don't have enough words to say how I feel about Jamie."
Moyer, on the other hand, has no trouble finding words. "Whether I like it or not, this is the situation I'm in," he said. "I will deal with it. I will deal with it in a respectful way. I'll be respectful to my teammates. I do not want to be a distraction, and I refuse to be a distraction. It's about the 25 players that are here and are playing. We all have to pick each other up. We all have to support each other And we all have to be professional."
****