Archive: August, 2008
Todd Zolecki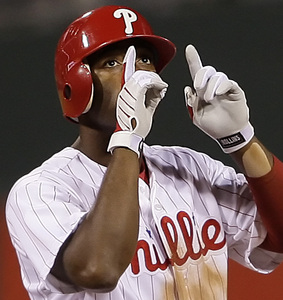 Phillies fans cheered Jimmy Rollins enthusiastically last night in a 5-0 victory over the Los Angeles Dodgers.
What a bunch of front-runners, huh?
Relax, folks. It's just a joke.
Todd Zolecki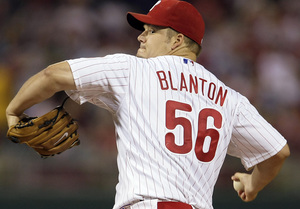 The Phillies activated Pedro Feliz from the 15-day disabled list week, and asked what that meant to the team Charlie Manuel said a few things:
1) It provided the Phillies stronger defense at third base.
2) It strengthened the bench.
Todd Zolecki
The Phillies placed rightfielder Geoff Jenkins on the 15-day disabled list with a strained right hip flexor. To take his place on the 25-man roster, the Phillies purchased the contract of infielder Andy Tracy from triple-A Lehigh Valley.
Jenkins was hitting .246 with nine homers and 29 RBIs in 284 at-bats.
Tracy, who hits lefthanded, was hitting .288 with 21 home runs and 84 RBIs for the IronPigs. He hit .224 with 13 homers and 41 RBIs in 263 at-bats in parts of three seasons with the Montreal Expos and Colorado Rockies. He hasn't been in the majors since the end of the 2004 season with the Rockies.
Todd Zolecki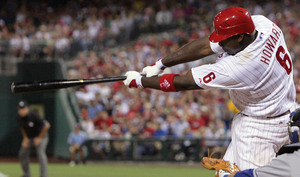 It's a start.
The Phillies scored eight runs and got 10 hits last night in an 8-1 victory over the Los Angeles Dodgers at Citizens Bank Park.
That's the first time the Phillies have had at least 10 hits in a game since Aug. 11, when they got 10 against the Dodgers at Dodger Stadium. It's just the third time this month they have had at least 10 hits. They could use more nights like last night the rest of the season, if they expect to catch the New York Mets in the National League East.
Todd Zolecki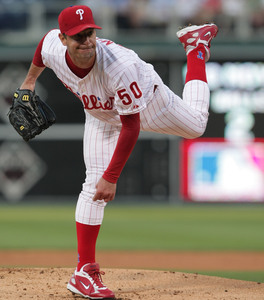 The Phillies offense is Jimmy Rollins, Chase Utley, Ryan Howard and Pat Burrell.
That's not to disparage other players in the lineup like Shane Victorino, Jayson Werth and Chris Coste. It's just that those four are the MVPs, the all-stars, the big money men.
They're the reason the Phillies have led the league in scoring each of the previous two seasons.
Todd Zolecki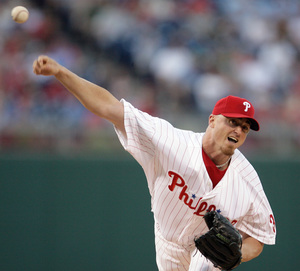 The Phillies tried to land CC Sabathia before the July 31 non-waiver trade deadline, but came up empty.
They probably could have squeezed him into their rotation somewhere.
Sabathia ia 7-0 with a 1.40 ERA in seven starts since the all-star break. He is making a case for National League MVP and Cy Young. But interestingly, Brett Myers has been nearly as effective since he rejoined the rotation after his four-start stint in the minors. He is 3-1 with a 1.94 ERA in six starts since the break.
Todd Zolecki
Catcher David Ross cleared release waivers at 1 p.m. today and the Phillies have contacted his agent.
Phillies assistant general manager Ruben Amaro Jr. said they are hopeful they can work out an agreement with Ross, who the Cincinnati Reds released Monday.
Ross hit .231 with three home runs and 13 RBIs in 134 at-bats this season for the Reds. But he also had a .381 on-base percentage. It's unclear what would happen to Ross if he signs with the Phillies. The most likely scenario is Ross finishing the month in triple-A Lehigh Valley, then joining the team Sept. 1 when the Phillies can expand their roster. Ross hit 21 home runs in 2006 and 17 home runs in 2007. He is a .223 career hitter, but Carlos Ruiz is hitting just .220 with two homers and 21 RBIs in 246 at-bats this season.
Todd Zolecki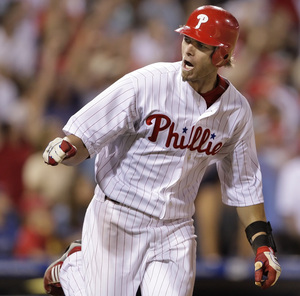 They came, some booed, they cheered when Jayson Werth homered.
That's pretty much the story from last night's 5-4 victory over the Nationals at Citizens Bank Park.
Jimmy Rollins heard a mix of boos and cheers before each of his four at-bats. He heard only boos after he made outs in those at-bats, although he hit the ball hard in three of them. He flied out to the warning track in right-center field in the eighth. When the ball left the bat it looked for a second like it might have a chance to be a go-ahead home run or a double off the wall.
Todd Zolecki
I know you're all dying to know, but Jimmy Rollins received a mix of boos and cheers before his first at-bat tonight at Citizens Bank Park.
Everybody in the press box definitely agreed it was about 50-50.
Of course, when Rollins lined out to right field the boos were louder, but that's only because the people who booed before the at-bat continued to boo while the people who cheered kept quiet. I know, fascinating.
Todd Zolecki
Jimmy Rollins spoke with reporters before tonight's game against the Nationals at Citizens Bank Park about, you know, that whole "front-runners" thing.
Here is some of what he had to say:
Surprised by the reaction?
I guess it's a good thing. It's got people talking. It's one of those things. We're people. And athletes turn the page, shall I say, and make a response about how they feel about certain things. It always is like, 'How dare you?' But the thing is you're human beings. We're all human beings. We all have the right to say so. They have the right to say so, and they have.