Archive: July, 2010
Matt Gelb, Inquirer Staff Writer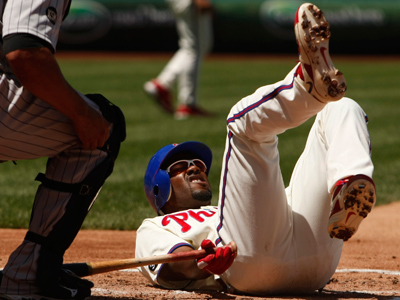 UPDATE (6:01 p.m.): We spoke with Rollins and he said his bruised left foot is still in a considerable amount of pain, but it's feeling better than it did Monday night. At least, Rollins said, he could walk today.
"That's progress," Rollins said.
He had reserve infielder Cody Ransom wheel him from the clubhouse into the trainer's room after the game.
Matt Gelb, Inquirer Staff Writer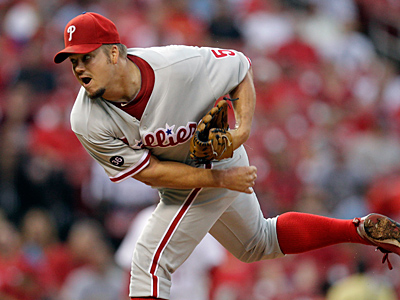 Get this: If the Phillies win today, they will have a five-game winning streak. The last time they had a five-game winning streak? The first week of the season when everything felt oh-so-cheery.
Hard to believe, right?
"No, not really," mused manager Charlie Manuel this morning.
Matt Gelb, Inquirer Staff Writer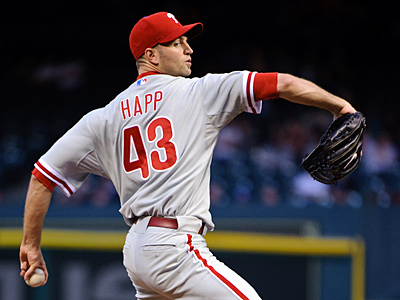 The Phillies would love to acquire another starting pitcher before Saturday's trading deadline. Today, they will welcome back a pitcher who hasn't started since April 15 and could play a role in the deadline moves.
J.A. Happ makes his return to the Phillies against Colorado as the Phillies look to extend their three-game winning streak. Happ, who won 12 games as runner-up Rookie of the Year in 2009, was slowed earlier in the season with an elbow strain. Then, when the results still didn't come during Happ's rehab assignment, the Phillies chose to demote the lefthander to triple A.
Since then, Happ has not spoken to reporters.
Bob Brookover, Inquirer Columnist
Phillies manager Charlie Manuel said the decision to replace hitting instructor Milt Thompson late Thursday night was his decision.
"I got to the point where I look at our hitting and I felt something had to be done," Manuel said. "The only thing I could possibly think of was a change and that it had to be done."
Manuel broke the news to Thompson after the Phillies' charter flight from St. Louis landed.
Matt Gelb, Inquirer Staff Writer
We're going to try something new here at The Phillies Zone as the 2010 Phillies reach a crossroads in their season. Before every game we will post a discussion thread. It can be a place to mingle, vent and cheer. So leave your comments below and see what other fans are saying.
ST. LOUIS -- The rotation remains "TBA" and "TBA" for this weekend against Colorado at Citizens Bank Park. The Phillies had better hope TBA has a lot of bullets in him.
No, Roy Oswalt is not here. And no, it's likely he won't be here this weekend. Phillies GM Ruben Amaro Jr. could provide no update on a possible rotation for this weekend. The team is awaiting results on an MRI to Jamie Moyer's left elbow done this morning in Philadelphia. Until then, they will wait to make their pitching plan public.
Matt Gelb, Inquirer Staff Writer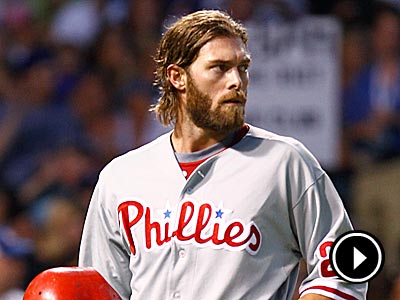 Should Ruben Amaro Jr. pull the trigger on a major deal before the July 31 trade deadline?
Matt Gelb offers his take in his weekly video report.
Matt Gelb, Inquirer Staff Writer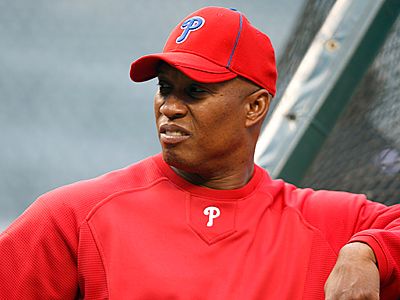 ST. LOUIS — The Phillies have found a scapegoat for their offensive problems.
Hitting coach Milt Thompson was fired by manager Charlie Manuel late Thursday night once the Phillies' charter flight from St. Louis landed in Philadelphia.
Matt Gelb, Inquirer Staff Writer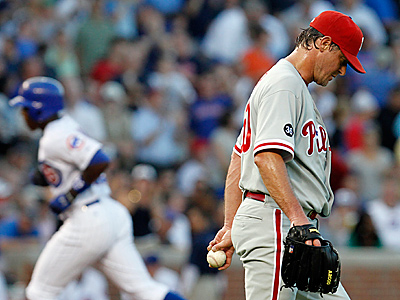 ST. LOUIS -- For 25 years, Jamie Moyer has defied all odds. He's soft-tossed his way into record books, pitching well beyond any expectations ever set.
At age 47, his incredible major-league career could be in serious jeopardy.
Moyer will go to the disabled list with a sprained ulnar collateral ligament and strained flexor pronator tendon in his left elbow. Phillies general manager Ruben Amaro Jr. would only say Moyer will miss a significant amount of time.