Archive: June, 2012
Matt Gelb, Inquirer Staff Writer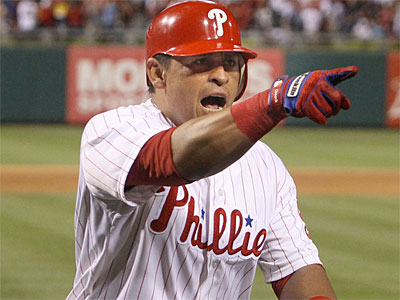 Carlos Ruiz awoke Wednesday morning as the best hitter on the planet. He is batting .361, which leads the majors, and it is June 27.
This is real.
Someone asked the catcher if he had to pinch himself Tuesday night after another three-hit game, which included what proved to be the game-winning hit — a solo homer in the eighth.
Chad Graff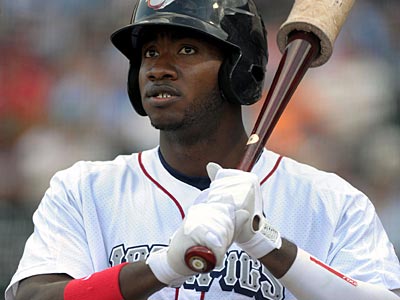 ALLENTOWN — Domonic Brown's right knee was examined Tuesday, but his return to Triple-A Lehigh Valley is not imminent. Results of the evaluation weren't available Tuesday evening.
If went well, Brown is expected to begin baseball related activities Thursday with no timetable set for a return, IronPigs manager Ryne Sandberg said.
Brown's knee was inflamed June 14 and underwent a MRI June 15, but didn't expect to be out more than 7-10 days.
Matt Gelb, Inquirer Staff Writer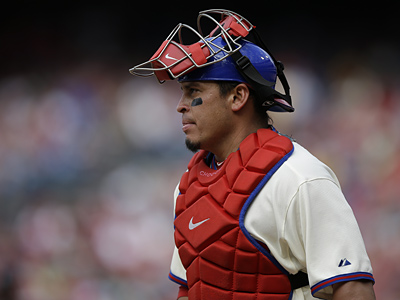 With two days left in online balloting for baseball's All-Stars, Carlos Ruiz trails Buster Posey by 887,040 votes. He will not be starting in the game.
It's not a surprise; Ruiz has spent much of the voting process stranded in third place behind Posey and Yadier Molina. But he ranks third in batting average (.354), third in on-base percentage (.421) and sixth in slugging percentage (.561) across the entire National League. Those figures are tops for all NL catchers.
Ruiz does not have a national profile like Posey or Molina, and that hurts in a fan voting system.
Matt Gelb, Inquirer Staff Writer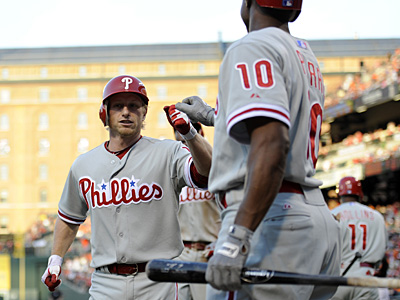 If the postseason were to begin Monday, one team from Pennsylvania would qualify. Yes, the Pittsburgh Pirates have a slim lead on the second wild card spot. They are 38-33 on the strength of decent pitching and timely hitting. They have won six of their last eight.
Charlie Manuel has made one Phillies lineup switch, inserting Mike Fontenot at second base. It's Fontenot's first start since June 15. He's hitting .333 (18 for 54) in limited action.
The next two days could decide the fate of Fontenot or Michael Martinez. (That's the sort of drama these Phillies are currently reduced to.)
Matt Gelb, Inquirer Staff Writer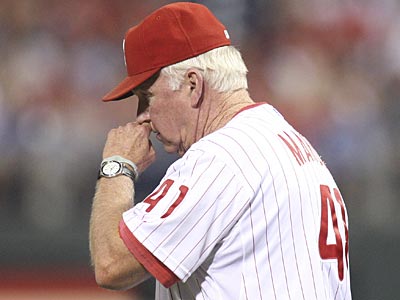 The Phillies need a starting pitcher for Wednesday's game, and as Charlie Manuel sauntered to the batting cage before Monday's win, he offered no hints.
"We don't know yet," Manuel said. "Seriously, we don't."
Pitching coach Rich Dubee and Manuel later discussed their options, and there is no obvious one. The need for a sixth starter was prompted by Sunday's doubleheader.
Marc Narducci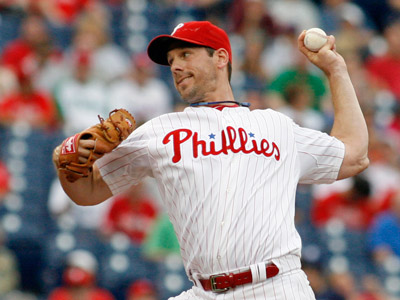 Cliff Lee really had no answers, vowing he would continue to battle, but the frustration was apparent.
Lee is now 0-4 and of all the scenarios for the Phillies season, nobody forecast this one.
At times he is dominant and then he goes through rough stretches.
Marc Narducci
After not starting in Saturday's 7-6 win over the Tampa Bay Rays, Shane Victorino is back in the lineup and batting second in today's first game of a split doubleheader.
Victorino did come in Saturday as a defensive replacement.
Cole Hamels (10-3, 3.25) opposes David Price (9-4, 3.08) in today's first game)
Marc Narducci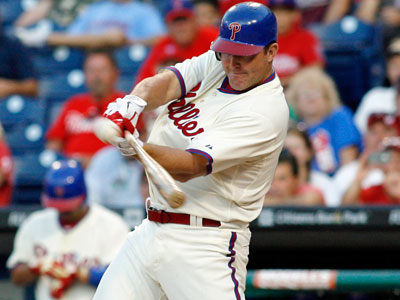 Jim Thome has hit 609 career home runs, but the walk-off blast to win Saturday's 7-6 triumph over the Tampa Bay Rays will provide the future Hall of Famer a lasting memory.
What was so impressive is that Rays pitcher Jake McGee was simply throwing gas and early in the count, Thome was just hanging in there.
"It seemed like he was throwing 95 plus," Thome said.