Archive: June, 2012
Matt Gelb, Inquirer Staff Writer
May 13 was a beautiful Sunday. The temperature was 79 degrees at first pitch and the Phillies won a game against San Diego by outscoring them 3-2.
That was 44 days ago, the last time the Phillies won a game when scoring three or fewer runs.
It's not necessarily relevant to anything right now, other than an enlightening look at how the expected narrative of 2012 has fallen by the wayside. The Phillies are 4-28 (.125) when they score three or fewer runs; only Boston, Minnesota, Colorado and Arizona have worse marks.
Matt Gelb, Inquirer Staff Writer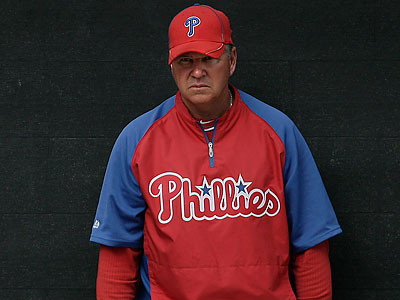 The Phillies need a starting pitcher for Wednesday's game, and as Charlie Manuel sauntered to the batting cage before Monday's win, he offered no hints.
"We don't know yet," Manuel said. "Seriously, we don't."
Pitching coach Rich Dubee and Manuel later discussed their options, and there is no obvious one. The need for a sixth starter was prompted by Sunday's doubleheader.
Matt Gelb, Inquirer Staff Writer
If the postseason were to begin Monday, one team from Pennsylvania would qualify. Yes, the Pittsburgh Pirates have a slim lead on the second wild card spot. They are 38-33 on the strength of decent pitching and timely hitting. They have won six of their last eight.
Charlie Manuel has made one Phillies lineup switch, inserting Mike Fontenot at second base. It's Fontenot's first start since June 15. He's hitting .333 (18 for 54) in limited action.
The next two days could decide the fate of Fontenot or Michael Martinez. (That's the sort of drama these Phillies are currently reduced to.)
Marc Narducci
Cliff Lee really had no answers, vowing he would continue to battle, but the frustration was apparent.
Lee is now 0-4 and of all the scenarios for the Phillies season, nobody forecast this one.
At times he is dominant and then he goes through rough stretches.
Marc Narducci
After the Phillies 3-2 loss to Tampa Bay in Game 1 of the split doubleheader, the team announced that Chase Utley would play Tuesday for Lehigh Valley.
The team wouldn't comment past that.
The Phillies are looking to earn a series win in Game 2 against left-hander Cesar Ramos.
Marc Narducci
After not starting in Saturday's 7-6 win over the Tampa Bay Rays, Shane Victorino is back in the lineup and batting second in today's first game of a split doubleheader.
Victorino did come in Saturday as a defensive replacement.
Cole Hamels (10-3, 3.25) opposes David Price (9-4, 3.08) in today's first game)
Marc Narducci
Jim Thome has hit 609 career home runs, but the walk-off blast to win Saturday's 7-6 triumph over the Tampa Bay Rays will provide the future Hall of Famer a lasting memory.
What was so impressive is that Rays pitcher Jake McGee was simply throwing gas and early in the count, Thome was just hanging in there.
"It seemed like he was throwing 95 plus," Thome said.
Marc Narducci
Juan Pierre has big goals.
"Twenty home runs," he said.
That is for his career.
Poll: How many Phillies will make the all-star team?

(1479 votes)
Marc Narducci
The pitching matchups for the Phillies are set for Sunday's split doubleheader with the Tampa Bay Rays at Citizens Bank Park
Tampa Bay manager Joe Maddon says the ace David Price will start the first game, but he wasn't sure who would start the second.
Cole Hamels will face Price in the 1:05 p.m. opener in a game matching two of the best left-handers in baseball.
Marc Narducci
Kyle Kendrick goes to the mound for the Phillies in today's 4:05 p.m. matchup with the Tampa Bay Rays at Citizens Bank Park.
Kendrick (2-7, 5.29) has lost his last three games, allowing 16 earned runs in 16 innings. He will be opposed by James Shields (7-4, 3.72).
Shane Victorino, who was to get the night off on Friday's postponed game, isn't in the starting lineup today. John Mayberry Jr., is playing centerfield.