Archive: June, 2010
Matt Gelb, Inquirer Staff Writer
The Phillies have activated shortstop Jimmy Rollins from the disabled list and instead of getting rid of either Wilson Valdez or Juan Castro, both of whom have filled in well for Rollins, the team opted to cut ties with Greg Dobbs.
Dobbs was designated for assignment. In 66 at-bats this season, he was batting .152. As a pinch-hitter, the role Dobbs thrived in during the 2008 championship season, he was just 1 for 25.
The Phillies also placed catcher Carlos Ruiz (concussion) on the 15-day disabled list retroactive to June 19. They added lefthander Mike Zagurski from triple-A Lehigh Valley to take Ruiz's spot, meaning the Phils are back to 12 pitchers.
Bob Brookover, Inquirer Columnist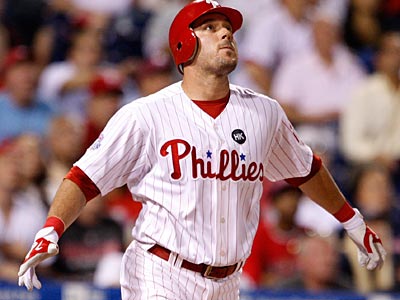 The Phillies made a flurry of roster moves Tuesday afternoon and it meant good news for some, bad news for others and surprising news for one member of the 2008 World Series championship team.
The good news department: For just the 12th time this season shortstop Jimmy Rollins took the field as a member of the starting lineup after ending a second stint on the disabled list with a strained right calf muscle.
Mike Zagurski also was a happy man after being recalled from Triple-A Lehigh Valley. The left-handed reliever last pitched in the big leagues in 2007, then missed the entire 2008 season after undergoing reconstructive surgery on his left elbow.
Matt Gelb, Inquirer Staff Writer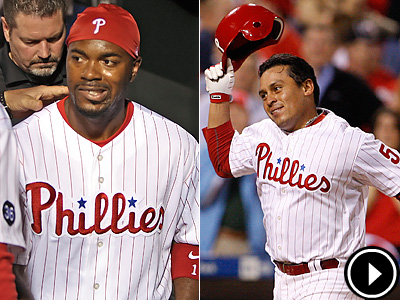 The Inquirer's Matt Gelb talks about Carlos Ruiz's injury, Jimmy Rollins' return and the state of the Phillies with CineSport's Noah Coslov.
Matt Gelb, Inquirer Staff Writer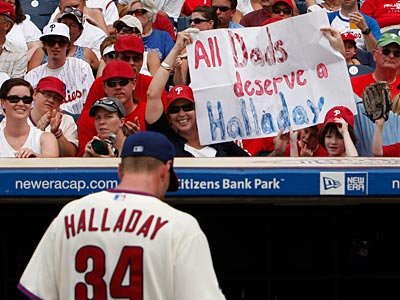 In the days following Roy Halladay's perfect game, I received countless e-mails from readers who wanted to write about their favorite moments, about how incredible the feat was, or simply about where they were when the final out was recorded.

One, from Tom in Downingtown, stuck out:

Thank you for an amazing article, so well written that I got chills several times. I was able to watch this game with my 72-year-old Dad, a lifelong suffering Phils fan, and I suspect it will always be one of our fondest memories together.

Thanks again. I hope you find your work fun and rewarding. This is one of those times when your work had physically touched another person. Sports aren't about balls and hoops. They're about bonding, mostly between buddies and fathers and sons, both living and deceased.

It made me think about Dad.

Dad raised me on baseball. He made me watch as many different games and teams as a kid. He came to all of my games as a kid (until my dreams of being a lefthanded reliever fizzled at age 15). We even planned summer vacations around being able to visit a new ballpark we had never seen.

I suspect many out there can say the same about their dads.

But a few years ago, baseball brought us even closer. For 26 years, Dad worked for the same defense contractor company, until his job was eliminated, rendering him almost helpless.

In the 10 months he was out of work, we talked almost every day. I wanted an update on jobs he applied for. But invariably, the conversation shifted to baseball. It made us forget about everything that was wrong.

Then, while spending a summer living at home and working for The Inquirer as an intern, I watched Dad struggle. He applied for more jobs than he could remember. The feeling of rejection — something that he's rarely felt throughout his more than 50 years on this planet — was a constant result.

Dad never hated what he did — manage million-dollar contracts for the billion-dollar defense corporation — but he often wondered aloud to me, "What if there is something more out there?" Sometimes, when he was most frustrated after coming home from work, he'd try to figure out how he could apply his skills into a job with Major League Baseball as we watched baseball on TV.

We always thought it was silly. But it was an exercise in fun. One time, I think Dad actually applied for a job with MLB. He never heard back.

He took so much pride in his work, and he did it well. Dad traveled a lot and worked long hours, but I never felt like he missed me growing up or anything. He was always there. We never talked much about work. Dad would come home and baseball simply made sense. That's when we connected. That's when he taught me about Ted Kluszewski's arms, Vin Scully's voice and Carlton Fisk's blasts. Even though my younger brother and I often assumed he stretched the truth, Dad told few tall tales.

Since then, I've tried to repay him for those stories with some of my own.

I highly doubt I'd be here without his passion. Thanks, Dad.

Happy Father's Day.
Matt Gelb, Inquirer Staff Writer
Ready for a lesson in the convoluted rules of baseball's roster system?
The Phillies designated Scott Mathieson for assignment today to clear a spot for catcher Dane Sardinha. Sardinha is here because Carlos Ruiz is still a little woozy from getting his bell rung by a broken bat, but isn't hurt enough to require a stint on the 15-day disabled list.
So the Phillies needed a spot. Mathieson was the guy to go, for a quirky reason.
Bob Brookover, Inquirer Columnist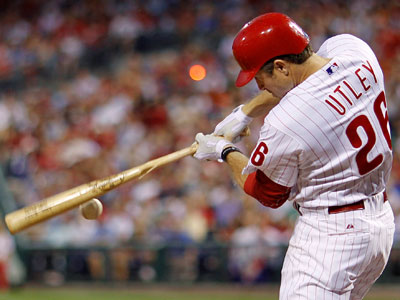 Chase Utley is not injured.
Those words came straight from the mouth of the Phillies' second baseman before Friday night's game against the Minnesota Twins.
As Utley's batting average has continued on a downward spiral for the last month, speculation has grown that the four-time All-Star has been playing hurt.
Bob Brookover, Inquirer Columnist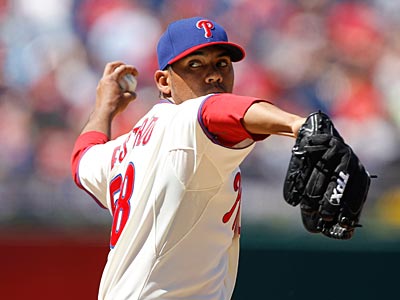 Reliever Antonio Bastardo was placed on the 15-day disabled list Thursday with inflammation of the ulnar nerve in his left elbow. The Phillies recalled righthander Scott Mathieson from triple-A Lehigh Valley to replace Bastardo in the bullpen.
Bastardo, who has a 5.11 ERA and nine walks in 16 appearances, last pitched Tuesday night against the New York Yankees when he walked one batter and hit two others in two-thirds of an inning.
Mathieson, who has twice undergone Tommy John surgery since he last pitched in the big leagues Sept. 2, 2006, was pitching as the closer for the Iron Pigs. In 25 appearances, he was 2-2 with 12 saves and a 2.43 ERA. He allowed 20 hits, 12 walks and struck out 34 in 29 2/3 innings.
Matt Gelb, Inquirer Staff Writer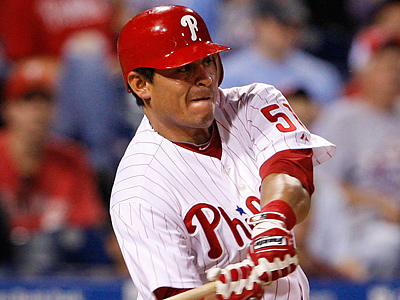 NEW YORK -- Charlie Manuel pinch hit for catcher Carlos Ruiz in the ninth inning of Tuesday's game and that was the first sign. Ruiz is hurting. He's in an 0 for 22 slump and has a sore left ankle, injured in the ninth inning of Sunday's loss to Boston.
On Wednesday, Ruiz will sit as Brian Schneider starts at catcher.
Manuel said Ruiz's ankle is even sorer than it was Tuesday. The injury occurred when Ruiz couldn't handle a J.C. Romero pitch that went to the backstop. Ruiz ran to fetch it, but slid awkwardly into the backstop. Manuel and trainers came to see Ruiz, who stayed in the game.