Archive: May, 2011
Matt Gelb, Inquirer Staff Writer
WRITER'S NOTE: We did this last season and a bunch of you enjoyed it, so we'll do it again. The real game story can be found here.
For those unaware of the writing process on deadline when covering a game, I'll write a story during the game that is to be sent as soon as the final out is recorded. This is for our first edition of the newspaper. Then I'll go downstairs, talk to the manager, some players, and rewrite the story with quotes and, usually, better writing.
There are thousands and thousands of words wasted in this process. Think about how many stories were written on deadline and ready to send proclaiming the Red Sox as world champions in 1986.

Matt Gelb, Inquirer Staff Writer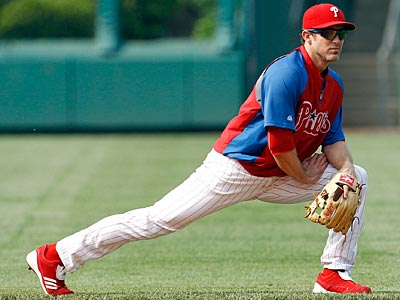 After two days of playing, Chase Utley will rest Wednesday. He is not in the lineup as the Phillies take on Reds lefthander Travis Wood, who almost threw a perfect game against them last season. Instead, Wilson Valdez is at second.
All parties involved, from Manuel to Utley and GM Ruben Amaro Jr., have said Utley's right knee will be managed with caution. Manuel said he had a schedule for Utley sitting inside his desk but would not reveal it to reporters.
In his first two games, Utley is 1 for 9. He had a bunch of challenging plays in the field Tuesday and looked fine. He's also running every ground ball out hard, like usual.
Poll: Best sports sideshow:

(436 votes)
Matt Gelb, Inquirer Staff Writer
It had been 20 days since Vance Worley had thrown more than three innings in a game and the 23-year-old rookie said that caught up to him Tuesday.
Near the end of the third inning, he said he started dragging. By the time the fifth inning began with a walk to the opposing pitcher, Johnny Cueto, he was past tired.
"To walk him, obviously, made everything kind of spiral," Worley said.
Matt Gelb, Inquirer Staff Writer
A significantly quieter pregame tonight. Only two TV cameras in attendance as opposed to the hundreds (OK, maybe I'm overestimating) that were around for Utley Day on Monday. Anyway, the bespectacled one, Vance Worley, takes the mound for his third start of the season.
Before that, here is some injury news:
-- Jose Contreras (elbow) returned to Citizens Bank Park after his final rehab outing this morning at triple-A Lehigh Valley. He said he's ready to go. Rich Dubee and Ruben Amaro Jr. tend to agree. The question is whether he'll be activated Wednesday or Thursday. Either way, he will be back in the fold shortly.
Matt Gelb, Inquirer Staff Writer
Only in the minor leagues would a Tuesday doubleheader begin at 10:35 a.m., but that's what is happening up in Hog Country today. Jose Contreras was scheduled to make his final rehab appearance for triple-A Lehigh Valley on Monday night, but the game was rained out.
So he started Game 1 of this morning-day doubleheader, and was very sharp. The Morning Call's Jeff Schuler reports Contreras threw 14 of his 20 pitches for strikes in two innings and allowed only two singles -- one of which was erased by a double-play ball.
The Phillies will likely activate Contreras from the 15-day disabled list before Wednesday's game. The guess here is righthander David Herndon goes back to Allentown.
Matt Gelb, Inquirer Staff Writer
The Phillies are still unsure of the problems inside Joe Blanton's right elbow, and they are sending the pitcher for an ultrasound examination Tuesday followed by a visit to Dr. James Andrews, the renowned orthopedist, on Wednesday.
Those are words a pitcher never wants to hear. Blanton expressed some doubt as to what is going on in his elbow. He will be prevented from throwing for at least 10 to 14 days and it could be longer depending on what the next two days find.
"It's still kind of up in the air," Blanton said.
Matt Gelb, Inquirer Staff Writer
In 46 games, Charlie Manuel used 30 different batting orders. With glee, he will use a 31st new one Monday because Chase Utley is added.
But Utley will not bat third as Manuel suggested Sunday. The starting nine against Cincinnati righthander Bronson Arroyo:
1. Jimmy Rollins 6
2. Chase Utley 4
3. Placido Polanco 5
4. Ryan Howard 3
5. Raul Ibanez 7
6. Carlos Ruiz 2
7. Domonic Brown 9
8. John Mayberry Jr. 8
9. Cole Hamels 1
---
Matt Gelb, Inquirer Staff Writer
Video: The Inquirer's Matt Gelb discusses the Phillies' loss to Texas and the scheduled return of Chase Utley.
---
Have a question? Send it to Matt Gelb's Mailbag.
Download our NEW iPhone/Android app for easy access to all of our Phillies coverage, plus app-exclusive videos and analysis. Get it here.
Matt Gelb, Inquirer Staff Writer
UPDATE: Utley is officially back Monday. The Phillies optioned Pete Orr after Sunday's loss and will activate Utley before Monday's game.
Also, Vance Worley will make Joe Blanton's next start Tuesday as Blanton goes on the disabled list.
A clubhouse attendant spent about 10 minutes Sunday morning unpacking the contents of Chase Utley's bag, the last remnants of his 16-day stay in Florida.
Bob Brookover, Inquirer Baseball Columnist
Late Thursday night when Ruben Amaro Jr. announced that Shane Victorino was headed to the disabled list with a strained hamstring, the general manager pretty much rejected the idea that top prospect Domonic Brown would be called up to replace him.
Friday afternoon, when the news of Victorino's trip to the 15-day DL became official, the Phillies announced that Brown would be promoted from triple-A Lehigh Valley to replace him on the roster.
The Phillies also optioned reliever Scott Mathieson to Lehigh Valley and recalled David Herndon. No immediate announcement was made about righthander Joe Blanton, who is also expected to go on the disabled list with an elbow injury that forced him to be scratched from Thursday night's start against Colorado.