Archive: May, 2008
Todd Zolecki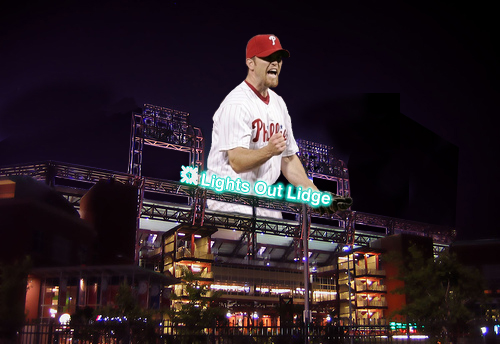 Thanks to loyal Phillies Zone reader Joe D. for sending this along ...
Todd Zolecki
I send him.
I send Pedro Feliz home on the fly ball that Shane Victorino hit to left field in last night's 4-3 loss to the Astros at Minute Maid Park. I send him because Darin Erstad would need to make an absolutely perfect throw to get Feliz at the plate. Of course, Erstad made an absolutely perfect throw. He made a perfect throw and got Feliz just in time to end the game.
Of course, the Phillies could have held Feliz at third and had Chase Utley face Doug Brocail with two outs. But the chances of Feliz scoring are at least equal to (probably better) than Utley's chances of getting a hit. Utley is hitting .188 in his last 18 games, although he is 2 for 3 with a walk, homer and four RBIs in his career against Brocail. But the point is this: it wasn't a bad decision to send Feliz. And if the Phillies hadn't sent Feliz home and Utley had struck out, popped out or grounded out to end the game, everybody today would be saying, "Why in the world didn't the Phillies send Feliz from third? Erstad would have need to make a perfect throw to get him."
Todd Zolecki
It's the $24.5 million mystery.
For most of his Phillies career, Adam Eaton has been a major disappointment. He pitched so poorly last year that Charlie Manuel kept him from the postseason roster. In 40 starts with the Phillies since he signed a three-year contract Nov. 30, 2006, Eaton is 10-13 with a 6.22 ERA. He is 0-3 with a 5.37 ERA after 10 starts this season. Yep, he's winelss after 10 starts. The Elias Sports Bureau said the franchise record for most starts without a win to start a season is 16, when Ken Reynolds went from May 29 to Aug. 25, 1972, without a win. The Phillies hope Eaton picks up at least one before he ties Reynolds' mark for futility.
But Eaton allowed three runs in seven innings in last night's 4-3 loss to the Astros at Minute Maid Park.
Todd Zolecki
It's the top of the fifth inning at Minute Maid Park and Ryan Howard only needs a triple for the cycle.
Yeah, only.
Howard has just four triples in his career, so the odds are stacked against him. But he hit a leadoff single to right field in the second inning, doubled to left field to score a run in the third and crushed a solo home run to left in the fifth. Howard is hitting .209 at the moment. He hasn't had a higher average since he was hitting .211 on April 17. It's also Howard's first back-to-back multi-hit games since Aug. 25-28 last season, when he had more than one hit in four consecutive games.
Todd Zolecki
Righthander Kris Benson pitched four innings today in an extended spring training game in St. Petersburg.
He threw 58 pitches. His fastball topped out at 87 mph, although it hovered in the mid-80s. He is scheduled to throw another extended spring training game Tuesday.

Todd Zolecki
Pat Burrell is hitting just .143 (7 for 49) with one homer and two RBIs since May 4, so Charlie Manuel didn't have him in the starting lineup for the first time this season.
Tonight's lineup:
1. Jimmy Rollins, SS.
2. Shane Victorino, CF.
3. Chase Utley, 2B.
4. Ryan Howard, 1B.
5. Pedro Feliz, 3B.
6. Geoff Jenkins, RF.
7. Greg Dobbs, LF.
8. Carlos Ruiz, C.
9. Kyle Kendrick, P.
Todd Zolecki
It seems every time Ryan Howard hits a home run or has a couple hits in a game these days, everybody wonders if this is it?
Is this the game that turns around his season?
Howard went 3 for 5 with a double, two home runs and four RBIs in last night's 12-2 victory over the Nationals at Nationals Park. He raised his average from .183 to .195. He is hitting .275 (14 for 51) with six homers and 13 RBIs since he went 0 for 4 in Arizona on May 3 to drop his average to a season-low .163.
Todd Zolecki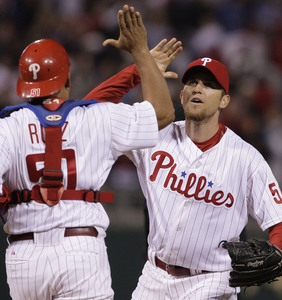 Got a question for Phillies closer Brad Lidge?
Lidge has been money so far for the Phillies. He enters tonight's game against the Nationals at 1-0 with a 0.47 ERA and 10 saves in 10 opportunities.
E-mail me at tzolecki@phillynews.com and I'll try to ask him the top 10 questions later this week. Please include your first name, initial of your last name and city and state where you live. Lidge attended Notre Dame, where he majored in marketing and economics, before the Houston Astros made him the 17th overall pick in the 1998 amateur draft. The Phillies acquired him in a Nov. 7 trade from the Astros. Again, I'll take baseball questions and questions that aren't baseball related. Take a look at last Saturday's Q&A with Jayson Werth for an example. Or take a look at Q&A's we've done with people like Chase Utley and Mike Schmidt.
Todd Zolecki
Here's tonight lineup for the Phillies against the Nationals at Nationals Park:
1) Jimmy Rollins, SS.
2) Shane Victorino, CF.
3) Chase Utley, 2B.
4) Ryan Howard, 1B.
5) Pat Burrell, LF.
6) Geoff Jenkins, RF.
7) Pedro Feliz, 3B.
8) Carlos Ruiz, C.
9) Cole Hamels, P.