Archive: April, 2012
Marc Narducci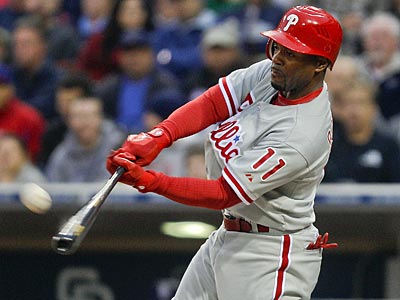 Charlie Manuel has put Jimmy Rollins in the leadoff spot for tonight's game with the Chicago Cubs at Citizens Bank Park.
After scoring 15 runs in winning the final two games in Arizona, the Phillies reverted to form in Friday's 5-1 loss to the Chicago Cubs.
When the Phillies didn't score with runners at the corners and no outs in the first inning, it was an indication that this wouldn't be their night.
Marc Narducci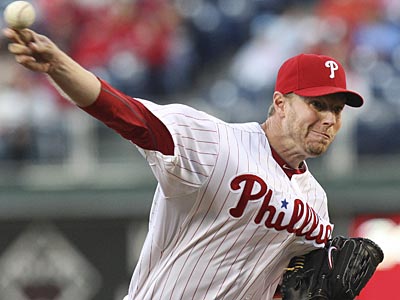 Roy Halladay said all the right things, refusing to throw his teammates under the bus, but deep down it has to be frustrating to see the offense sputter when he takes the mound.
Actually the offense isn't doing too well regardless of who is on the mound, but Halladay has seen his share of sinking run support.
Halladay allowed three runs over seven innings, but that was more than enough for the Chicago Cubs in Friday's 5-1 victory over the Phillies.
Marc Narducci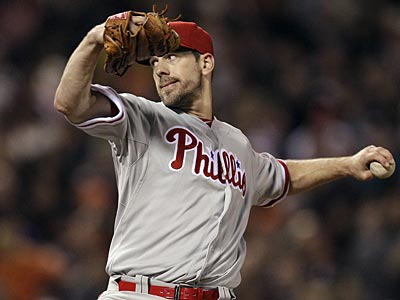 Phillies general manger Ruben Amaro Jr. says that an MRI disclosed that lefthander Cliff Lee has a Grade 1 left external oblique strain.
"That is kind of what we thought it would be," Amaro said before tonight's game with the Chicago Cubs.
Amaro stressed that he doesn't know the timetable for Lee, who is eligible to come off the disabled list on May 4 when the Phillies open a weekend series in Washington.
Marc Narducci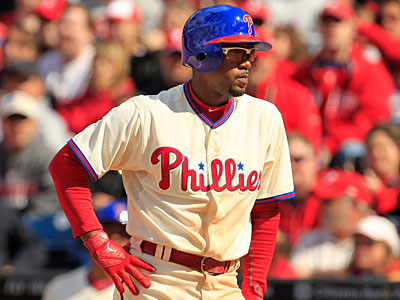 Jimmy Rollins is back in the Phillies lineup Friday against the Chicago Cubs after getting most of the game off during Wednesday's 7-2 win at Arizona.
Rollins, who had started the first 18 games this season, entered the game as a defensive replacement in the eighth inning.
Manager Charlie Manuel feels giving him a breather, in addition to the team's day off on Thursday, will benefit Rollins.
Marc Narducci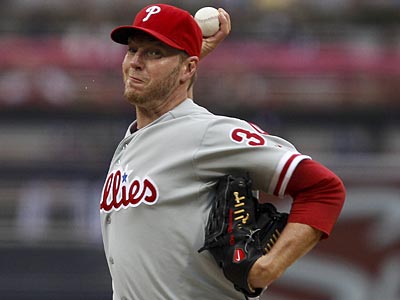 Here is the Phillies lineup for tonight's game against the visiting Chicago Cubs.
Juan Pierre leads off and plays LF, followed by Placido Polanco, 3B; Jimmy Rollins, SS; Hunter Pense, RF; Shane Victorino, CF; Ty Wigginton, 1B; Carlos Ruiz, C; Freddy Galvis, 2B and Roy Halladay, P (3-1, 1.50).
Matt Gelb, Inquirer Staff Writer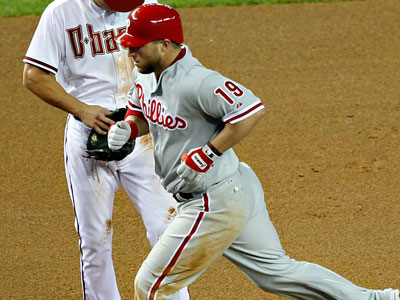 PHOENIX — One game remains on this season-long road trip and for all its ugliness, the Phillies can break even with a victory Wednesday. That's saying something.
To do it, Charlie Manuel will use his 15th different lineup in 19 games. He's sticking with the hot hands — Laynce Nix and Pete Orr. And why not?
Jimmy Rollins will sit on the bench for the first time in 2012. He's 3 for his last 33. Orr has one more extra-base hit (four) than Rollins (three) in 59 fewer at-bats. With the day off Thursday, Manuel can give Rollins two full days to clear his head.
Matt Gelb, Inquirer Staff Writer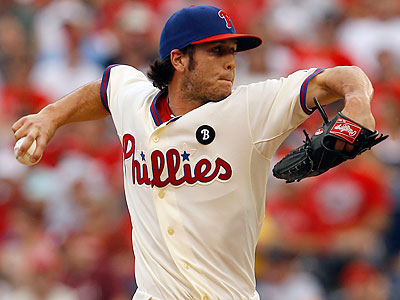 PHOENIX — The immediate effect of Kyle Kendrick's three-inning clunker Monday was a Phillies loss. But its aftermath extended into Tuesday, when Charlie Manuel was left with a short bullpen.
Kendrick threw 63 pitches and allowed seven runs.
"Sometimes you see guys settle in and they could give you three or four innings," Manuel said. "But they just kept hitting the ball on him. Even in the inning where he was clean, they hit some balls hard. He just had a tough night."
Matt Gelb, Inquirer Staff Writer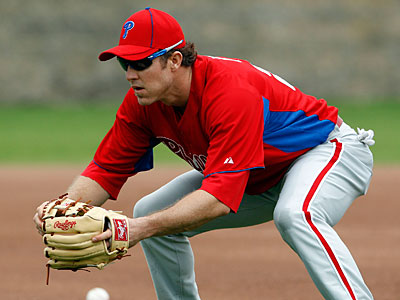 PHOENIX — There isn't much else to discuss in the aftermath of a 9-5 drubbing at the hands of the Diamondbacks, so look ahead. And this is way ahead, far more ahead than we should be thinking.
Freddy Galvis has played quite well. It's only been 17 games, but the 22-year-old rookie has done more than hold his own. His defensive contributions will compensate for his shortcomings at the plate. (And he does have five extra-base hits, which ties for the team lead.)
The Phillies first baseman quartet of Ty Wigginton/John Mayberry Jr./Laynce Nix/Jim Thome? They haven't been awful; Phillies first basemen ranked eighth in the National League with a .730 OPS entering Monday.