Archive: April, 2008
Todd Zolecki
Ryan Howard hit a two-run home run to center field in the top of the first inning tonight against the Pittsburgh Pirates at PNC Park.
It's the first homer of his career against the Pirates, the only team he had played against but hadn't homered against. Charlie Manuel had benched Howard the last two games, although Howard went 0 for 3 with three strikeouts in pinch-hit and substitution situations.
Todd Zolecki
Righthander Kris Benson had to cut his start in extended spring training short today in Clearwater, Fla., after he apparently strained his right groin.
More information will be available tomorrow.
Todd Zolecki
Just flew from Milwaukee to Philly to Pittsburgh, so this is my first chance to post today ...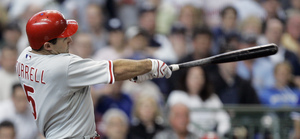 Pat Burrell remains one of the hottest hitters in baseball, so I decided to have a few Phillies teammates answer the question on the t-shirts they received in spring training: Is Pat Burrell man or machine?
"He's a man that is a machine," Brett Myers said.
Todd Zolecki
Wha-wha-wha-what? Adam Eaton had allowed one hit through three innings, but got yanked with two outs in the fourth after he allowed four extra-base hits in the fourth to cut the Phillies lead to 6-3. Charlie Manuel wasn't happy with Eaton. Eaton got to 3-0 on Brian Bixler and Manuel already headed up the steps. Once Eaton walked Bixler on four pitches, Manuel stepped onto the field and chucked his gum to the side.
Chad Durbin, who entered with a 0.60 ERA in 11 appearances, allowed two runs in the fifth to make it 6-5.
*
Todd Zolecki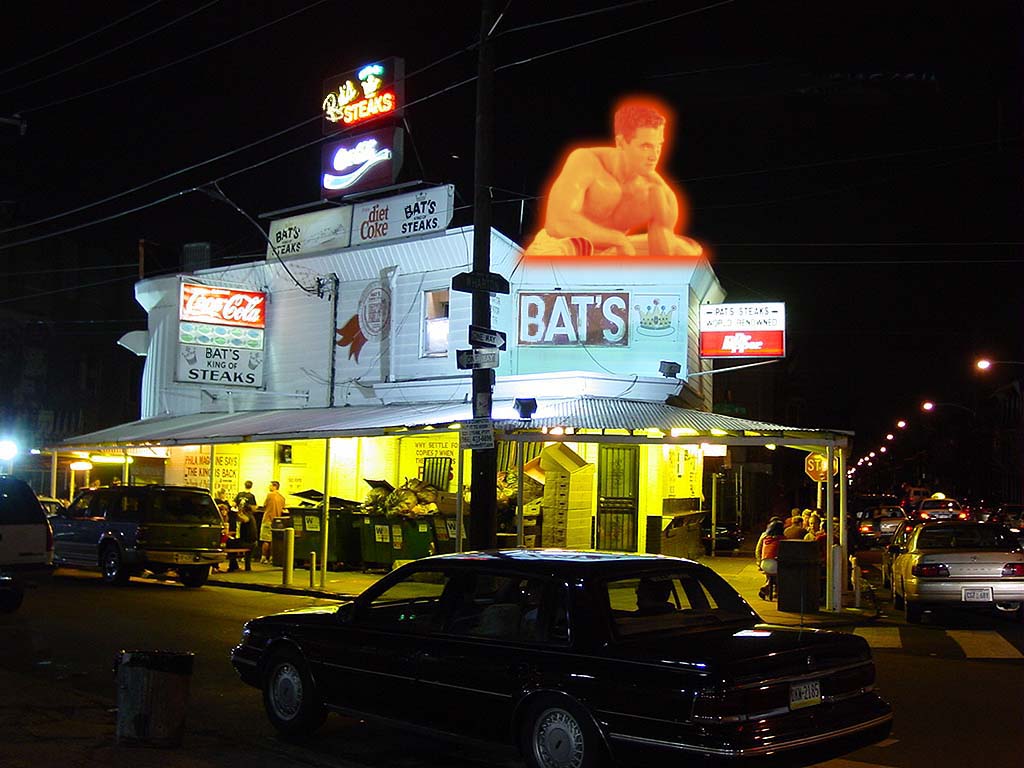 Thanks to Joe D. from West Deptford for putting this together.
Todd Zolecki
Ryan Howard is not in the Phillies' lineup for this afternoon's series finale against the Brewers at Miller Park.
I thought that might happen after Howard went 0 for 4 with two strikeouts last night in a 5-4 loss to the Brewers. Howard, who is hitting .181, whipped his bat to the dugout after both strikeouts and sat in front of his locker for several minutes after the game had ended.
You can tell he is terribly frustrated.
Todd Zolecki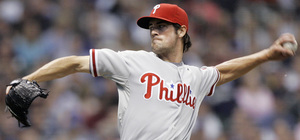 Charlie Manuel said he absolutely wanted Cole Hamels to start the eighth inning last night at Miller Park.
No matter that he had thrown 110 pitches. Hamels is his ace. Aces are supposed to pitch in big spots like that. Aces are supposed to get the job done. Obviously, the move didn't work out. Hamels served up a double to Ryan Braun and a two-run home run to Prince Fielder in a 5-4 loss to the Brewers.
Hamels threw a career-high 121 pitches last night.
Todd Zolecki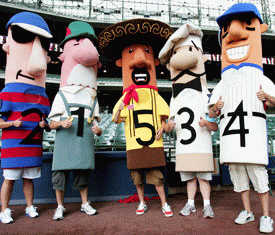 I picked the Polish Sausage (2) after its strong showing Tuesday night at Miller Park, but the Hot Dog (4) won the famous Sausage Race today -- beating the Italian Sausage by a casing.
Freakin' Hot Dog.
Also pictured are the Bratwurst (1), Chorizo (5) and Italian (3).