Archive: March, 2012
Matt Gelb, Inquirer Staff Writer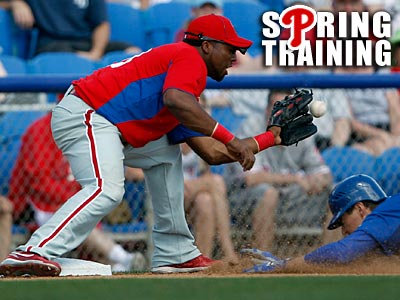 FORT MYERS, Fla. — So here we are, three days away from breaking camp in Florida, and finally the lasting image of this morose Phillies spring has emerged.
Charlie Manuel rattled off a bunch of Hector Luna's career stats following Wednesday's 11-7 loss to Minnesota. He likes Luna's bat, especially after three more hits and a home run. Luna is still a long shot to make the team on the bench, but Manuel is intrigued.
Just ask Ed Wade and his Google.
Matt Gelb, Inquirer Staff Writer
CLEARWATER, Fla. — And so we've reached the final stretch of the Grapefruit League. This morose Phillies spring has been consumed with questions regarding Chase Utley and Ryan Howard. But now, as life without them, draws closer to reality, the Phillies are faced with the task of actually fielding a 25-man roster.
That will be a challenge. The viable options in camp are limited, and in the wake of Michael Martinez's broken foot, there are spots to be had.
So the drama of this spring is whittled to Pete Orr starting at shortstop against the Pirates, Hector Luna manning left field in a minor-league game, and debating the value of Juan Pierre vs. Scott Podsednik.
Matt Gelb, Inquirer Staff Writer
CLEARWATER, Fla. — Jose Contreras is not scheduled to pitch in another Grapefruit League game. Instead, he'll pitch in a minor-league game Wednesday, Saturday and then next Tuesday.
Why the switch for a guy the Phillies want a close look at? Well, major-league rules dictate the earliest a club may backdate a placement on the 15-day disabled list is Monday, March 26. Contreras last pitched in a Grapefruit League game Sunday (the 25th).
The Phillies are fairly confident Contreras will be ready for opening day April 5, but are aware he may require a few more days to build arm strength. So rather than keep resetting his disabled list clock, they will prevent him from facing big-league hitters.
Matt Gelb, Inquirer Staff Writer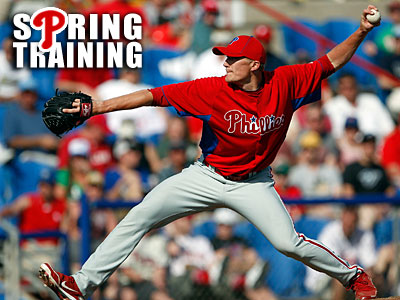 CLEARWATER, Fla. — After Rich Dubee saw Jake Diekman throw off a mound for the first time in February, the pitching coach was smitten. He saw vast promise from the 25-year-old's left arm, and a deceptive delivery that had catcher Carlos Ruiz raving.
Dubee pulled Diekman aside that day, offered a few pointers, and watched as Diekman did nothing but impress in Grapefruit League play. On Tuesday, he told Diekman he was headed back to the minors.
"I asked him first if he had an agent," Dubee said. "He told me he did. I said, 'Fire him. Because I'll jump on and be your agent and hopefully I'll be able to retire soon.' I think he's got tremendous upside. Seriously. That's what I told him. I expect to see him this year. If the call comes, I expect him to be ready."
Matt Gelb, Inquirer Staff Writer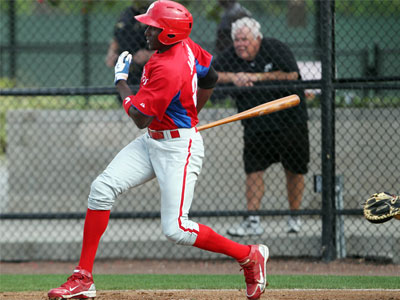 CLEARWATER, Fla. — Sunday was a day of rest at minor-league camp, as the Phillies made their cuts and assembled the rosters for their four full-season minor-league affiliates. The most recognizable names cut were 22-year-old infielder Geancarlo Mendez and 23-year-old righthander Paul Cusick (a Penn grad and 2011 29th rounder).
But the more interesting factoids are the working groups the Phillies have established. Again, these aren't set in stone, but they are what the Phillies intend to use right now in Lakewood, Clearwater, Reading and Lehigh Valley.
Three of the four so-called "Baby Aces" are slated to begin at double-A Reading. Brody Colvin, as expected, will start at single-A Clearwater. Trevor May, Jonathan Pettibone and Julio Rodriguez are with the Reading group.
Matt Gelb, Inquirer Staff Writer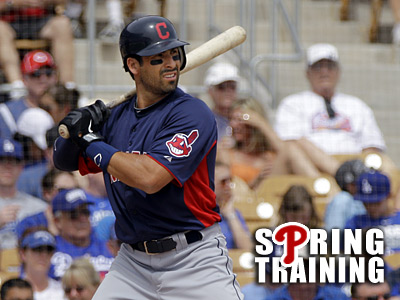 CLEARWATER, Fla. — Seven days from now, the Phillies will travel to Orlando for their 32d and final Grapefruit League game. They'll hop on a charter flight from MCO to PHL in the early evening and then officially head north.
And we're still very much at a loss for what the roster should look like come then.
Such questions remain: Who will fill out the bench and where will they come from? Do they take 11 or 12 pitchers? Is Jose Contreras ready? Are the Phillies being truthful when they say Freddy Galvis is the guy at second?
Philly.com Sports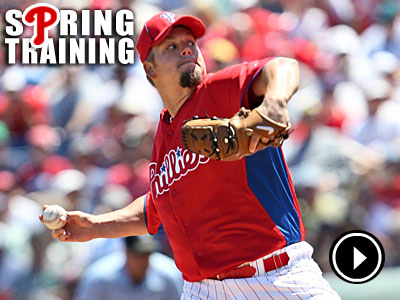 Video: The Phillies have six starters for five spots in the pitching rotation, and while they could use Joe Blanton as trade bait, at this point he's the No. 5 guy, the Inquirer's Matt Gelb reports from Clearwater.
Bob Brookover, Inquirer Columnist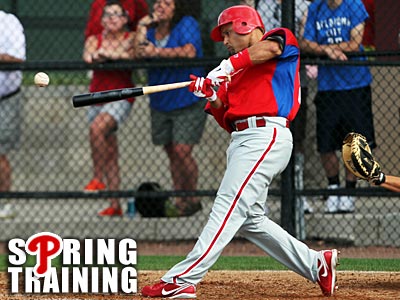 CLEARWATER, Fla. -- Placido Polanco tested the injured left ring finger that had kept him out of the lineup the entire week by playing in a triple-A game Saturday morning at the Carpenter Complex.
The appearance confirmed that Polanco can get out of bed and hit, and it also left him feeling good about his recovery as the Phillies' third baseman went 3-for-3, hitting one line drive to right field and two others to left field.
He said his first game at-bats since suffering the injury March 17 diving back into first base against Toronto went better than he anticipated.