Archive: March, 2010
Matt Gelb, Inquirer Staff Writer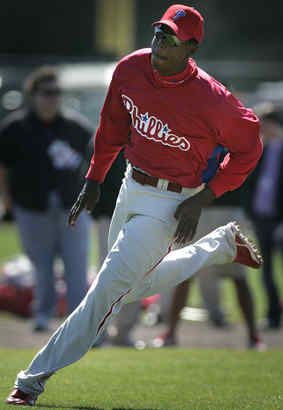 CLEARWATER, Fla. -- Some news on a cloudy Sunday morning:

The Phillies optioned outfielder John Mayberry Jr. to minor-league camp. It should come as no surprise -- the outfield is set with three All-Star starters, a capable backup in Ben Francisco and two lefties (Greg Dobbs and Ross Gload) who can play the corners if needed.

Mayberry hit .289 (11-for-38) this spring with three doubles, a home run and six RBI. He said he leaves camp with a good feeling.

"All in all, I think it went pretty well," Mayberry said. "I'm happy with some of the improvements I made over the off-season. I think that I'm starting to see results as far as them transferring into games."

Mayberry spent some time in the Mexican winter league -- where pitchers typically use more breaking balls -- and had success this off-season. When he was with the Phillies in 2009, Mayberry struck out in 40.3 percent of his at-bats. At triple-A Lehigh Valley, he struck out in 29.7 percent of his at-bats.

This spring, Mayberry struck out seven times in 38 at bats, or 18.4 percent. Again, it's only Grapefruit League games, but it's an improvement. Now the Phillies will look to see Mayberry continue his improved plate discipline.

"I'm feeling good about where I'm at right now," Mayberry said. "The team is pretty much set. This is a top-tier organization and the outfield is crowded with three All-Stars. You have to be realistic and realize that you just want to put yourself in the best position that you can so when they call on you, you'll be ready."

IBANEZ SITS OUT

Still icing his right elbow after being hit by a Royce Ring pitch on Friday night, Raul Ibanez said is not available to hit in today's game.

Ibanez said it's just a bruise on his elbow.

"I think I'm going to work out," Ibanez said. "We're taking it as a precaution."

Ibanez, who is hitting .098 (4-for-41) this spring, said he expects to be back in the lineup on Monday.

OTHER ROSTER MOVES

The Phillies also reassigned catcher Dane Sardinha and infielder Ozzie Chavez to minor-league camp. That leaves 31 players left in big-league camp. The team heads north on Thursday after their final Grapefruit League game.
TODAY'S LINEUP
1. Jimmy Rollins 6
2. Placido Polanco 5
3. Chase Utley 4
4. Ryan Howard 3
5. Jayson Werth 9
6. Shane Victorino 8
7. Ben Francisco 7
8. Carlos Ruiz 2
9. Joe Blanton 1
Matt Gelb, Inquirer Staff Writer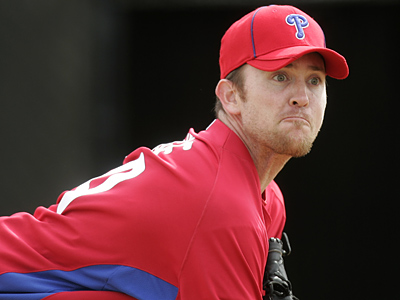 CLEARWATER, Fla. -- After pitching an inning in a single-A minor-league game, Brad Lidge walked to an adjacent field at the Carpenter Complex and began long tossing. He said he threw about 30 pitches "as far as I could."
It's a good sign, Lidge said, that his arm strength is returning.
But when the Phillies break camp and head north on Thursday, Lidge will be staying in Florida.
Matt Gelb, Inquirer Staff Writer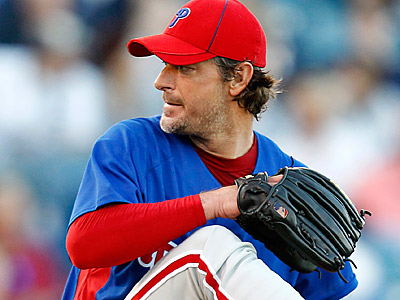 TAMPA, Fla. -- On Thursday, Rich Dubee said he wasn't looking at numbers. Whoever wins the fifth starter's job doesn't have to be the person with the lowest spring ERA. And one or two Grapefruit League starts won't make or break it.

Of course not.

But after watching what Jamie Moyer did to the Yankees on Friday night, Dubee had to be pleased. (He didn't speak to reporters after the game.) It was 6 2/3 innings and 79 pitches -- and in Moyer's 23-year career there have been thousands and thousands of those.

The 47-year-old Moyer wouldn't let on afterward, but those 79 pitches were a bit more special than others. As Moyer trotted off the mound in the seventh inning, he slapped his glove with his left hand. The Phillies fans in Tampa cheered as he came off and he briefly tipped his cap.

"I've proven to myself that I'm healthy," Moyer said.

In reaching this point, Moyer has overcome a significant amount since the end of the 2009 season. He had three off-season surgeries. He had another stay in the hospital with a blood infection. Remember, we're talking about a 47-year-old man having three surgeries within the span of three months.

"I didn't have any preconceived notion of where I would be," Moyer said.

The interesting part is that Moyer praised the Phillies for letting him go about his own pace at the start of camp. He said the team allowed him to back off doing some drills early in the spring and basically let him set his own routine. It was "hugely beneficial," Moyer said. Instead of jumping right in and risking a setback that could put him behind everyone else, Moyer said he worked toward making slow progress.

"I've never felt at any time there was urgency to do anything," Moyer said. "Or prove anything. Or work out in a certain way. You just try and monitor every day for what it is and take it from there."

And because of that, Moyer has proven he's healthy. So in all certainty, he will begin the season as the fifth starter. It was his job to lose and he hasn't lost it yet.

When Moyer was hospitalized over Thanksgiving, he said he never allowed himself to think his career could be over. He'd wait to make that decision.

"You know what?" Moyer said. "If I come to spring training and I couldn't do it, then I couldn't do it."

For now, he can still do it.
Matt Gelb, Inquirer Staff Writer
Inquirer columnist Michael Klein penned two interesting stories on health and nutrition related to the Phillies in today's paper. The first, about manager Charlie Manuel, who has lost about 50 pounds while on a Nutrisystem diet, begins like this:
Phillies manager Charlie Manuel remembers the night he knew he had to lose weight.
It was early last season, and he was at home, watching a replay of a game.
Matt Gelb, Inquirer Staff Writer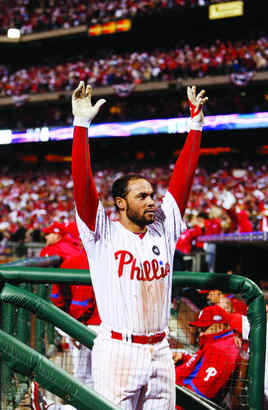 CLEARWATER, Fla. -- Phillies general manager Ruben Amaro Jr. strolled through the clubhouse this morning and stopped to look at the lineup card posted on a bulletin board. He saw Shane Victorino leading off.
"Victorino's getting hit," Amaro joked.
It's Brett Myers Day here. The often controversial and always quotable Myers returns as a Houston Astro to face the team with which he spent his first eight seasons in the majors.
Matt Gelb, Inquirer Staff Writer
LAKE BUENA VISTA, Fla. -- Welcome to Disney World, where the fog has cleared and it's looking like a picturesque day. The Phillies are making their second and final trip here to face the Braves at 1 p.m. (ESPN).
Catcher Carlos Ruiz is back in the lineup after missing two games with the flu. J.A. Happ takes the mound for his third Grapefruit League start. He has yet to allow a run in 6 1/3 innings.
Ruiz needs at-bats, manager Charlie Manuel said earlier in the week. This spring, Ruiz is 4-for-17 at the plate. He has the least amount of at-bats among all the regular position players.
Matt Gelb, Inquirer Staff Writer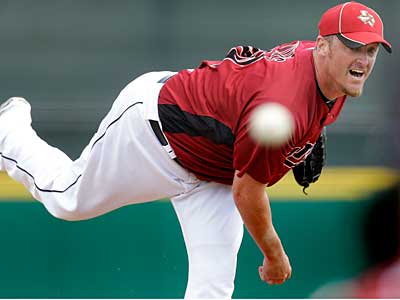 LAKE BUENA VISTA, Fla. -- On Thursday in Clearwater, Brett Myers will pitch against the Phillies for the first time in his life when the Astros visit for a Grapefruit League game.
It's making Charlie Manuel sentimental.
"I miss Myers," Manuel said. "I miss getting on him. I miss his mouth. I miss everything. I think in our camp this year, it's been a little quieter without Myers."
Matt Gelb, Inquirer Staff Writer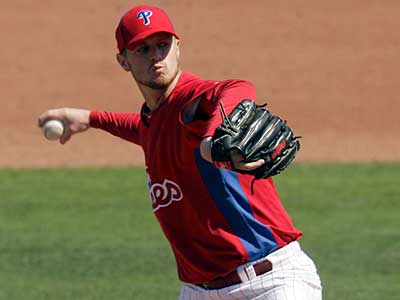 CLEARWATER, Fla. -- It's the only position battle left in camp, so Jamie Moyer and Kyle Kendrick will be the focus for the final 10 days here in Florida. And rightfully so.

But there is a lesson to take out of the competition for the fifth starter's job: It doesn't really matter that much.

The guys over at Fangraphs have been discussing the merits of how teams should handle the fifth starter slot and they have sparked some interesting discussion. Some of it is valid; some is not.

The point is this: Teams need to be flexible when constructing the back of their rotation. The Phillies have definitely embraced that idea this spring. If you look at simple numbers from 2009, it's easy to see why. Last season, only the Cubs and Rockies had five starters each make at least 24 starts. Moreover:

# All 30 teams had at least one pitcher make 24 or more starts.
# Twenty-six teams had two pitchers make 24 or more starts.
# Then the number drops to 22 teams that had three pitchers make 24 or more starts.
# Then we hit a cliff. Only nine teams were able to rely on four pitchers to make 24 or more starts.

The Phillies weren't even among those nine teams -- only Joe Blanton (31), Cole Hamels (32) and Moyer (25) made more than 24 starts. J.A. Happ was close with 23 and Cliff Lee started 12. Now obviously, the Phillies have a bit more stability at the top entering 2010 with Roy Halladay on the opening day roster.

Still, that doesn't mean the conservative approach with the fifth starter's job isn't necessary.

Yes, the Phillies are being conservative. Moyer, 47, will likely begin the season as the fifth starter. He is owed $8 million. He pitched poorly enough to be removed from the rotation midseason in 2009. And he had three surgeries this off-season. But he's also won 258 games in his 23-year career and has gotten guys out this spring.

Sure, with the way Kendrick has pitched in Grapefruit League games, he could easily be declared the winner. The Phillies could attempt to move Moyer in a trade to a team looking for a veteran fifth stater (there are plenty of possible suitors). But it's March and there is no reason not to see what Moyer can do as a starter to begin the season.

Or to sacrifice the flexibility the Phillies currently have.

That's the main point of a follow-up article on Fangraphs, which advocates a job-sharing plan for the fifth starter's spot. They advocate finding three pitchers to fill the fifth starter's role:

1. A long reliever who would serve as the seventh arm in the 'pen and be expected to make eight to 10 starts on the year. Ideally, this would be a proven veteran who could stick at the MLB level all season.

2. A pitching prospect that projects to be a fringe No. 3 or 4 with two or three minor league options remaining. He would be introduced to the Majors in this low-pressure role over the next two to three seasons before officially (hopefully) graduating to the role of a reliable third or fourth starter. In this role, the pitcher would need to make about 10 starts at the MLB level each season.

3. A minor league "veteran" pitcher (somewhere in the 25-30 year old range) who has been unable to stick in the Majors – and still has at least one minor league option left – and can be relied on to make at least five starts on the season.

Hmm...sounds pretty familiar. It's not spot-on, but Moyer, Kendrick and Andrew Carpenter/Ryan Vogelsong could fit nicely into those described roles. Now the Phillies didn't necessarily say this off-season, "Let's share the job." But by rightfully keeping Moyer around, the Phillies give themselves options.

If Moyer isn't the guy, then Kendrick will eventually take over sometime during the season. There have been far worse scenarios.