Archive: December, 2012
Philly.com sports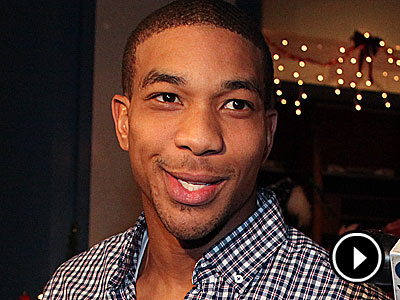 Video: The Phillies introduced their new centerfielder, Ben Revere, to the media. The Inquirer's Matt Gelb reports from Citizens Bank Park.
---
Have a question? Send it to Matt Gelb's Mailbag.
Matt Gelb, Inquirer Staff Writer
The Phillies formally invited nine players, most of whom will form triple-A Lehigh Valley's roster, to spring training on Thursday. Most notable is catcher Humberto Quintero, who is the favorite to serve as the team's backup catcher during the first month of the season while Carlos Ruiz serves his 25-game suspension for Adderall.
In addition to Quintero those invited were infielders Andres Blanco, Josh Fields, Michael Martinez and Pete Orr; catcher Steven Lerud; outfielder Jermaine Mitchell; pitchers Cesar Jimenez and Zach Miner.
Martinez, Orr and Lerud all appeared for the Phillies in 2012. Blanco spent the entire season at triple-A Lehigh Valley. The others are all newcomers.
Matt Gelb, Inquirer Staff Writer
Sure, the Phillies were intrigued by Josh Hamilton. But the sense from front office officials was his price would never sink to a level with which they were comfortable. That sentiment was vindicated Thursday when the Los Angeles Angels reportedly agreed to a five-year, $125 million contract with Hamilton.
The aftershocks will rattle throughout baseball, and Philadelphia is included. The top corner outfielder is off the market; Nick Swisher and Cody Ross could soon follow. The Phillies are wary of offering more than three guaranteed years to any player above 30. Both Swisher and Ross are fits on paper, but not yet in reality.
Now, with Texas scorned by Hamilton and needing some sort of offensive addition, they could enter the market for Swisher or Ross. That would drive their prices up. They could also pursue first baseman Adam LaRoche, formerly of the Nationals, to fill a hole.
Matt Gelb, Inquirer Staff Writer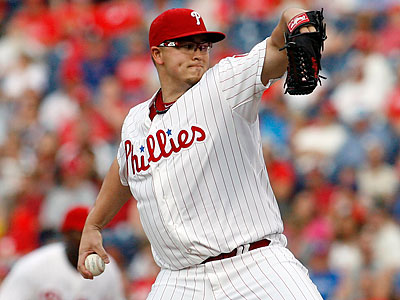 Two days after Zack Greinke signed the richest deal ever for a righthanded pitcher, Kevin Correia agreed to a two-year, $10 million contract with Minnesota. Last week, Joe Blanton signed with Los Angeles for $15 million over two seasons.
The cost of doing business in the pitching market is prohibitive, from top to bottom. That's why, as the Phillies seek a replacement for Vance Worley's fifth spot in the rotation, think Chan Ho Park.
No, the Phillies are not signing Park, who recently announced his retirement from baseball. Rather, this situation conjures memories of 2009, the last time the Phillies truly had a rotation battle in spring training. (That is excluding 2010, when Jamie Moyer merely had to demonstrate good health to beat Kyle Kendrick.)
Matt Gelb, Inquirer Staff Writer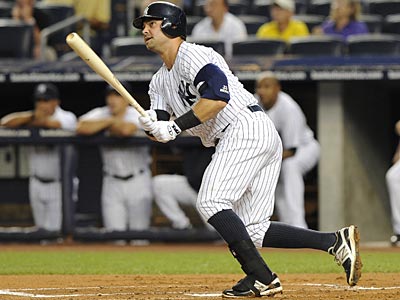 He filled two holes in a lineup with many, so naturally, the question for Ruben Amaro Jr. was, "What else?"
Ben Revere and Michael Young certainly fill needs. How well, no one is sure. But that duo combined for eight home runs in 2012 and did not regularly hit for extra bases.
"We'd love to add more home runs," Amaro said. "But for me, again, it's about production. If we can produce runs – and I know that Ben can and I know that Michael can – and we have to get production out of the middle of our lineup. The guys we've paid to produce those runs. If we can get complementary [production] from Ben and Michael and get the kind of production we expect out of Ryan [Howard] and Chase [Utley], I think we're going to be fine."
Matt Gelb, Inquirer Staff Writer
The call was soon returned Monday and Michael Young was on the other end, speaking to his new manager. Charlie Manuel greeted his third baseman, and as the 68-year-old baseball lifer is wont to do, probably generated a few fresh lineup ideas in his mind.
"I could hit Michael Young in quite a few places," Manuel said.
Then Manuel stopped himself.
Matt Gelb, Inquirer Staff Writer
The Phillies believe they have found a third baseman in Michael Young, a 36-year-old veteran who has not regularly played the position in two seasons and posted career-worst numbers in 2012.
That says as much about the other options at third base than anything. On Sunday, the Young trade was made official, with relievers Josh Lindblom and Lisalverto Bonilla headed to Texas. The Rangers will reportedly pay $10 million of Young's $16 million salary in 2013. The Phillies paid Young $1.2 million to waive his no-trade clause, a decision he deliberated for days, and will also grant him a new no-trade provision.
It was a hefty haul for Young, who was marginalized in Texas despite his tenure and respect.
Bob Brookover, Inquirer Columnist
UPDATE: Baseball sources have confirmed that the Phillies have completed the trade that will bring Michael Young to Philadelphia as the team's primary third baseman.
The Rangers will pay $10 million of Young's $16 million contract for the 2013 season and get relievers Josh Lindblom and Lisalverto Bonilla in return.
Read more about the trade in Sunday's Inquirer.