Archive: November, 2012
Matt Gelb, Inquirer Staff Writer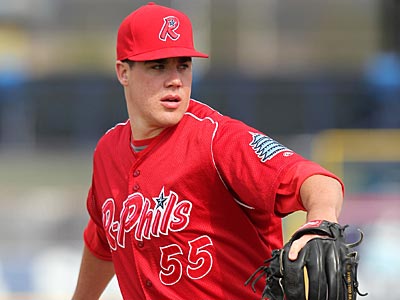 Another milepost of baseball's winter hits at 11:59 p.m. Tuesday, the moment when 40-man rosters must be set in advance of the ever-thrilling Rule 5 draft. There will be a flurry of roster moves in the next two days as teams decide which players are worth protecting.
Not everyone is eligible for selection in Rule 5 draft, which takes place Dec. 6. Eligibility is dependent on a player's age when he was signed. The general guideline: If 19 or older when signed, you must be protected after four years. If 18 or younger, protection is required after five years of service time.
The Phillies currently have 34 players on their 40-man roster. It's unlikely they fill all six spots with minor leaguers. Last winter, they lost righty Lendy Castillo to the Cubs in the Rule 5 draft. Castillo is now property of Chicago after spending the entire 2012 season on the active major-league roster.
Bob Brookover, Inquirer Columnist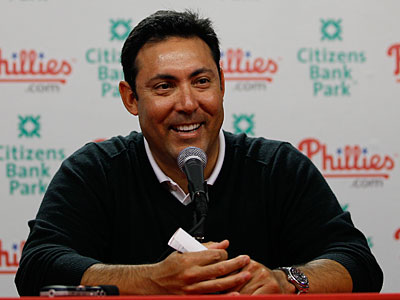 As the Miami Marlins unveiled their gauche new ballpark last winter, proud team president David Samson oddly pointed out that the outside portion of the place did not have any right angles.
"That's the way (owner) Jeffrey Loria wanted it," Samson said.
A short time later the Marlins learned that they had not made any of the right moves in an effort to revamp the moribund franchise.
Matt Gelb, Inquirer Staff Writer
INDIAN WELLS, Calif. — The end is in sight for Darin Ruf. He could be home in Nebraska with his wife and celebrating Thanksgiving in their new house.
The Venezuelan winter league runs through December but Ruf will not stay for it all. On Wednesday, he played in his 177th game of the season; a journey that started April 5 in Reading and ultimately took him to Philadelphia.
He's hit 51 home runs in 619 at-bats.
Matt Gelb, Inquirer Staff Writer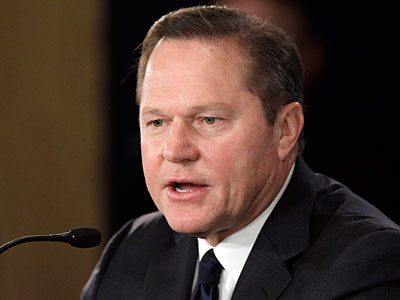 INDIAN WELLS, Calif. — Last winter, Scott Boras accused the Phillies of backing away from an agreed-upon contract with Ryan Madson. This winter, the superagent represents Michael Bourn, one of the top outfielders on the market and certainly of interest to the Phillies.
Bourn is also a potential target of the Washington Nationals, a team with which Boras has brokered a great deal of recent business. He represents five clients on the Nationals' roster while only one, Domonic Brown, is with the Phillies.
When asked if any hard feelings between the Phillies and he could affect future negotiations, Boras touted his professionalism.
Bob Brookover, Inquirer Columnist
The Phillies hired Dave Brundage Thursday to replace Ryne Sandberg as the manager at triple-A Lehigh Valley.
Brundage, a Phillies fourth-round draft pick in 1986, had worked as a triple-A manager in the Atlanta Braves' system since 2007.
"With Dave's success and experience at the triple-A level, we feel he is the ideal person to manage the IronPigs," said Joe Jordan, the Phillies' director of player development. "His resume speaks for itself."