Archive: October, 2010
Matt Gelb, Inquirer Staff Writer
SAN FRANCISCO -- Following Game 3, I asked Charlie Manuel if he thought it was time to start Ben Francisco in leftfield as Raul Ibanez extended his hitless streak to 15 at-bats.
"I'll think about all that," Manuel said. "But at the same time it's getting kind of late to be trying to make moves, isn't it?"
Apparently not.
Bob Brookover, Inquirer Columnist
Any time a baseball team loses a close game, there are moves that can be questioned.
Such was the case Saturday night after the Phillies dropped a 4-3 decision to the San Francisco Giants in Game 1 of the National League Championship Series.
One popular question: Why didn't Charlie Manuel order a sacrifice bunt from Shane Victorino after Roy Halladay followed Carlos Ruiz' third-inning home run with a single to left field. The argument went like this: If Victorino sacrificed Halladay to second, the pitcher would have scored when Placido Polanco doubled.
Matt Gelb, Inquirer Staff Writer
UPDATE (6:32 p.m.): A break for the Phillies. San Francisco just scratched shortstop Juan Uribe, who injured his wrist sliding into second during Game 1. In his place, Edgar Renteria will start.
No surprise here: Charlie Manuel made just one change to his lineup from Game 1 of the National League Championship Series. With lefthander Jonathan Sanchez on the mound, he will break up Chase Utley and Ryan Howard in the middle of the order.
Instead, Placido Polanco will bat third. Utley is moved up to second.
Matt Gelb, Inquirer Staff Writer
Here are the lineups for Game 1 of the National League Championship Series.
Giants
1. Andres Torres CF
2. Freddy Sanchez 2B
3. Aubrey Huff 1B
4. Buster Posey C
5. Pat Burrell LF
6. Juan Uribe SS
7. Mike Fontenot 3B
8. Cody Ross RF
9. Tim Lincecum P
Phillies
1. Shane Victorino CF
2. Placido Polanco 3B
3. Chase Utley 2B
4. Ryan Howard 1B
5. Jayson Werth RF
6. Jimmy Rollins SS
7. Raul Ibanez LF
8. Carlos Ruiz C
9. Roy Halladay P
Matt Gelb, Inquirer Staff Writer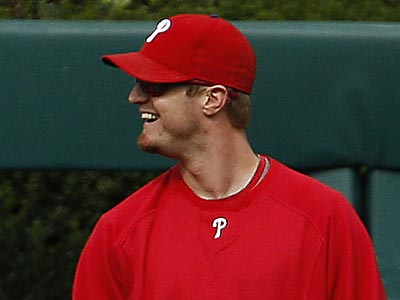 As expected, the Phillies added an 11th pitcher to their NLCS roster -- Kyle Kendrick. To make space for Kendrick, they took Greg Dobbs off the roster and kept rookie Domonic Brown.
General manager Ruben Amaro Jr. said the decision was all Charlie Manuel's.
"We just felt like we'd be a better club with Brown," Amaro said. "It wasn't an easy decision. Both of them bring something to the table. But only 25 guys can be on the roster."
Matt Gelb, Inquirer Staff Writer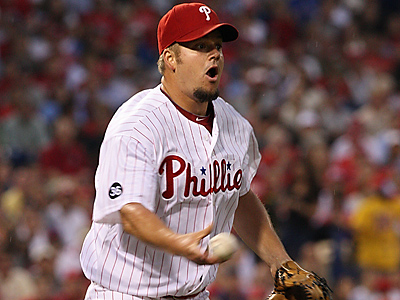 No surprises here. Charlie Manuel said Roy Halladay will start Game 1 and he will be followed by Roy Oswalt, Cole Hamels and Joe Blanton.
"We wanted to set it up the way we had it," Manuel said. "The first three guys, if it goes seven games, can pitch two games. We figure on the fourth day that Joe would fit in that slot."
So the matchups will be as so:
Matt Gelb, Inquirer Staff Writer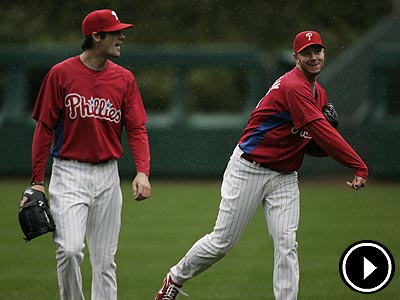 VIDEO: The Inquirer's Matt Gelb and CineSport's Noah Coslov talk about the Phillies' and Giants' offenses in a series dominated by pitching. Matt also provides his prediction for the NLCS.
Matt Gelb, Inquirer Staff Writer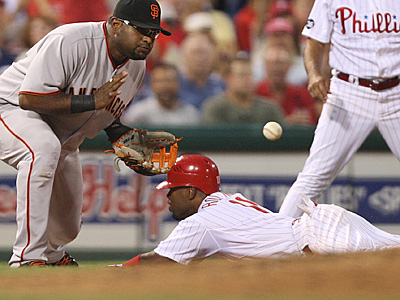 The Phillies and Giants split the season series at three games apiece. Most of the games were lopsided. But the series finale in San Francisco was a memorable one.

April 26: Giants 5, Phillies 1
Hours before the game, Ryan Howard officially signed a five-year, $125 million extension, one of the largest contracts in history. Howard promptly went 0 for 3 with a walk against San Francisco lefthander Jonathan Sanchez, who was effectively wild in five innings. Giants backup catcher Eli Whiteside delivered two big blows off Roy Halladay — an RBI double in the second and a solo homer in the seventh. It was Halladay's first loss of the season.

April 27: Giants 6, Phillies 2
Todd Wellemeyer had a tenuous hold on his spot in the Giants' rotation but allowed just two runs in seven innings against the Phillies. (He was later released in August.) Matt Downs, an infielder who was also later released, homered. For the second straight night, San Francisco tallied 10 hits against a Phillies starter, this time it was Jamie Moyer. Chad Durbin didn't help matters by allowing two tack-on runs.

April 28: Phillies 7, Giants 6 (11 innings)
This stands as one of the most bizarre games of the season. Tim Lincecum was absolutely dealing through eight innings having allowed just a solo home run to Howard. But after issuing a one-out walk to Shane Victorino, Lincecum was yanked from the game by Bruce Bochy. Giants closer Brian Wilson proceeded to allow a bases-clearing double to Jayson Werth that tied the game with two outs. After the Phillies took the lead in the 10th, Ryan Madson blew the save in the bottom half of the inning. He then kicked a chair in the clubhouse and broke his toe, which forced him to miss two months. In the 11th, the Phillies scored twice and journeyman Nelson Figueroa made it stick with his first professional save.

Aug. 17: Phillies 9, Giants 3
The fans cheered Pat Burrell in his return to Philadelphia. Then, he homered in the first inning off Roy Oswalt and some of the cheers turned to boos. But both Jimmy Rollins and Victorino had two-run singles in the fifth and sixth innings to open up a lead. In the eighth, they padded the lead with some San Francisco miscues. Rollins finished with three RBIs. Carlos Ruiz had two. Oswalt struck out seven in seven innings and didn't walk a batter.

Aug. 18: Phillies 8, Giants 2
Joe Blanton allowed yet another first-inning run, but he was almost spotless after that. The Phillies' fourth starter pitched 6 1/3 innings, allowing two runs (both on solo home runs) on eight hits. He struck out seven and walked none. The Phillies beat up on Matt Cain, who was victimized by a Mike Fontenot error that led to three unearned runs. Rollins blasted a three-run homer to right to cap the four-run fourth.

Aug. 19: Giants 5, Phillies 2
Cole Hamels was not himself and it was evident early. In the first, he struck out Aaron Rowand. But the Giants followed with a single, wild pitch, double, walk, single and another single. By then it was 3-0. Rookie Buster Posey had two hits and drove in two runs. Hamels was gone after the fifth, allowing five runs on seven hits. Hamels would allow four runs total over his next six starts. Once again, Jonathan Sanchez defeated the Phillies, this time going much deeper. He pitched eight innings and allowed just two hits.