Archive: October, 2009
Andy Martino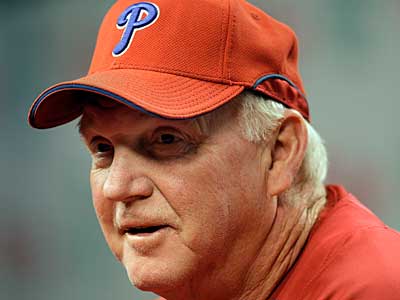 As promised, here are more detailed notes. Charlie Manuel is still ducking a lot of concrete questions about the roster and rotation. That's probably because few decisions have been made, as team brass continues to meet and discuss.

As you know, Cliff Lee will face the Yankees' CC Sabathia in Game 1 on Wednesday; everything beyond that remains unclear. Pedro Martinez and Cole Hamels will likely start Games 2 and 3, with the order still unknown.

Manuel did say that he would have no problem using Martinez at Yankee Stadium. The 37-year-old righthander has pitched well at Citizens Bank Park this year, going 2-0, with a 1.88 earned run average. In the regular season, he was 3-1, with a 5.66 earned run average on the road, before pitching seven scoreless innings at Dodger Stadium in Game 2 of the National League Championship Series.

Pitching for the Boston Red Sox, Martinez went 0-2, with a 5.93 earned run average in his past five playoff appearances versus the Yankee.

"Pedro has been in the big environment," Manuel said. "He has pitched everywhere you can pitch. I don't' think anything is going to really bother him, or get him upset. We can pitch him in either ballpark, really. I don't think it matters at all."

***
Manuel said that Brett Myers was healthy enough to pitch in the World Series. But the manager did not indicate whether Myers would be included on the roster.

"He's throwing the ball better. He's definitely gotten better. He's probably well to close to being healed or well."

Manuel also said that he was comfortable keeping lefthander Antonio Bastardo on the roster, but would not overexpose the rookie.

"Right now, he's on our roster," Manuel said. "I'd use him. We'll definitely put him in the game. It's not like I don't want to use him, but I don't know how long he could stay out there, because he is a young kid, and he doesn't have experience, and he is subject to make mistakes. His big need right now is to pitch, and get confident and get adjusted to the major leagues."

In other pen-related matters, without officially announcing it, Manuel appeared to indicate that he would continue to use lefthander J.A. Happ as a relieve during the World Series.

"Being lefthanded and stuff like that, he can play up in our bullpen," Manuel said.

***
Manuel said that Raul Ibanez would likely be the designated hitter in Game 1 against CC Sabathia.

"He'll DH some against a lefthanded pitcher," Manuel said. "Righthanders, I don't know exactly what we're going to do yet."


***
The Phillies sound pumped about the opponent and location for this year's World Series. Here's a sampling:

Jayson Werth: "There is a special mystique when you walk into Yankee Stadium, new or old. It's the cathedral of baseball, and where everybody wanted to play as a kid. It's Yankee Stadium. As far as that goes there might be something to that and a little bit of motivation.

Manuel was also looking forward to the challenge of playing against New York. "Playing the Yankees, and who their names are, and what they stand for, that's enough to motivate you," he said. "I know when I walk into Yankee Stadium, the new ballpark now, it's almost like the old stadium except the locker rooms are better, bigger and everything. As far as the field goes…it's still got that same feel to it.

"It's just got an atmosphere, an aura about it. It is baseball, and you think about all the great players and great teams that they've had come through there. I'm sure our players feel that same way."

Hall-of-Famer Robin Roberts, whose "Whiz Kids" team lost to the Yankees in the 1950 World Series, has been watching intently, and also views this era as remarkable.
The 83-year-old Robin Roberts, whose team lost to the Yanks in 1950, is excited. "I really enjoy watching the games," Roberts said. "It would be awful nice to see them win it again, not just because it's the Yankees but because they are bordering on something really extraordinary."

***

One more thing. I'm hearing a lot of confidence from Phils fans about facing CC Sabathia, because your boys beat him last year in the playoffs. Manuel provided an important reminder today that the CC of October, 2008 was not the CC of right now. The Phillies offense is good enough to beat up on just about any pitcher on the right day, but don't think Sabathia will be a pushover.

Sabathia had pitched on short rest many times for the Brewers during the stretch run, and Manuel did not see that game as indicative that the Phils had solved the Cy Young Award-winning lefthander.

"At the end of last year, the day we beat him out here he threw a lot of change-ups," Manuel said. "When's really good, he pitches off his fastball. At the end of last year I thought he was a little tired."

Andy Martino
Couple of quick notes before I head down to the field for the workout. More detailed stuff to come.

--Very little hard news this morning, and the rotation remains a mystery beyond Cliff Lee Wednesday. Still, no one would be surprised to see Pedro Martinez starting Game 2 in da Bronx. What would the rotation look like if you were to put it together?

--Sounds like J.A. Happ will remain in the bullpen through the World Series.

--Robin Roberts is at the Bank today, and he said there were four things in life he hated: Notre Dame, Michigan, the Yankees and Russia.

--I am eating a peanut butter sandwich.

Gotta run. More in a few hours.


Andy Martino
Good morning from the first post-clinch workout at Citizens Bank Park. Just a few newsy bullet points before I head down to the field.
--Charlie Manuel said that he had not yet made any decisions about the World Series rotation, and would meet with his staff and Ruben Amaro tonight and tomorrow. We can assume Cliff Lee will be the Game 1 starter and probably not be wrong.
--Sounds like Pedro Martinez will get a start, but Manuel wouldn't confirm that.
--He also said that Joe Blanton and J.A. Happ could very well begin another series in the bullpen, as they did for the previous two rounds.
--The Phillies will see live pitching in a simulated game Sunday, which Manuel feels is essential to staying sharp during the long layoff.
I'll bring you more news as we learn it.
Andy Martino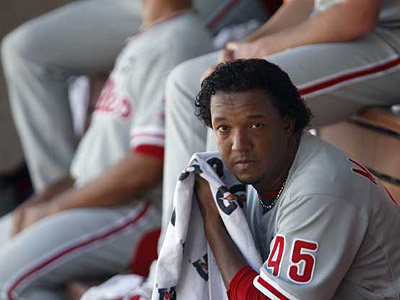 And now for a more fleshed out version of notes from workout day, with enough info to make Ray Liotta shriek in the shower.

Prior to the team's two-hour workout at Citizens Bank Park today, manager Charlie Manuel, general manager Ruben Amaro Jr. and other staff members sat for the first of many upcoming meetings.

Among the most pressing decisions: How to configure the starting rotation, whether to include Brett Myers on the roster, and how to be productive with all the time off this week.

An overview:

THE ROTATION: Division series and National League Championship Series ace Cliff Lee will likely start Game 1. Beyond that, Cole Hamels and Pedro Martinez appear sure to receive starting assignments, though the order remains unknown. Righthander Joe Blanton and lefthander J.A. Happ will probably begin the series pitching from the bullpen, as the did in the previous two rounds, Manuel said yesterday.

Manuel also said he would be willing to use Cliff Lee on three days rest if necessary, and Lee later expressed a willingness to do so.

The manager continues to view Martinez as a starter. "We're going to use Pedro," Manuel said. "I look at Pedro as a starter. He's been in the big moment, and I think that his performance the other day in Dodger Stadium, how good he pitched, he deserves another chance to go back out there. Once he can get in the rotation and get on a regular turn every five days, I think he's still got quite a bit left."

MYERS: The righthander made a September return from June hip surgery, but strained an upper back muscle late last month. Included on the division series roster, he made one ineffective appearance, and was dropped for the NLCS.

Myers pitched in a simulated game last Tuesday, and impressed Amaro. "His stuff is sharper," the GM said. "His breaking ball is better. He's pretty crisp with his location. He's throwing better. That's a good sign."

Because the team apparently views Myers as able to contribute, Myers' status will be determined by how many pitchers and position players the Phils choose to carry. "It depends on whether we go with 12 pitchers or not," Amaro said. "We were at 11 for (the NLCS). If we go to 12, it'll certainly be something we have to consider."


ON THE TIME OFF:
The Phils will take tomorrow off, and see live pitching in a simulated game Sunday.

The advance scouting department remains busy. Amaro dispatched about a half-dozen scouts to the LCS, and is hoping for a quick resolution to the series—and implied that he was pulling for the Yankees, who lead three games to two.

"I personally don't like to travel a whole lot," he said. "I would like to see it get over with, so we can know who our opponent is and move on."

***

Amaro said today that he and his staff had already met about offseason decisions, and would consider retaining Martinez. "I don't think Pedro has done anything to push us away from it," Amaro said.
Any team considering Martinez will have to weigh his strong performances with the multiple injuries he suffered in less than half a season. Martinez, 37, could seek a multi-year contract. One person familiar with the Phillies thinking said that the team might not rule out offering a contract of more than one year, if it were laden with incentives based on performance and appearances.

Andy Martino

When the fans made the transition in the late innings tonight form "Beat L.A." to "Yankees Suck," this clincher felt inevitable. Congratulations to the Phillies for achieving what the franchise had never before done by winning two straight National League pennants.

Speaking of the Yanks, our man Marc Narducci in Anaheim learned an interesting tidbit from CC Sabathia, and Cliff Lee confirmed it today. The two lefties, former longtime teammates and still good friends from their days together with the Cleveland Indians, have been texting back and forth in anticipation of a potential Game 1 matchup.

The Yankees hold a three-games-to-one lead over the Los Angeles Angels in the ALCS.

"We have texted back and forth, but we haven't talked," Sabathia said before yesterday's workout at Angel Stadium.

"It's never anything super important; I don't even remember exactly what we said," Lee said. "We texted when I got traded. We joked about hitting [in the National League] a little bit."

Sabathia is excited for his friend's success with the Phillies, although that could change next week. "He throws the ball where he wants to, using both sides of the plate," Sabathia said. "He's a tough pitcher, and I'm happy to see he is doing well."

Said Lee: "I've stayed pretty close with him since he left Cleveland," Lee said. "But that might have to change next week."

Just one of many subplots sure to develop in what should continue to be an exciting October/November. Enjoy your post-clinch parties.

---
Andy Martino
Few Phillies regulars appeared for Tuesday's optional workout, but Chase Utley was at Citizens Bank Park, working on turning double plays.

Utley famously tossed two throws into the dugout in the first two games of the National League Championship Series, the second one a pivotal moment in the Phils Game 2 loss.

Rumors and speculation swirled in subsequent days that Utley might be injured, but Perlozzo did not believe so. "Do I think he's hurt? No," Perlozzo said yesterday.

The coach noticed on Tuesday that Utley was practicing his throws, so he approached him and ran through the various checkpoints to identify possible flaws.

In making about 25 throws, Utley and Perlozzo made note of grip and footwork, among other factors. Perlozzo concluded that the second baseman was OK.

"It was basically just a refresher," Perlozzo said. "I give him credit for going out there and practicing, and I think he worked it out."

***

Greg Dobbs said in September that his calf injury would probably not heal until the offseason, affecting his ability to run and field. But the calf has healed faster than he expected, he said.

"I feel much better," said Dobbs, who still plans to see several specialists this winter as a precaution. "It has been a gradual process, and week-by-week, it's getting better. I hope (the team) sees it that way."

Manager Charlie Manuel said recently that he was comfortable using Dobbs in the infield, but because of the injury would not yet send him to the outfield.

***

Pedro Martinez was spotted in the outfield before last night's game, mentoring rookie lefthander Antonio Bastardo on breaking ball techniques. Earlier this season, Martinez offered pointers to lefty J.C. Romero about his offspeed repertoire.

Andy Martino
Phillies pitcher J.A. Happ today was named Sporting News Rookie of the Year.
More to come.
Andy Martino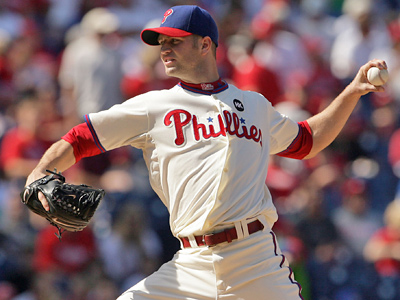 J.A. Happ not begin the season with the intention of collecting individual awards, but he was deeply honored by one announced today.

"It feels really good to have guys that you play against vote for you,'" Happ said after winning the Sporting News National League Rookie of the Year. The award was determined by a panel of 338 major league players. Chicago White Sox third baseman Gordan Beckham won in the American League.