Archive: October, 2008
Todd Zolecki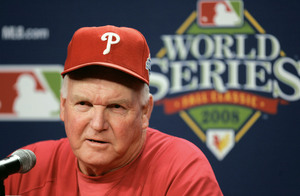 There will be baseball tonight at Citizens Bank Park.
Or not.
It's all weather permitting, of course. But the last time I checked weather.com, there's only a 20 percent chance of rain, so I'm guessing Game 5 of the World Series between the Phillies and Rays will be played. Of course, it also will be 38 degrees outside, so it will be freeeeeeezing. But the cold is the least of the Phillies' concerns right now. They need to make sure they're refocused. These guys were upset leaving the ballpark Monday. Have they put those frustrations behind them?
Todd Zolecki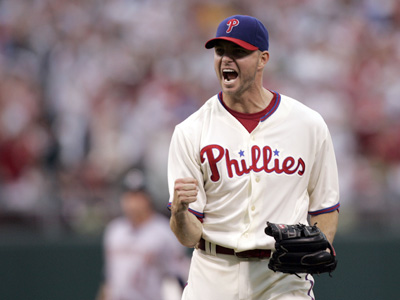 Charlie Manuel announced that Ryan Madson will start the seventh inning tonight in Game 5 of the World Series.
"He's got experience, and a couple of years ago he was a starter," Manuel said. "He's been throwing the ball real good. I think from a mindset he also knows that, we've just got three innings of baseball for our bullpen to pitch."
A reporter asked Manuel about the Rays being a team of destiny based on what happened in Game 5 on Monday. Manuel had a great response.
Todd Zolecki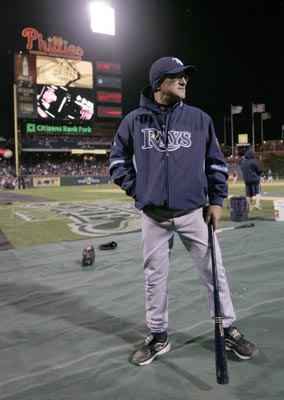 Tampa Bay Rays manager Joe Maddon just completed a teleconference with reporters. Here is some of what he had to say:
Q: How good do you feel that the game is tied and that Cole Hamels is out of the game?
A: It's a pretty good feeling, obviously. He has been so good and to scratch out the runs that we've had has been very difficult. But, of course, their bullpen has been magnificent also, so it's not going to be an easy task by any means. But we have a lot of our bullpen fresh now, too. Getting him out is important. I think us coming back like we did and sitting on it for a day or two possibly could weigh in our favor a little bit. I'm not sure yet. But I think the most important part of it is that both bullpens are rested and there's no telling what's going to happen at this point.
Q: What do you think of the way baseball handled this, and would you feel the same way if you were on the other side?
A: They're in a very difficult situation. Everybody got together and made their best attempt. When it comes down to the weather, it's kind of a difficult thing to forecast. We had all the information there and it didn't work out. For me, I have no problem with it. I mean it very sincerely. I was a part of it. I was there. Charlie was there. We said let's go. We were all good with going forward, and it just did not work out. It's just an unfortunate turn of events weather-wise. But we'll figure it out. We'll sail our way through it, whether it's tomorrow or the next day. It's just the way it is. There's no crying about it. I'm not really one to point fingers. I've never been that person. I'm not going to do it now. Like I said, everybody made their best call and it didn't work out to this point. But hopefully eventually it'll have a good result.
Todd Zolecki
Game 5 of the World Series has been postponed again.
There is NO GAME TONIGHT.
It has been tentatively rescheduled to begin at 8:37 p.m. tomorrow night at Citizens Bank Park, weather pemitting.
Todd Zolecki
Question: What would have happened had the Phillies been leading at the end of the sixth? What's the rule and what was the contingency plan?
Bud Selig: The rule, we would have gone into a rain delay, and that rain delay would have lasted until, weather permitting, we could resume the game. And that might be a day or two or three or whatever.
Question: So the game wouldn't have been called --
Bud Selig: No, sir. I was not going to allow that to happen.
Question: You mentioned that you came down and talked to the grounds keepers in the fifth inning when it started to get really hard. Why then was the call not made until the middle of the sixth inning?
Bud Selig: When I came down in the fifth inning ... he said, "We're OK." He then called the weatherman and he said, "Look, I think we're OK, but let's see what happens." And the problem was it got worse. The winds changed. I mean, things happened that we didn't -- that's why I came back again because I was really getting very, very concerned. The first three innings it didn't rain at all. I got lucky, I thought in the last of the third, hey, the guy was wrong, there's no rain at all. So I guess I'm the jinx here.
Todd Zolecki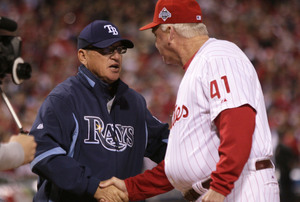 Charlie Manuel talked with reporters today during a teleconference. Here is some of what he said:
Q: Many of your players left the clubhouse last night upset. Are you concerned at all about their ability to refocus tomorrow night?
A: I know we're going to be ready to play. We come to ballpark and we're going to concentrate on winning tomorrow's game. That's all that's important to us. That's all we're thinking about. We've got 3 1/2 innings of baseball. We get to bat four times. They get to bat three. We get 12 outs. They get nine. We are definitely coming with the mindset that we're going to win that game. And that's all we want to be focused on. I feel like that our team will be the same way. I'll go around tomorrow and I'll talk to all of our players. I'll get a feel for what they're thinking. And I'll look them in the eye and talk about things and we'll make sure that we're ready to go. I don't think there's going to be any problem at all. I think that we've been resilient now for the last couple years, and I think we know exactly where we're going and what we want to do. We're going to be ready.
Manuel said he absolutely would not use one of his starters tomorrow night. He might need them for Games 6 and 7. This is going to be a bullpen game. Manuel would not say who he would pitch, and I don't blame him. No reason to tip off the competition.
Todd Zolecki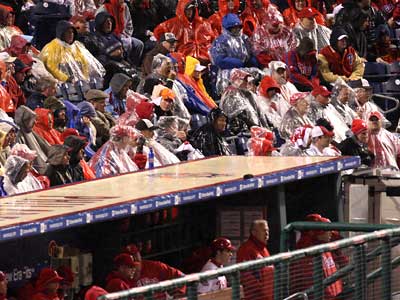 You'll have to wait, but for how long?
A day? Two days?
Longer?
Todd Zolecki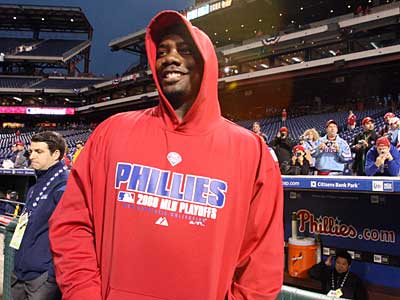 Here are the lineups for Game 5 of the World Series tonight at Citizens Bank Park:
Rays
Akinori Iwamura, 2B
Carl Crawford, LF
B.J. Upton, CF
Carlos Pena, 1B
Evan Longoria, 3B
Dioner Navarro, C
Rocco Baldelli, RF
Jason Bartlett, SS
Scott Kazmir, P
Phillies
Jimmy Rollins, SS
Jayson Werth, RF
Chase Utley, 2B
Ryan Howard, 1B
Pat Burrell, LF
Shane Victorino, CF
Pedro Feliz, 3B
Carlos Ruiz, C
Cole Hamels, P