Archive: January, 2010
Matt Gelb, Inquirer Staff Writer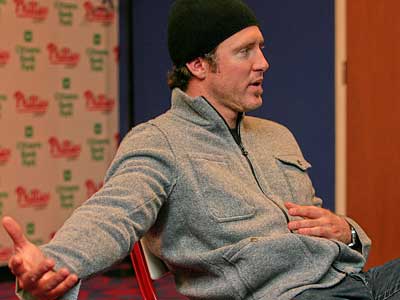 Chase Utley is in town for a few days to participate in a variety of Phillies charity and community events. In between, he met with a small group of the beat writers for an informal chat session. Look for a story in Tuesday's Inquirer about how this has been a drastically different off-season for Utley.
For now, here is a sampling of the Q&A he held today at Citizens Bank Park...
What were your thoughts on the Roy Halladay and Cliff Lee trades?
Halladay is one of the best pitchers in baseball. I've heard a lot of good things about him. He's a workhorse.
Matt Gelb, Inquirer Staff Writer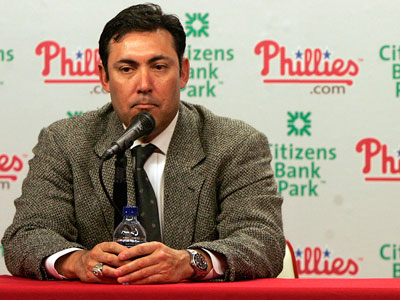 After the news conference to announce Shane Victorino's three-year, $22-million contract, Phillies general manager Ruben Amaro Jr. provided a frank assessment of the outfield's future.
His deduction? There will be some difficult decisions to make.
No reporter had even mentioned Jayson Werth's name before Amaro did. With nearly $130 million committed to just 14 players for 2011, the Phillies could be priced out of re-signing Werth, especially after the contract they gave Victorino today.
Matt Gelb, Inquirer Staff Writer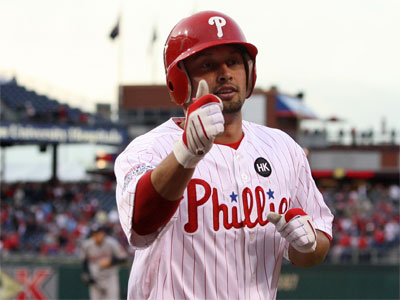 The Phillies officially announced their three-year, $22 million agreement with outfielder Shane Victorino today.
Victorino, who had two years of arbitration remaining, batted .292 with 10 home runs and 62 RBI last season. In 607 career regular season games as a Phillie, Victorino has hit .289 with 44 home runs, 220 RBI and 102 stolen bases.
Victorino had asked for $5.8 million in arbitration, and the Phillies had offered $4.75 million. Catcher Carlos Ruiz is the final arbitration-eligible player the Phillies have yet to sign.
Matt Gelb, Inquirer Staff Writer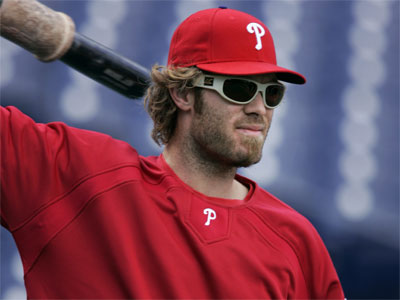 First, let's begin with the positives: On Thursday, the Phillies signed two very fair long-term contracts with two important players -- Joe Blanton and Shane Victorino. The players received decent value for their services and the Phillies didn't overpay and now have a better sense of their future commitments in money.
But...
Not that we like to harp upon the negatives around here, but consider this: The Phillies now have around $129 million guaranteed to 14 players in 2011. That's probably not going to work -- unless the team is willing to significantly expand its budget, which is already at the highest figures in franchise history.
Matt Gelb, Inquirer Staff Writer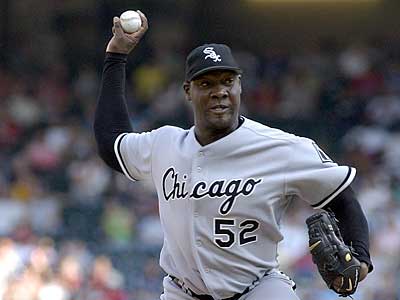 Pitcher Jose Contreras has signed a one-year contract with the Phillies, according to a report by ESPNDeportes.com. The report says the deal is pending a physical.
The 38-year-old Contreras, who pitched for the White Sox and Rockies last season, was 6-13 with a 4.92 ERA in 28 games, 23 of which were starts. In seven seasons in the majors, he is 71-63 with a 4.61 ERA.
A call to Contreras' agent, Jaime Torres, was not immediately returned.
Poll: Park vs. Contreras

(1870 votes)
Matt Gelb, Inquirer Staff Writer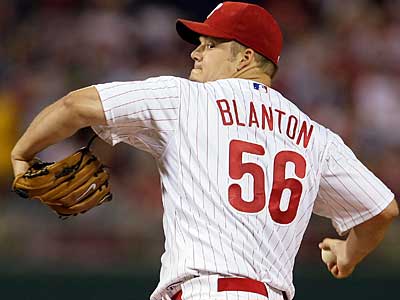 The Phillies just announced the team has reached a three-year extension with pitcher Joe Blanton worth $24 million. Blanton, who was set to be a free agent after the 2010 season, had requested $10.25 million in salary arbitration.
This agreement means all four of the Phillies' top starting pitchers are locked up through the 2012 season.
Earlier today, Blanton's agent talked about his client's desire to stay in Philadelphia.
Poll: Was extending Blanton the right move?

(3047 votes)
Matt Gelb, Inquirer Staff Writer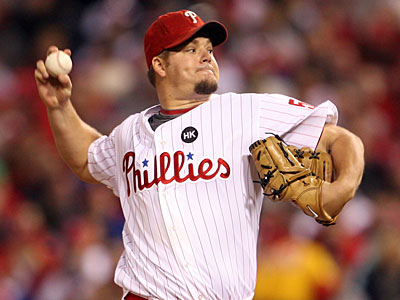 Joe Blanton's lofty request for $10.25 million in arbitration could prove to be completely inconsequential.
Blanton's agent, Jeff Barry, said today he has had talks with the Phillies regarding a multi-year extension for Blanton. The right-handed pitcher is scheduled to become a free agent after the 2010 season.
"They're progressing and we'll see where it takes us," Barry said.
Matt Gelb, Inquirer Staff Writer
With the exchange of arbitration figures on Tuesday, we have a clearer picture of what the final 2010 payroll should look like. And at this point, based on a few projections, the Phillies have hit that $140 million mark that Ruben Amaro Jr. set as the bar earlier in the offseason.
Real news is coming soon. Only 28 days until pitchers and catchers. So gobble this up as you contemplate the validity of scouting Eric Gagne...
THE PAYROLL WORKSHEET
Player Salary (in millions)