Matt Gelb, Inquirer Staff Writer
PHOENIX — Jonathan Papelbon walked to the bullpen in the sixth inning Sunday as he does every time the Phillies play. The night before, he threw 29 pitches to record five outs because Charlie Manuel was desperate for victory. That put his availability for the series finale in doubt.
Mike Adams waited for Papelbon to arrive before disclosing his own news. The setup man asked the closer if he could pitch.
"I'm good to go," Papelbon told him.
Matt Gelb, Inquirer Staff Writer
PHOENIX — The decision was made long before Tyler Cloyd allowed two runs in 6 1/3 innings and pitched well enough to win Friday's 3-2 Phillies loss. Reliever Justin De Fratus was put on a cross-country flight to Arizona before the game started.
"They told me no matter what happened they were going to send me down," Cloyd said.
The Phillies do not need a fifth starter until May 21. They can go two turns through the rotation without it because of two off days next week.
Bob Brookover, Inquirer Baseball Columnist
ALLENTOWN – When the Phillies sent down Justin De Fratus on St. Patrick's Day in spring training, pitching coach Rich Dubee said the 25-year-old righthander needed "to get his arm strength" going.
He has done that, which is why he is back in the big leagues after being recalled from triple-A Lehigh Valley following the Phillies' 3-2 loss to Arizona Friday night at Chase Field.
De Fratus, talking before a Lehigh Valley game Wednesday, said he could see his minor-league demotion coming even though he had hoped to make his first opening-day roster.
Matt Gelb, Inquirer Staff Writer
PHOENIX — Charlie Manuel, now the longest-tenured manager in Phillies history, best described his 1,332d game in three succinct sentences.
"It's disappointing that Cole can hold a team to two runs and not win the game," Manuel said. "That's tough for us. We need to win some of his games."
Cole Hamels debuted in 2006 and Thursday's 2-1 loss to the Diamondbacks was just the latest example of a feeling he knows too well. Hamels has lost 20 starts in which he pitched at least six innings and allowed two or fewer runs. That is the most in baseball during that span.
Matt Gelb, Inquirer Staff Writer
PHOENIX — Roy Halladay will undergo arthroscopic shoulder surgery Wednesday in Los Angeles, the Phillies announced Thursday. Neal ElAttrache, the renowned orthopedist who diagnosed Halladay's injury, will perform the procedure.
An initial diagnosis based on an arthrogram revealed a partial tear to Halladay's rotator cuff and fraying of his labrum, both of which were caused by a bone spur in his shoulder.
The Phillies do not have a timetable for Halladay's return because the true extent of damage to Halladay's shoulder will not be known until ElAttrache operates.
Matt Gelb, Inquirer Staff Writer
PHOENIX — This is the 131st season the Phillies have existed. They began in 1883 as the Philadelphia Quakers and two men, Bob Ferguson and Blondie Purcell, served as player-managers.
On Thursday, Charlie Manuel managed his 1,332d game with the Phillies, making him the franchise's longest-tenured manager.
"That means my players have been good for a long time," Manuel said. "That's what it means."
Matt Gelb, Inquirer Staff Writer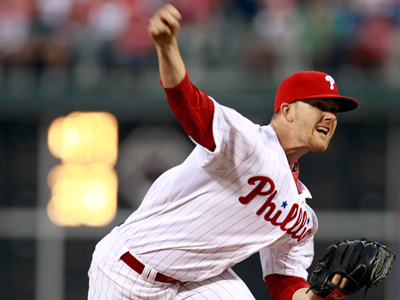 PHOENIX — Cliff Lee saw the newest member of the Phillies rotation in a leather recliner Thursday and went to shake his hand. "Welcome back," Lee told Tyler Cloyd. Cloyd nodded his head.
The Phillies will use their seventh different starter in their 37th game come Friday. Cloyd is the arm to replace Roy Halladay in the rotation, which makes him the fourth homegrown pitcher in the rotation. He made six starts in the majors with a 4.91 ERA at the end of last season after winning honors as the International League's pitcher of the year.
Cloyd was bypassed earlier this season when Jonathan Pettibone was picked to replace John Lannan. The 25-year-old pitcher said it did not bother him because he was scuffling at triple A. He will pitch Friday a week removed from his finest outing.
Matt Gelb, Inquirer Staff Writer
SAN FRANCISCO — The news of Roy Halladay's shoulder surgery has a trickle-down effect on the entire 25-man roster, and Jonathan Pettibone is one of the possible protagonists. The 22-year-old pitcher displayed competency again during a 4-3 loss Wednesday in his quest to secure a permanent rotation spot.
Pettibone was not hit hard. He threw 112 pitches in 5 2/3 innings and it was the last one that bothered him most. Barry Zito, the opposing pitcher with a lifetime batting average of .103, shot a single past a diving Kevin Frandsen at first base for an insurance run in the sixth.
"That'll haunt me for some time," Pettibone said. "I looked on the replay and it wasn't a terrible pitch, but we were pitching him like that the whole game so he was just ready for it."
Matt Gelb, Inquirer Staff Writer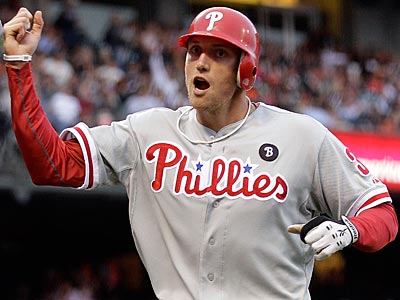 SAN FRANCISCO — The targets for Hunter Pence at AT&T Park are plentiful. There is the giant Coca-Cola bottle in left field and a body of water beyond the rightfield wall. His batting-practice shows have traveled from Houston to Philadelphia and now here, where Pence swung with all his might Tuesday afternoon.
Pence, in his first game against his former team Monday, provided a show. He homered, doubled and singled against Cliff Lee. His .847 OPS ranked second on the Giants entering play Tuesday.
The Phillies possessed Pence for one year. They knew they were surrendering offensive production in right field when they dealt him to San Francisco last July, but it was with the intention of shedding another big-money contract.
Matt Gelb, Inquirer Staff Writer
SAN FRANCISCO — Ben Revere reached base three times Sunday, just the second time that happened in 27 games, and that earned him a spot on the bench Monday.
The Phillies ranked 14th in the National League with a .669 OPS entering play Monday. Revere is far from the sole culprit, but when the lineup is struggling, the manager will typically seek the weakest link and remove him.
That, right now, is Revere.