Archive: April, 2011
Matt Gelb, Inquirer Staff Writer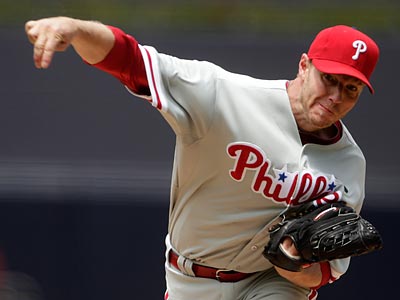 Another lefty on the mound and another day off for Raul Ibanez.
Ibanez is 0 for his last 30. He's rested against the last few lefthanded starters to face the Phillies. But in Arizona, Charlie Manuel said he wasn't ready to create a straight-up platoon between Ibanez and John Mayberry Jr.
But Ibanez hasn't played four of the last five times the Phillies faced a lefthander.
Bob Brookover, Inquirer Columnist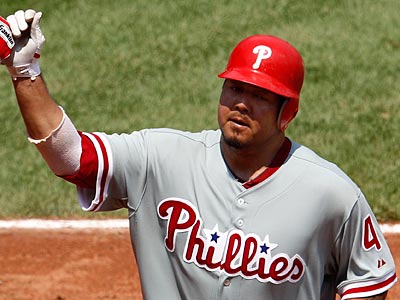 Carlos Ruiz's back soreness did not send the Phillies' catcher to the disabled list, but it did send pitcher Mike Zagurski back to triple-A Lehigh Valley.
With the exact return of Ruiz uncertain, the Phillies needed a second catcher available for the start of Friday's series with the New York Mets, so they purchased the contract of Dane Sardinha and optioned Zagurski to the Iron Pigs.
Ruiz underwent an MRI that general manager Ruben Amaro said revealed positive results.
Bob Brookover, Inquirer Columnist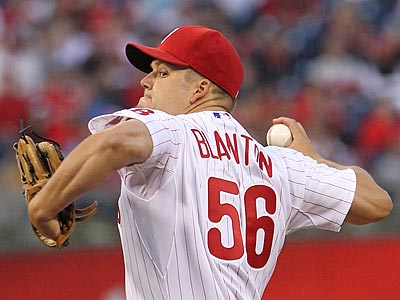 The dark clouds that moved through the area Thursday were not nearly as ominous as the injury cloud that is hanging directly over the Phillies right now.
More bad news came the team's way Thursday afternoon when the Phillies announced that righthander Joe Blanton was being placed on the 15-day disabled list with a right medial impingement of the right elbow.
Blanton (0-1 with a 5.92 ERA) had put together consecutive strong starts after two poor ones to open the season and was scheduled to pitch Friday's series opener against the New York Mets at Citizens Bank Park.
Matt Gelb, Inquirer Staff Writer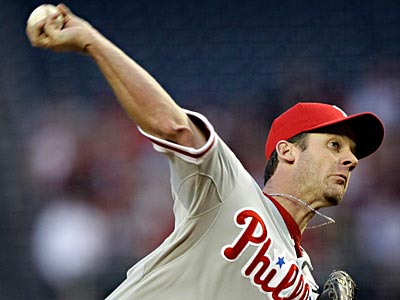 PHOENIX -- Roy Oswalt has left the Phillies for personal reasons, a team official said Wednesday morning.
The team released a statement from general manager Ruben Amaro Jr.:
"There has been a tremendous amount of tornado activity near Roy's home in Mississippi resulting in several tragic deaths and significant devastation to the area. Because of this, Roy is concerned about his family's well-being. He has chosen to take time to make sure there wasn't significant damage to his home, but more importantly, to make certain that his wife and children are okay.
Matt Gelb, Inquirer Staff Writer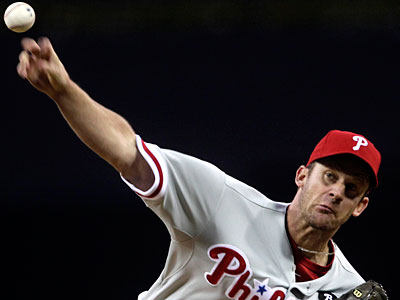 PHOENIX -- The Phillies say there is nothing amiss with Roy Oswalt, who allowed five runs in three innings and 57 pitches before Charlie Manuel removed him.
"His stuff wasn't good," Manuel said. "His velocity was down. I figured there was no sense in leaving him out there."
Oswalt says... nothing.
Matt Gelb, Inquirer Staff Writer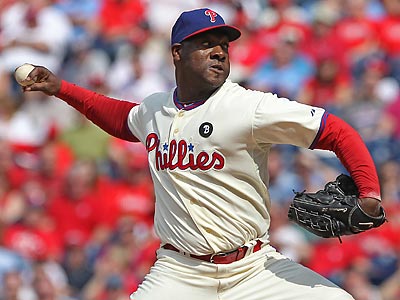 PHOENIX -- An MRI on Jose Conteras' injured right elbow revealed a mild, Grade 1 strain, Phillies general manager Ruben Amaro Jr. said. Contreras will be out for three to four weeks, Amaro said.
The 39-year-old righthander will be shut down completely for seven to 10 days and could resume throwing after that. Amaro believes the three- to four-week timetable is when Contreras could be back actually pitching for the Phillies.
In other injury news...
Philly.com Sports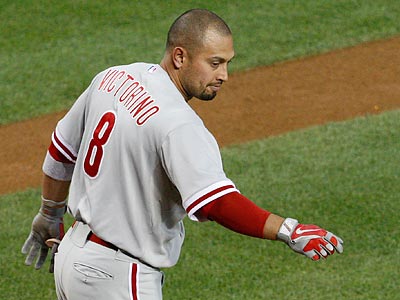 Join the Inquirer's Matt Gelb for a live Phillies chat this afternoon at 2 p.m.
If you're on a mobile device, click here to follow along and send in questions.
---
Have a question? Send it to Matt Gelb's Mailbag.
Matt Gelb, Inquirer Staff Writer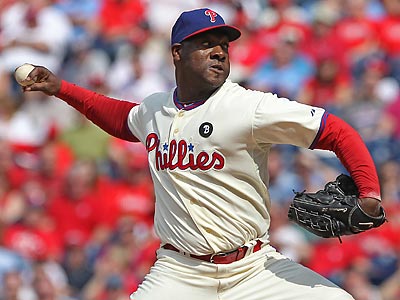 SAN DIEGO -- The Phillies arrived in Phoenix last night with this bullpen: Ryan Madson, Antonio Bastardo, Michael Stutes, Danys Baez, David Herndon, Mike Zagurski and Kyle Kendrick.
There is a closer in that group; Madson, who says he is healthy but needed a few days off to manage "normal" soreness. He, just like Jose Contreras, has been used frequently in the last two weeks.
Because of that, Contreras is on the disabled list and going back to Philadelphia for an examination that could reveal a significant structural issue related to the strained flexor pronator tendon in his right elbow. Or the doctor could simply find that a few weeks of rest is necessary for the 39-year-old to feel better.