Archive: December, 2008
Todd Zolecki
Mele Kalikimaka is the thing to say on a bright Hawian Christmas Day ...
It must have been a pretty good Christmas for Shane Victorino, although I imagine it was a pretty good Christmas for everybody who played a role in helping the Phillies win the World Series. Fortunately for us, Jim Salisbury had a chance to visit with Victorino earlier this month during the winter meetings in Las Vegas. I'm guessing Salisbury pushed to meet Victorino at the In-N-Out Burger, although I could be mistaken.
"The parade was incredible," Victorino said. "I remember toward the end of Broad Street looking back and seeing the flood of people following us to the stadium. People were everywhere. I still don't know how the trucks got through. It seemed like there were two or three generations of people there. Old men were doing the sign of the cross, saying, 'Thank you, thank you.' People had tears in their eyes. I was like, 'Did we really do this for the city? Did we really create this feeling?' It's such a well-deserving place. I'm happy we could do it. And I'm happy I could be a part of the team that brought that amount of joy to that many people. It will stay with me forever."
Todd Zolecki
Blaine Neal grew up a Phillies fan in South Jersey, where he was a star at Bishop Eustace Prep. He now has a chance to play in the Phillies' organization.
Phil Anastasia caught up with Neal, who signed a minor-league contract with the Phillies and is a non-roster invitee to camp this spring. Like Philadelphia native and non-roster invitee Mike Koplove, Neal is expected to open the season in triple-A Lehigh Valley as a relief pitcher. But if he has a good spring and pitches well for the IronPigs he could see time with the Phillies in 2009.
"It's a good situation for me in a lot of ways," said Neal, who has pitched in the big leagues with Florida, San Diego, Boston and Colorado.
Todd Zolecki
Well, that's no fun.
New York Mets general manager Omar Minaya had a chance to tell the whole world the Mets are better than the Phillies, but he didn't fan the flames.
"We're not better than them, no," Minaya said. "Right now, they're world champions."
Todd Zolecki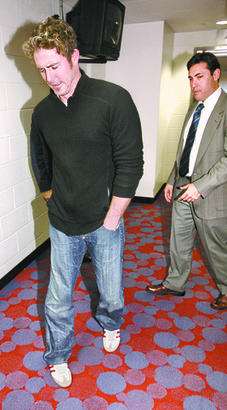 The Phillies later today will introduce Raul Ibanez as their new leftfielder.
It is expected to be their last "major" announcement before spring training in February. If you want to know how your 2009 Phillies will look, take a look at today's roster:
Catchers: Chris Coste, Ronny Paulino and Carlos Ruiz.

Infielders: Eric Bruntlett, Greg Dobbs, Pedro Feliz, Ryan Howard, Jimmy Rollins and Chase Utley.

Outfielders: Raul Ibanez, Geoff Jenkins, Matt Stairs, Shane Victorino and Jayson Werth.

Rotation: Joe Blanton, Cole Hamels, Jamie Moyer and Brett Myers. Drew Carpenter, Carlos Carrasco, J.A. Happ, Kyle Kendrick and Chan Ho Park are expected to be candidates for the rotation's fifth spot.

Bullpen: Clay Condrey, Chad Durbin, Scott Eyre, Brad Lidge, Ryan Madson, Park and J.C. Romero.
Between today and spring training the Phillies are expected to make Park's signing official. (He is scheduled to take his physical next month.) They also could try to add a righthanded bat to the bench because the Phillies currently have three lefthanded ones: Dobbs, Jenkins and Stairs. If the Phillies added a righthanded bat, they could move Jenkins or Stairs to help make it happen. Other than that, I think the Phillies' off-season business is mostly finished. Of course, something could pop up, but I don't see the Phillies making any major changes right now.
Todd Zolecki
The Phillies introduced Raul Ibanez this afternoon at Citizens Bank Park.
Here is some of what he said:
On being 36 years old and being able to maintain his productivity throughout the length of his contract: "I love hearing it. It's one of the things I enjoy because I know that I can continue to be productive. I know this. The good Lord has blessed me with ability. He's blessed me with what I believe to be an incredible work ethic, and an incredible drive to attempt to succeed no matter what. So I think I can continue doing this for a while. As a man I couldn't have come here unless I was able to do that."