Archive: October, 2008
Todd Zolecki
Chase Utley stole the show at Citizens Bank Park this afternoon when he told the crowd during its World Series champion, "World champions!"
Pause.
"World f------ champions!"
Todd Zolecki
Today already has been pretty surreal. Looking outside my kitchen window this morning I felt like I had relocated a couple blocks from Broad and Pattison. Phillies fans were everywhere. Everywhere. Of course, I'm sure some of that is because I live just up the street from a SEPTA station, but still. This was crazy. This parade is going to be crazy.
The parade route already is a sea of red.
Fans already have started to file into Citizens Bank Park. Mr. Greenjeans is playing on the stage, which is set up at second base.
Todd Zolecki
Parade begins at noon.
Have fun.
And enjoy Cole Hamels' appearance on the Late Show with David Letterman.
Todd Zolecki
I know this video has been on other blogs, but I've got to post it because I love Harry's call and Wheels' reaction. I love it because I'm guessing Wheels didn't want to shout over Harry, but he also had to celebrate. So he pumped his arms over and over and over again.
Loved it.
Todd Zolecki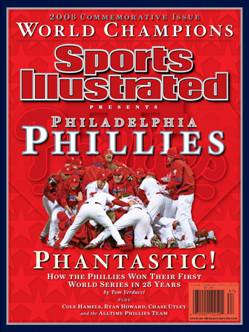 It's amazing how many e-mails I've received in the last 24 hours since the Phillies won the World Series. Here's just a sample:
*
Sports Illustrated Presents has published a special collector's issue commemorating the Philadelphia Phillies' 2008 World Series Championship. The 84-page magazine, with a limited press run of 370,000 copies, will begin hitting newsstands and area retailers tomorrow, including Acme, Giant, Genuardi's, Barnes & Noble and Wal-Mart throughout the state of Pennsylvania and is available online at Amazon.com. The special edition, which will be sold at a price of $7.99, features the entire team on the cover (left) with a billing that reads Philadelphia Phillies…Phantastic!
The limited-edition commemorative features an original essay by SI senior writer (and longtime Philadelphia resident) Michael Bamberger, a photo essay of the Phillies' successful regular season and a snapshot of 125 years worth of Phillies baseball, including an all-time Philadelphia roster.
Writes SI senior writer Tom Verducci: "Like the '02 Angels, '04 Red Sox and '05 White Sox, all teams that ended long championship droughts, the '08 Phillies changed the identity of the franchise. These Phillies are winners. In this case, though, the psyche of the entire town was changed by the Phillies beating the Tampa Bay Rays…. Philadelphia had gone 0 for 99 in major professional sports seasons since the Sixers won the '83 NBA championship, the longest stretch without a parade for any metro area with teams in the four major sports—a stretch that includes the entire life span of 24‑year-old lefthanded ace Cole Hamels, the World Series MVP."
Highlights from the commemorative edition include:
The Season in Pictures: Excerpts and photos chronicling Philadelphia's run to the NL East title.

The 2008 Playoffs: A round-by-round breakdown of the Phillies' dominant October.

The Heroes: Original features on team superstars Chase Utley, Cole Hamels and Ryan Howard.

Cover Gallery: The now two-time World Series champs have been featured on 19 SI covers.
*
A city that had a baseball team with the dubious distinction of having the most losses in professional baseball history is today on top of the world for only the 2nd time in more than 100 years, and the first time since 1980 after defeating the Cinderella Tampa Bay Rays in five games of the 2008 World Series. The celebration had to be put on hold because of baseball's first suspended game due to rain on Monday night, but less than 48 hours later the long-awaited baseball trophy belongs to the fans of Philly.
How sweet it is!
Likewise, the Make-A-Wish Foundation of Philadelphia and Susquehanna Valley is also celebrating this historic moment as Nikco Sports has announced it will continue its post-season program to raise funds for the youngsters at the Make-A-Wish Foundation of Philadelphia and Susquehanna Valley. Many of these youngsters have life-threatening medical conditions.
Todd Zolecki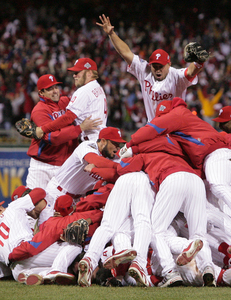 Did that really happen?
Did that really happen?
It did. Brad Lidge really threw that 0-2 slider to Eric Hinske at 9:58 p.m. last night at Citizens Bank Park, and Hinske really swung and missed to beat the Tampa Bay Rays in Game 5 of the World Series, 4-3. The Phillies really are World Series champions.
Todd Zolecki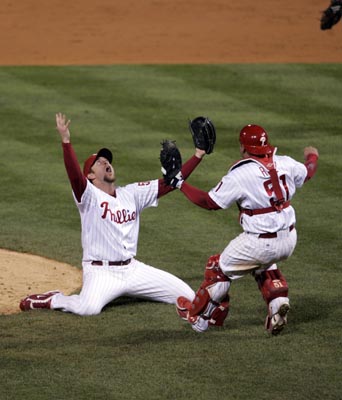 Brad Lidge struck out Eric Hinske with an 0-2 slider at 9:58 p.m. last night at Citizens Bank Park to capture the Phillies' first World Series championship in 28 years and second in 126 years.
The 25-year major sports championship drought in Philadelphia is over.
Enjoy it.
Todd Zolecki
Charlie Manuel announced that Ryan Madson will start the seventh inning tonight in Game 5 of the World Series.
"He's got experience, and a couple of years ago he was a starter," Manuel said. "He's been throwing the ball real good. I think from a mindset he also knows that, we've just got three innings of baseball for our bullpen to pitch."
A reporter asked Manuel about the Rays being a team of destiny based on what happened in Game 5 on Monday. Manuel had a great response.
Todd Zolecki
Just got an e-mail from MLB with the subject line that read, "Game Five of the 2008 World Series to be Resumed Tonight."
Information from the Phillies:
Game 5 of the 2008 World Series between the Tampa Bay Rays and the Philadelphia Phillies will resume tonight at Citizens Bank Park, Major League Baseball announced today. First pitch is scheduled for 8:37 p.m. (ET). The Phillies will be coming to bat to start the bottom of the sixth inning with the game tied, 2-2. Game 6, if necessary, is scheduled for tomorrow night at Tropicana Field in St. Petersburg, Fla.
Todd Zolecki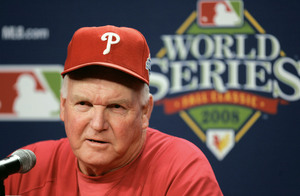 There will be baseball tonight at Citizens Bank Park.
Or not.
It's all weather permitting, of course. But the last time I checked weather.com, there's only a 20 percent chance of rain, so I'm guessing Game 5 of the World Series between the Phillies and Rays will be played. Of course, it also will be 38 degrees outside, so it will be freeeeeeezing. But the cold is the least of the Phillies' concerns right now. They need to make sure they're refocused. These guys were upset leaving the ballpark Monday. Have they put those frustrations behind them?