Laynce Nix activated from DL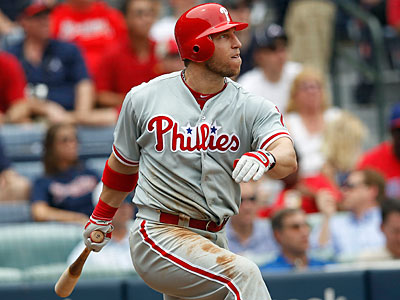 News blogs, sports blogs, entertainment blogs, and more from Philly.com, The Philadelphia Inquirer and the Philadelphia Daily News.
Laynce Nix activated from DL
Matt Gelb, Inquirer Staff Writer
The Phillies activated outfielder Laynce Nix on Sunday morning following a two-game stint at triple-A Lehigh Valley to rehab a strained left calf. Nix also played in six games for single-A Clearwater.
He has been on the disabled list since May 10 with the injury. Nix was hitting .326 with eight extra-base hits in 51 plate appearances before going down. He adds a lefthanded power bat to Charlie Manuel's bench.
To make space, Jason Pridie was designated for assignment. Pridie had options remaining, so he could have to triple A without passing through waivers, but the Phillies opted for the extra space on the 40-man roster.
That roster is now at 39.
---
Have a question? Send it to Matt Gelb's Mailbag.