Antonio Bastardo out with self-inflicted wound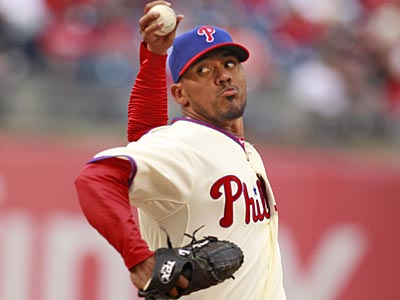 News blogs, sports blogs, entertainment blogs, and more from Philly.com, The Philadelphia Inquirer and the Philadelphia Daily News.
Antonio Bastardo out with self-inflicted wound
Matt Gelb, Inquirer Staff Writer
TORONTO — The left side of Antonio Bastardo's face looks as if he entered a boxing ring, but he merely stepped foot in the weight room Wednesday. It was after he allowed a run to Minnesota and he was not pleased with his effort.
He took his anger out on a squat machine, which returned the favor. He required stitches to close a large cut above his left eye, which was nearly swollen shut after Friday's game.
Bastardo insisted he could see out of the eye, and demonstrated by covering his right one and pretending to punch a reporter in the face. But he was not available to pitch Friday barring an emergency situation and could need a few more days to recover.
A large bandage covers the gash.
---
Have a question? Send it to Matt Gelb's Mailbag.