Good morning, Day 2 in San Francisco.
No paper tomorrow, so you'll have to rely on the inter-web for your Phillies fix (I guess you could check out one of the other paper's too, but who'd want to do that??)
Word out of the ballpark today is that Scott Mathieson will likely have a third surgery on his right (throwing) elbow. Assistant general manager Ruben Amaro indicated last week that would probably be the case. Mathieson's never fully recovered from Tommy John surgery a year and a half ago. It's a shame. He's a really likeable kid. Not that it's not a shame if you aren't likeable. But Mathieson was really pumped up this spring training to get back on the mound. That said, he's only 24, so he's still got time ahead of him.
Other brief morning notes. . .
Short stop Omar Vizquel is expected to re-join the Giants today. . .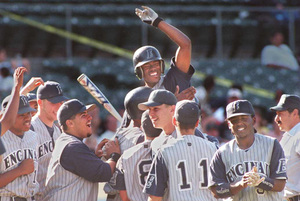 Jamie Moyer will be the sixth straight lefty the team has faced. They are 0-5 in the first five games, including last night's loss to Cole Hamels. . .
Jimmy Rollins said last night his mother is handling all ticket requests. So if your brother's friend's mother's cousin-in-law twice removed's mailman once used to deliver packages to the Rollins residence in Alameda, you'll have to get in touch with Mama J-Roll if you want to score some tickets. . .
Asked last night if there was anything he didn't do in his return, Rollins responded, "Hit a triple." He finished one hit shy of the cycle. Though I think Charlie Manuel will forgive him. . .
Anyone in Philly want to explain what happened to the Fly Guys last night? I guess Pittsburgh is all Pengin'ed Up for this series. . .
What do you all think of the newly re-designed Philly.com? I think it's pretty fresh, though nothing is fresher than the signature on my pay-check, so as long as the powers that be keep kickin' those dollars into my bank account every Friday, I'm down with whatever they want to do in cyber space. I forgot that the re-design was going down and I thought I had reached the wrong web site by mistake this morning. It's kind of weird being on West Coast time: At the start of last night's game, my blog looked one way. By the end, the new design changes had taken hold. It wasn't until esteemed Daily News columnist and renowned Reinaissance Man Rich Hoffman reminded me of the changes this morning that I realized what had happened.
Any thoughts?