Conventional wisdom says Travis Blackley had a chance to establish himself as a serious contender for the No. 5 spot in the rotation. But the left-hander was touched for five runs yesterday against the Indians. He entered yesterday with an ERA of 0.00. Now, it sits at 9.64.
So where does that leave us?
Here's my estimation of where the competition stands.
Candidate: Adam Eaton, RHP
Odds: 4-to-1
Stats: 0-2, 15.75 ERA, 10 hits, 7 earned runs in 4.0 innings, .455 opp. avg.
The good: He's got more experience than any of his competitors, with the exception of Kris Benson, who is still working his way back into game shape. Eaton has started more major league games than J.D. Durbin, Chad Durbin and Travis Blackley combined. He's also got a nice little salary that factors into the equation.
The bad: Well, for starters, last season. And the first two starts of this spring. And, now, the aching back. Eaton had an MRI yesterday and said it revealed a slightly herniated disc. Eaton said he thinks that's a good thing. But the only real treatment is various core exercises along with anti-inflammatory medication. So it's unclear how much better the back will get.
The bottom line: Though some of you -- OK, most of you -- out there in Phillies Nation don't like it, he's still very much a front-runner for this job. First, he's not a bullpen guy, and likely will never be one. I asked Charlie Manuel whether there was any way Eaton would ever do anything except start, and he said he hadn't even thought about such a situation yet. Like it or not - again, most will not - Eaton's salary will also come into play. It's bad business to pay a guy $17-plus mil over the next two years to do nothing.
Candidate: Chad Durbin, RHP
Odds: 4-to-1
Stats: 0-0, 7.20 ERA, 6 hits, 4 earned runs, 5.0 innings, 5 strikeouts, no walks, .286 opp. avg.
The good: He's done it before. Durbin has started 16-plus games in three of his major league seasons, going 9-16 with a 4.93 for the Royals in 2001, 2-5 with an 8.21 ERA with KC in 2000, and 8-7 with a 4.72 ERA last season in Detroit.
The bad: Last year's 8-7 campaign was his most successful as a starter. He's made more than 40 relief appearances, and has posted an ERA of higher than 6.00 in four of his eight major league seasons.
The bottom line: If Eaton is unhealthy, of if the manager has lost complete faith in him, Durbin could be a suitable stop-gap until Kris Benson is healthy or until help is added some other way. I'd say he and Eaton are neck-and-neck right now.
Candidate: Travis Blackley, LHP
Odds: 10-to-1
Stats: 0-1, 9.64 ERA, 5 runs, 5 hits, 5 strikeouts, four walks, .278 Opp Avg.
The good: He's different. A lefty who relies mostly on offspeed stuff, he definitely presents hitters with a different look. He was dynamite in his first six spring training innings before getting shelled in Cleveland yesterday. He's only made a handful of major league starts, but he was once the Mariners' top pitching prospect.
The bad: He's unproven, unknown, and has been cast off from two organizations already.
The bottom line: It's still way too early to tell where Blackely fits in the picture. The Phillies have to find a spot for him or risk having him shipped back to San Francisco per Rule 5 draft procedures. He's still got a shot. But he has a lot less benefit of the doubt than either Eaton or Durbin.
Candidate: J.D. Durbin, RHP
Odds: 15-to-1
Stats: 0-1, 7.50 ERA, 9 hits, 4 runs, 6.0 innings, .333 opp. avg.
The good: He has started in the bigs before, and he quietly helped the Phillies last season, going 6-5 with a 6.06 ERA in 19 appearances, 10 of them starts. In a 9-2 win over the Mets on Aug. 27, he struck out six, walked none and pitched the Phillies to a crucial 9-2 win.
The bad: He's unproven, and it's unclear whether he's best suited for starting or relieving. . .or either. Of his 73 major league innings, 65 came last season.
The bottom line: Real tough to see this happening, particularly early in the season when guys like Chad Durbin and Adam Eaton have far more big league capital built up. J.D. would like have to knock someone's socks off to earn enough trust for the Phillies to throw him into the rotation at the beginning of the season.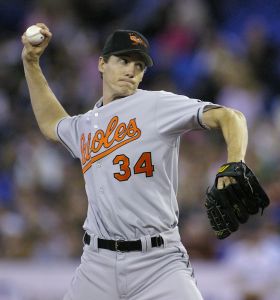 Candidate: Kris Benson, RHP
Odds: Off the board
Stats: None
The good: He's got pedigree. If Benson can somehow get back to the way he was throwing before he tore his rotator cuff, he could give the Phils one of the top No. 5's in the game.
The bad: No one knows how he's going to look when - and if - he is completely healthy. All the reports have been surprising positive thus far, but we won't know much until Benson faces major league hitters in a major league game.
The bottom line: There's no reason to rush him back. Could he be ready for opening day? Probably. But you have to think the Phillies are going to ease him back into action -- assuming he's on the active roster by March 25, when he can invoke an out-clause -- so that if he does join the rotation, he does it at full strength. Bottom line, it's hard to compare Benson with any of the aforementioned four players.
Candidate: Field
Odds: 20-to-1
Stats: None
The Outlook: Don't think the Phillies aren't keeping their eyes open. Three weeks into spring training, there are more questions at No. 5 than they thought they'd have. I know a lot of people like Kyle Lohse, but a trade isn't out of the realm of possibility either. Beyond that, I know nothing. But the Phillies do have a log-jam at third base with Greg Dobbs, Wes Helms and Pedro Feliz.