Michael Jordan first crossed my mind last Wednesday in San Francisco after I listened to Cole Hamels marvel at the game Tim Lincecum had just tossed against the Phillies. Like most great sports teams, the Phillies are a prideful bunch, and most days you are more likely to hear them engage in a group discussion about the British PM race than you are to hear them heap effusive praise on an opponent. One of my first realizations of this came back in September of 2008 when an opposing rookie went 4-for-5 against them, and a question about his performance received the verbal equivalent of an eye-roll from someone in the clubhouse. The message: he didn't go 4-for-5 off of us -- we let him go 4-for-5 off of us.
So it was interesting to hear so many players acknowledge Lincecum's dominance after he held them to one run through 8 1/3 innings, including Cole Hamels saying, perhaps jokingly, that he almost wished Lincecum was in the NL East so he could watch him pitch more often (Hamels then agreed that the hitters on his team probably do not feel the same way.
"He's great for this game," Hamels said. "He's exciting to watch."
There are great athletes, and then there are athletes who transcend their sport, and it was apparent to me that Lincecum is the type of player who falls into the second category. He is like Jordan or Peyton Manning, one of the rare performers who are worth the price of admission alone. In baseball, few hitters will ever fall into this category. Barry Bonds is one of them. I can't think of another that I've watched. Most games, a hitter is going to get to the plate four or five times in a three-hour contest that usually features well over 60 at-bats. And even the greatest hitters fail seven out of 10 times. So when you are shelling out your hard-earned dollars for a ticket, you are doing so with the knowledge that even the greatest hitter on the field that night is likely to fail more than he succeeds.
Quarterbacks, wide receivers, running backs, defensive ends, shooting guards, centers, goalkeepers -- all have the ball in their hands for half of the night. And that is what makes a great pitcher so fun to watch.
This relates to the Phillies because Roy Halladay is one of those players. Lincecum right now is like Jordan in his early years. Watching him baffle an opposing hitter with his splitter/change-up hybrid is like watching Jordan move the ball from his right hand to his left hand while soaring through the air against the Lakers. His dominance is a violent one, made for highlight films and wall posters.
Halladay, on the other hand, is Jordan the elder statesman, his dominance more machine-like and nuanced. His intrigue lies in both his consistency and his subtlety. Facing Matt Holliday late in the game, Lincecum might have gotten him to strike out on a filthy change-up. Halladay got him to pop up on a first-pitch curveball (after striking him out on the same pitch the previous time he faced him). Early in his career, Jordan might have taken a defender baseline with the game on the line. Later, he likely would have given him a shoulder deke and then hit a turnaround jump-shot.
(As I completed that last sentence, I lifted my head up and saw Halladay run in front of me through the empty seats of the 200 level. The only other people in the stadium right now are some groundskeepers down on the field).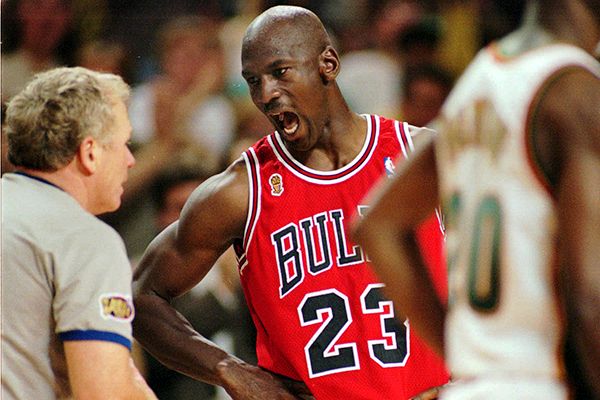 The Halladay-Jordan connection jumped out at me yesterday when, in between the fifth and sixth innings, Halladay pulled home plate umpire Mike Everitt aside and engaged him in a lengthy conversation about some close pitches that were called balls in the previous half-inning. It was fascinating to watch the two men talk. It wasn't a confrontation - it was a discussion, and the body language of both men -- Halladay smiling, Everitt standing with his hands on his hips -- suggested a mutual professional respect. One of the highlights of watching Jordan in his prime was watching the way he would work officials throughout a game. In his career, Jordan was whistled for 34 technical fouls. Lebron James has already been called for 24 technical fouls. Kobe Bryant was whistled for 14 this year alone. Jordan fouled out of a game 11 times, four of them coming in his rookie year. Bryant has already fouled out 18 times in his career (James has fouled out three).
Last night in the Eastern Conference semis, the Hawks' Jason Collins was called for a pair of personal fouls on plays that were obvious fouls on Dwight Howard. In the NBA, PFs are often in the eye of the beholder. And anybody who has watched baseball will say the same thing about balls and strikes.
Part of what makes certain players transcendent is their ability to garner the benefit of the doubt. Jordan had it. Greg Maddux had it. And after watching Halladay yesterday, it's pretty clear that he has it too.