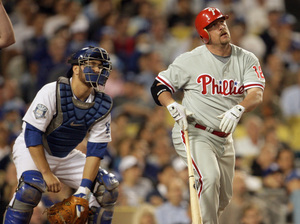 OK, so you already knew that.
But it was still fascinating last night to watch the complete replay of Game 4 at Dodger Stadium, which aired on Comcast Sports Net. I'm sure most of you watched it on TV, but it was my first time doing so, which gave me an entirely new perspective on the game. Keep in mind, when all of the events of that night were unfolding in real time, I was sandwiched in between Paul Hagen and Jim Salisbury in the not-so-modern press box of the stadium while pounding away on my laptop, deadline on the East Coast fast approaching. For the previous 30 minutes, I had been re-writing my "Phillies win, take 3-1 series lead story" into a "Rough sixth inning evens series" story. Then Shane Victorino did the improbable to tie the game, and I stopped tying and started watching. A couple of batters later, when Matt Stairs walked to the plate with a man on base, I turned to Hagen.
In jest, I said, "Watch, now Stairs will hit a home run" (We sports writers can be a cynical lot).
Four pitches later, Stairs swung, and the ball leapt off the bat, and there was never a doubt, and as soon as ball met wood, I channeled my inner-Utley and said the first thing that came to mind: