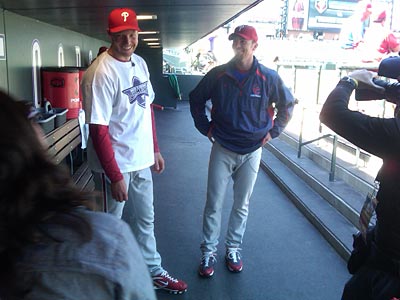 Yesterday's make-up was scheduled at a perfect time for Fox Sports Midwest, who snagged a few minutes with Denver-area natives Roy Halladay and Brad Lidge to promo an upcoming football game between their former high schools.
Lidge's Cherry Creek High plays Halladay's Arvada West on Sept. 16 in a showdown between two of the region's athletic powerhouses. Back in 1995, Lidge was part of a Cherry Creek baseball team that defeated Halladay and Arvada West en route to the state title.
The closer donned a navy windbreaker with his alma mater's logo, while Halladay wore a white Arvada West T-Shirt while filming the segment.