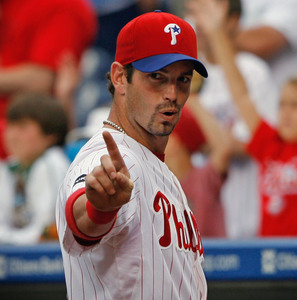 Aaron Rowand is back in Philly tonight. Hopefully, his return will not spark a whole new round of questioning about whether the Phillies miss his leadership. It was a viable topic in spring training and early in the season. But the ship has sailed. I know the Phils are tired of hearing about it, and right now, the only thing that matters is the line-ups both teams are putting on the field.
Kyle Kendrick is on the hill tonight against Pat Misch.
Shane Victorino is leading off for the second straight night. He has swung the bat well the past couple of days, missing a home run two days ago by a few yards to the left of the left field foul pole, and hitting a double and scoring a run last night. He also made a tremendous play in center field to chase down a long fly ball off the bat of Tadahito Iguchi that probably would have put the go-ahead run on second with no out.
The only change in the line-up has Chris Coste starting in place of Carlos Ruiz. That isn't a surprise. Coste has caught Kendrick all season.