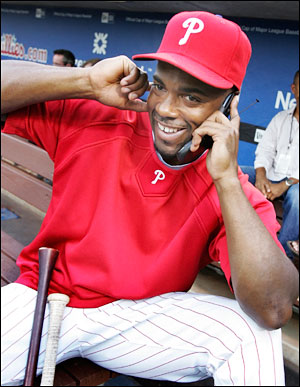 Here's the most interesting factoid I ran across when working on today's off-day story on Jimmy Rollins' return to the Bay Area:
While Rollins numbers may seem off his MVP pace of a year ago, in actuality, they are fairly similar to where he was at this time last year. When I say "this time last year," I'm speaking in reference to the number of games he has actually played, rather than the date, since Rollins missed more than 20 games with a sprained ankle.
Here are his 2008 numbers through 235 plate appearances:
.282 BA, 6 HR, 26 RBI, 34 RS, .346 OBP, 17 SB with six home runs, 26 RBI, and 34 runs scored.
Here are his 2007 numbers through 234 plate appearances:
.271, 9 HR, 28 RBI, 41 RS, .326 OBP, 10 SB.
So his on base percentage is better, his stolen bases are better, his batting average is better. His power numbers are slightly down, but we all know that home runs come in bunches. I don't know if there is a deeper meaning in any of that, but it's interesting.
I had an opportunity to spend a couple hours with Rollins' high school coach yesterday. I covered high school sports at my last stop and it's always fascinating to watch guys who have made the pros through the eyes of those who were there at the beginning. Encinal has produced its share of All-Star baseball players, starting with Willie Stargell and proceeding through Rollins and Tigers lefty Dontrelle Willis. Jim Saunders office at Encinal is plastered with pictures of all three guys, though Stargell was there well before Saunders got to the school.
Rollins hasn't changed much since his high school days. I was looking at the front page of the sports section of the Oakland Tribune from his senior year of high school when he was named the paper's Player of the Year, and he looks exactly like he does today. Saunders said Rollins played the game like he was 30 years old even when he was 18. His preparation was unbelievable, the coach said. He never had to put Rollins in position on defense. In fact, by the time Saunders would look up to signal a shift to his outfielders, Rollins had already taken care of it, motioning them to the proper alignment.