Phillies to activate Lidge from DL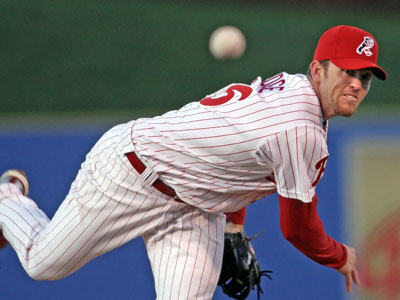 News blogs, sports blogs, entertainment blogs, and more from Philly.com, The Philadelphia Inquirer and the Philadelphia Daily News.
Phillies to activate Lidge from DL
Daily News staff
Reliever Brad Lidge will be activated from the disabled list in time for tomorrow night's game against the New York Mets, the Phillies announced.
Lidge, 33, was placed on the disabled list on March 26, while recovering from right elbow surgery. He combined to go 0-1 with a 5.19 ERA with four walks and eight strikeouts in eight rehab appearances between Triple A Lehigh Valley, Double A Reading and Single A Clearwater. After allowing five runs over his first two rehab appearances in 1.2 innings, Lidge pitched 7.0 scoreless innings over his final six appearances.
To make room for Lidge on the 25-man roster, lefthanded pitcher Antonio Bastardo was optioned to Lehigh Valley after yesterday's game.