A Trade Deadline Retrospective. . . and a Happ start?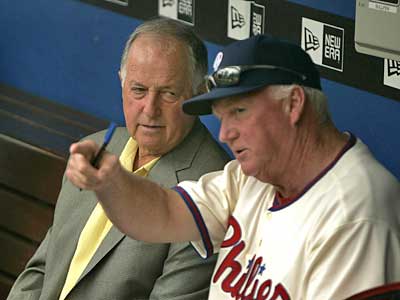 According to GM Pat Gillick, the Phillies were considering Manny Ramirez as a viable option at one point, but eventually turned their attention toward landing a starting pitcher in a three-way deal that fell through.
A Trade Deadline Retrospective. . . and a Happ start?

Lots of stuff to get to. Before I get into some of the details of the trade deadline negotiations, I thought I'd point out one of the most intriguing and bewildering developments of the day. General manager Pat Gillick said the Phillies were pondering an "adjustment" that would get J.A. Happ out of the bullpen. When asked if that adjustment involved sending Happ to the minor leagues, Gillick said that the Phillies were examining another "alternative." I'll tell you this: it isn't Brett Myers going to the bullpen. Beyond that, I have nothing concrete.
Gillick didn't say it was a definite. But everything the Phillies have said - particularly Charlie Manuel, who reiterated today that he views Happ as a starter - seems to indicate that they want the young lefty to get another major league start.
Now, onto the other business. . .
Gillick said the Phillies thought they had a chance to add a starting pitcher through a three-way trade that eventually fell through. He also said the Phillies were involved in discussions for Manny Ramirez, but that the asking price was too high. Ramirez eventually landed with the Dodgers.
Other notes:
1) The market for lefty relievers was well beyond what the Phillies were willing to pay. For example, the Marlins gave up a 21-year-old pitcher who Baseball America rated as the No. 5 prospect in the organization to land 38-year-old Arthur Rhodes.
2) Interest in short stop Jason Donald was significant, but it would have taken the right player for the Phillies to part with him.
3) Gillick and Manuel both said they are not disappointed that they did not add another piece. The silver lining: the Mets and Marlins did not significantly upgrade either.
Though the Phillies spent much of the past two days actively trying to land a lefthanded reliever in order to bolster their playoff chances, Major League Baseball's trading deadline passed at 4 p.m. today without any announced moves.
The Phillies had considered a number of players, including Pittsburgh's John Grabow, Atlanta's Will Ohman, San Francisco's Jack Taschner and Kansas City's Ron Mahay, but were unable to strike a deal.
The Phillies still could add a player before the end of the season, but any players involved in a trade would have to pass through waivers before being dealt. It isn't out of the question -- the Phillies added Jamie Moyer in that manner two years ago -- but general manager Pat Gillick said yesterday the likelihood of a deal decreases significantly once today's deadline passes.
"There are guys that slip through, but there is just a larger pool of players to pick from prior to (the deadline)," Gillick said.
The Phillies added righthander Joe Blanton earlier this month, but were hopeful to add a lefty reliever to supplement J.C. Romero in the bullpen. They also were exploring a possible deal for a hitter that could help bolster an offense that has been inconsistent for most of the last two months.
Striking a deal beyond July 31 can be difficult because rival clubs can block a trade by claiming a player off of waivers and forcing his current club to withdraw the waiver request and keep him on the team.
So while the Phillies may not be done adding personnel, all the major parts are likely in place for the playoff run.