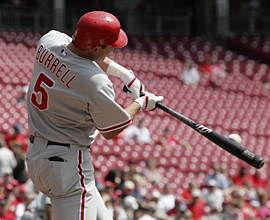 It seems Jimmy Rollins isn't the only Phillie who likes zinging the Mets. We were talking to Charlie Manuel post-game when he addressed the back-and-forth between the two teams the past year or so. Now, keep in mind, Manuel's a little under the weather (he's been sick for the past few days) and thus perhaps a little less judicious than normal. But he had me laughing.
"As long as we whip them, we don't have to make a big deal out of it," Manuel said yesterday after the Phillies' 5-3 win over the Reds at Great American Ballpark. "They'll talk, we'll hit. That's the only way I see it."
Nobody in the clubhouse is pretending not to care about this series.
Pat Burrell: "It could be worse. It could be two teams that finish in last place every year and nobody cares. So it's exciting. Personally I enjoy going to NY and playing, there's a little extra excitement there and especially with what happened last year, I don't think anybody would say otherwise."