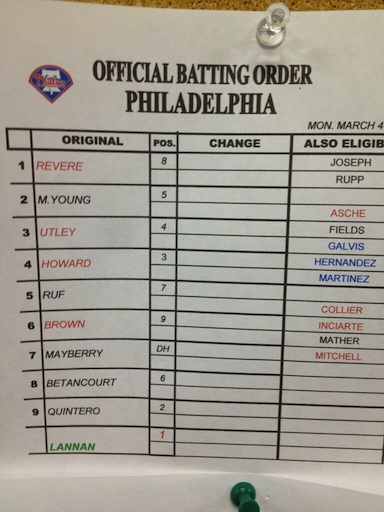 We are 10 games into a 34-game Grapefruit League schedule with the Phillies traveling to Bradenton to face the Pirates today. The game is not on television or radio, although MLB.com will be airing an audio broadcast of the game. John Lannan is making his second of the spring. In his first outing, on Feb. 27, he pitched two innings against the Twins, allowing one run on four hits and one walk with one strikeout.
Some random facts/thoughts/observations as we gear up for another week. . .
1) Raul Valdes is scheduled to pitch against the Pirates today, one day after two of his rivals for a spot in the bullpen pitched against the Orioles in Sarasota. Valdes has allowed three home runs and six baserunners in his two outings this spring. The Phillies might be envisioning the 35-year-old lefty as their chief long man, as both of his outings thus far have lasted multiple innings. Valdes has five strikeouts and no walks in four innings of work. Last year, he appeared in 27 games for the Phillies, posting a 2.90 ERA and strong rate stats (10.2 K/9, 1.5 BB/9, 0.9 HR/9) in 31 innings. He held lefties to a .149/.167/.277 line with 19 strikeouts and one walk in 49 plate appearances. Valdes is a strong candidate for one of those final bullpen spots. But so is Jeremy Horst, who has struggled thus far this spring, allowing three home runs and two walks with no strikeouts and seven earned runs in 3 2/3 innings. Six of the runs, two of the home runs, and both of the walks came yesterday against the Orioles. Horst was the most consistent middle reliever in the bullpen last year, posting a 1.15 ERA, 11.5 K/9, 4.0 BB/9 and 0.3 HR/9 in 31 1/3 innings. For what it is worth, Horst did not have a great start to the spring last year, either. One pitcher who did have a good spring last year was Jake Diekman, who opened the Phillies eyes by striking out nine batters in five innings, putting himself in position for an early-season call-up. The lefty looked good yesterday, striking out five without issuing a walk in two innings of work. He also hit a batter and allowed two hits and was charged with a run. Diekman's chances of an Opening Day roster spot rest on his ability to convince the Phillies that he can throw strikes when called upon. Last year, he walked eight lefties and hit two with pitches in 56 plate appearances and he walked 12 righties and hit one in 75 plate appearances. In his first two outings this spring, Diekman walked two while issuing two strikeouts.
2) Adam Morgan will be making his third appearance of the spring. Last time out, the young lefty struck out four and did not walk a batter but allowed five hits and four runs (only one of which was earned) in 1 2/3 innings.
3) Mike Adams is scheduled to make his second appearance of the spring. The veteran righthander made his Phillies debut on Thursday, striking out one and allowing one hit against the Braves.
4) Domonic Brown's third home run of the spring in yesterday's game against the Blue Jays gave him six in 81 career Grapefruit League ABs. Brown has a .296/.396/.605 line in his Grapefruit League career and is 7-for-20 with six walks, three home runs, a double and four strikeouts in 20 ABs this year.
5) Ryan Howard is crushing the ball this spring with three home runs and three doubles in 24 ABs. That's not uncommon for Howard this time of year. His spring OPS by year: 1.133 (2006), .710 (2007), 1.017 (2008), 1.180 (2009), .896 (2010), .904 (2011).
6) Today's lineup against the Pirates in Bradenton: 1. Revere CF, 2. M. Young 3B, 3. Utley 2B, 4. Howard 1B, 5. Ruf LF, 6. Brown RF, 7. Mayberry DH, 8. Betancourt SS, 9. Quintero C.
7) The pitchers for Tuesday's game against the Dominican Republic: Cole Hamels, Jonathan Papelbon, Ethan Martin and Jonathan Pettibone.
8) The Nationals make a rare trip west to Clearwater on Wednesday. Scheduled to face the NL East champs: Roy Halladay, Mike Stutes, Antonio Bastardo, Justin De Fratus, Jake Diekman and Chad Durbin.
---