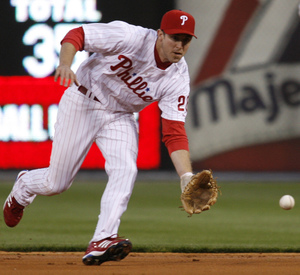 One of the things that may have been lost in last night's rousing ninth inning is the man who would have had an opportunity to win the game had Geoff Jenkins not taken matters into his own hands. I don't think there's any question that last night's ninth was the most entertaining inning of baseball we've watched out of this Phillies team this year. The only thing that could have made it better is if Eric Bruntlett had continued his turn-around from his rough start by knocking in the game-winning run against his former team. The former Astro short stop was standing in the on-deck circle when Pedro Feliz knocked his double down the left-field line, sparking Jenkins mad dash from first to home.
Other musings:
1) I talked to Brad Lidge before the game, but not afterwards. He doesn't strike me as the kind of guy who would gloat, but it was interesting that after being shipped out of Houston for a rough 2007 campaign, his replacement, Jose Valverde, blew a three run lead in the ninth against the Phillies.
2) I referred to an email from a reader last night that raised the possibility that Manuel might have pinch-ran for Pat Burrell in the seventh had he reached base. I'm not sure one way or another what would have happened. The Phillies pinch-ran for Burrell the night before down by one run, but that was an obvious situation to do so. Down three runs, I'm not sure what they would have done.
3) Just to give you all a little insight into how this reporting game works: Heading into the ninth inning last night, I had my game story pretty much written. Once again, the Phillies' bats had let Adam Eaton down. Last year, it usually worked the other way around. In his first two starts, the team was giving the veteran right hander under three runs of run support, yet Eaton had allowed just 3 runs in each of his first two starts. That 2.63 run support average ranks Eaton in the bottom 25 percent of NL starters. Last year, he enjoyed more than 5 and a half runs of run support, yet had an ERA in the upper 6's. Anyway, that's not the point. There's this neat little feature on Microsoft Word called "select all." Hit it, and you can highlight all of the text you've written. After Burrell's game-tying home run, I did just that, and then hit the delete key. There's no cheering in the press box, but with an 11 p.m. deadline looming and the possibility of yet another extra innings game staring me right in the face, you can bet there was a little piece of my insides that was yelling "Run, Geoff, Run" as Mr. Jenkins circled the bases and brought the game to an end in the ninth.
4) Kris Benson will throw another bullpen session today, then another one Saturday. Where does this leave him? Perhaps facing batters in a live batting practice session next week. It's still too early to tell when he might get a rehab start in a minor league game. But facing actual hitters will be a big step. He hasn't faced them since the end of spring training, when a bout with shoulder soreness after a minor league start set him back a little bit.
5) Kyle Kendrick goes tonight. A big thing that could help him? He's never faced the Astros before. In fact, Geoff Blum is the only Houston position player with an at-bat against the second-year pitcher. Blum went 1-for-3 with a triple last season against Kenrick while playing for San Diego.
6) The Iron Pigs won their second straight last night.
7) Jimmy Rollins' ankle is still technically a day-to-day thing. Which means he could return tonight. But he didn't appear to push himself too much yesterday while fielding ground balls prior to the game. If I had to guess - and I stress this is only a guess - I don't think he's playing tonight. Then again, I could be wrong.