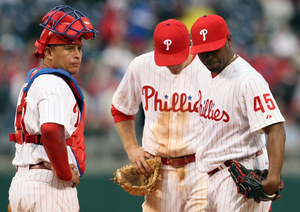 Good morning.
Here's the run-down:
1) PANIC AT THE DISCO: In case you didn't get to take a look at the NL East standings, the Mets, Phillies and Braves are a combined 1-4. I say this not to crown the Marlins and Nationals division champs, but to hopefully stem the flow of red-and-white clad bodies hurling themselves from the span of the Walt Whitman Bridge. It's early. The Braves bullpen allowed nine runs two days ago in a loss to the mighty, mighty Pirates. There was a plethora of things to be concerned about in the Phils' 11-6 loss to the Nats two days ago, first and foremost the performance of Tom Gordon. But give 'em a mulligan and see what happens over the next week. Once is a fluke. Twice is a trend. Three times is a problem. There'll be plenty of time to worry if this keeps up.
2) TONIGHT, TONIGHT: We'll see if Cole Hamels can get the Phils their first W of the season. The ace lefty takes the hill tonight against Tim Redding in the first regular season night game of the season. I believe it is dollar hot dog day at the Bank, which might as well be a national holiday. It'll be a little chilly again, with temperatures in the low 50's. Bundle up.