MLB denies Phillies' protest

News blogs, sports blogs, entertainment blogs, and more from Philly.com, The Philadelphia Inquirer and the Philadelphia Daily News.
MLB denies Phillies' protest
Paul Hagen and Daily News staff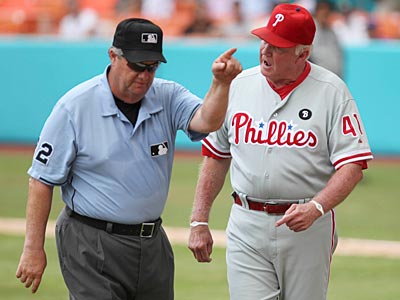 In a statement, Major League Baseball announced it has denied the Phillies' protest of Sunday's game against the Florida Marlins.
"Executive Vice President for Baseball Operations Joe Torre has denied the formal protest filed by the Philadelphia Phillies regarding their Sunday, September 4th game against the Florida Marlins at Sun Life Stadium," the statement from MLB read.
The Phillies had argued that the umpires had improperly applied the replay rule regarding a ball hit by Hunter Pence in the sixth inning of what became a 5-4 loss in 14 innings.
General manager Ruben Amaro Jr. declined to comment on the ruling.
Manager Charlie Manuel said he was not surprised with the outcome.
---
Download our NEW iPhone/Android app for easy access to all of our Phillies coverage, plus app-exclusive videos and analysis. Get it here.