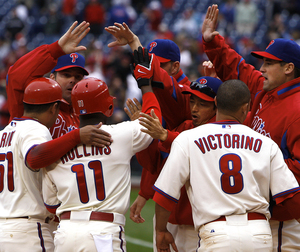 Top of the morning from Gate F24 at the Philadelphia airport. We're bound for Cincinnati, where Kyle Kendrick squares off against Josh Fogg tonight. I'm riding a plane that looks like one of those contraptions I used to build out of balsa wood when I was a kid, so keep me in your prayers.
Here's the run-down:
1) ROLLINS: A couple of emailers dropped a line to ask what was up with Jimmy Rollins blowing off the media after his late-game heroics lifted the Phils to a 8-7 win over the Nationals yesterday. Frankly, I'm not sure. We all wore deodorant yesterday, and a few of us even tucked in our shirts. I don't think it's a big deal. It's only game three. I'll say this: Rollins was great with the fans throughout spring training.
2) ROLLINS II: I've heard a lot of debate since last offseason about Rollins' merits as MVP. Forget his numbers. It's plays like the one he made yesterday that are the reason he deserved the award. There is no place on the stat sheet for going first to third on a sacrifice bunt.
3) MOYER: Jamie Moyer didn't seem too concerned with his performance yesterday. Catcher Chris Coste said the 45-year-old left-hander threw a lot better than his final pitching line (he allowed five runs in the first inning).
4) BULLPEN: Another shout out to the bullpen. I've said since Opening Day I think Chad Durbin will be a big key for this pitching staff, and he's pitched three scoreless thus far this season, making appearances in each game. This is the first time in his life he's ever pitched on back-to-back days. He'd rather be a starter. But his 1 1/3 innings yesterday were crucial.
5) LIDGE: Still not sure whether to expect Brad Lidge in Cincinnati this weekend. Charlie Manuel said yesterday he didn't know when the closer would rejoin the team. Lidge allowed a double and a home run last night in a minor league game in Clearwater. There is a chance the Phillies keep him in Clearwater a little longer so he is completely ready to go once he returns. I wouldn't be surprised to see him make another appearance Saturday, then rejoin the team in New York.
6) Plane's about to take off. See you tonight for Kendrick vs. Fogg.