Howard has full tear; out 5-6 months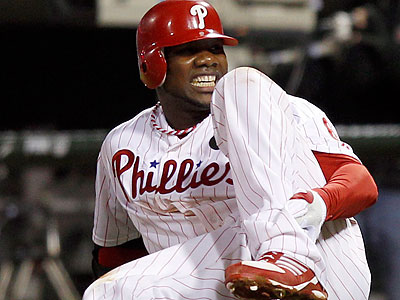 News blogs, sports blogs, entertainment blogs, and more from Philly.com, The Philadelphia Inquirer and the Philadelphia Daily News.
Howard has full tear; out 5-6 months
Paul Hagen
Phillies general manager Ruben Amaro Jr. confirmed that first baseman Ryan Howard had a full tear of his left Achilles tendon, after surgery was performed by Dr. Mark Myerson in Baltimore.
The surgery was described as successful and included a PRP injection.
"It's going to be 5 to 6 months from the surgery until he can play at his accustomed level," Amaro said in a statement released by the team. "A lot depends on how he recovers. The start of the season could be impacted, but I still hope he makes his first at bat of the season."
Howard will be immobilized for up to two weeks. He could begin weight bearing and and strengthening exercises in approximately a month.
---
Download our NEW iPhone/Android app for easy access to all of our Phillies coverage, plus app-exclusive videos and analysis. Get it here.