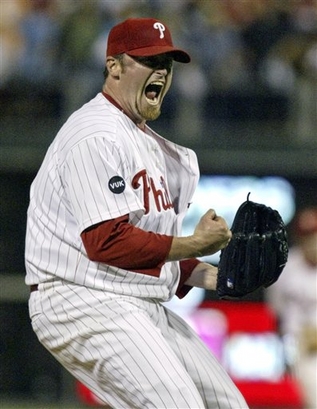 I think it's stating the obvious that we've seen the value of good pitching over the past couple of days. Even though the Phils eventually scored five runs on eight hits last night, you could argue that they were in a position to do so only because Brett Myers limited their deficit through the first six innings. Psychologically, it is a lot easier to score runs trailing 2-1 than it is trailing 5-1, and that was the difference last night.
In fact, it's been the difference the past couple of nights, with Joe Blanton shutting down St. Louis Saturday night followed by Myers' performance (6 IP, 2 R, 2 ER, 4 H, 0 BB) last night.
Over the past eight games, the Phillies have a 3.68 ERA. They've won seven of those games. Over the past six games, they have a 3.23 ERA, and opponents are hitting just .245 against them.
Aside from Cole Hamels' hiccup Friday night, this has probably been the most successful trip through the rotation this season. Of the last six starters, five have allowed three or fewer runs in six or more innings.