Few of the decisions that the Phillies have made during this quickly-fading offseason should have come as a surprise. Ruben Amaro Jr.'s philosophy fit his track record: prioritize pitching and defense, strike early, and open the check book aggressively. Throughout the latter stages of the 2011 season, the Phillies did not try to hide the fact that they would prioritize the closer position, and their decision to hand a four-year, $50 million contract to Jonathan Papelbon reinforced the value they place on a veteran power arm at the back of the bullpen.
But the question remains: was giving a contract worth an average annual value of $12.5 million to a player who probably won't log more than 70 innings the right move?
Now that the vast majority of poker chips have been exchanged, we can look at the Papelbon contract in more definite terms, at least with regard to the opportunity costs for this season. We are operating under the assumption that the Phillies do not have unlimited resources, which means that every move they make comes at the expense of another move. In other words, when they decided to pay Papelbon $11 million, or roughly 6.2 percent of the payroll for 2012, they also decided not to spend that $11 million, or 6.2 percent, elsewhere.
When Papelbon signed, we spent plenty of ink and bandwidth examining what the Phillies gained. Now that we know how the free agent and trade markets unfolded, let's take a look at what they sacrificed, at least hypothetically.
After the Phillies' loss to the Cardinals in the NLDS, we identified the bullpen, short stop, left field and third base as the three positions the club needed to address. The Phillies ended up signing six players -- Papelbon, SS Jimmy Rollins, OF Laynce Nix, 1B/DH Jim Thome, LHP Dontrelle Willis and C Brian Schneider -- to contracts totaling $93.4 million over 12 years for an average annual value (AAV) of $7.8 million. They also traded for Ty Wigginton, who will earn $2 million from the club in 2012.
For the sake of this analysis, let's take Rollins and Schneider out of the equation and focus on the five new players and their price tags. We'll use AAV as the price tage (Papelbon will actually make $11 million this year and $13 in 2013-15:
Jonathan Papelbon: $12.5 million
Ty Wigginton: $2.0 million
Laynce Nix: $1.25 million
Jim Thome: $1.25 million
Dontrelle Willis: .850 million
The Phillies made two big philosophical decisions this offseason. The first was to dedicate a big chunk of payroll to a closer. The second was to supplement their existing options in left field and at third base with low-cost veterans rather than spending big on players who could replace the oft-injured Placido Polanco at third base or the inexperienced John Mayberry Jr. in left field.
When the Phillies bucked the recent national trend of bullpen austerity and announced the Papelbon deal, many pundits wondered whether they were ushering in a return to an era of big spending on relievers. But few other teams followed their lead. Rather than tying up large chunks of payroll space in one pitcher, most general managers opted to cobble together bullpens on the cheap.
Below are the relievers who were acquired either via free agency or trade this offseason: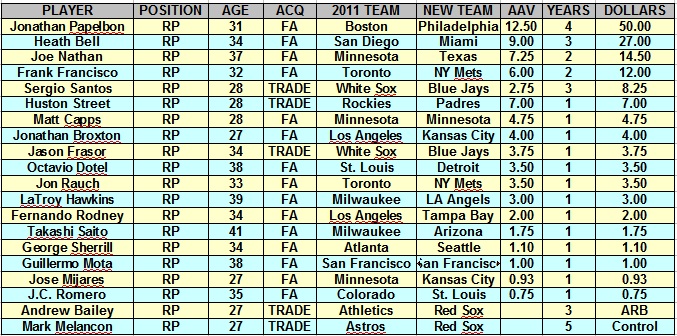 Now, let's take a look at the third basemen and outfielder who were acquired:

For what the Phillies will pay Papelbon, they theoretically could have signed Matt Capps, Octavio Dotel, and Jon Rauch. Or they could have signed Joe Nathan and Matt Capps. Or they could have signed Heath Bell and Dotel or Rauch or Fernando Rodney. Or they could have signed Jonathan Broxton, LaTroy Hawkins, Fernando Rodney and Takashi Saito while hoping at least two them would have a bounce-back year.
They also could have attempted to take the Boston Red Sox approach and fortify the bullpen by trading for young, cheap options. Swinging a deal for a Sergio Santos or an Andrew Bailey might have enabled them to make a play for a Michael Cuddyer or Carlos Beltran or Aramis Ramirez or David DeJesus or Jason Kubel.
Obviously, the free agent market is not like a grocery store, so there is no telling whether the Phillies would have been able to sign or trade for the aforementioned players at their aforementioned prices. And we won't know whether they made the optimal decisions until at least the end of 2012, and probably not until the final year of Papelbon's deal. Still, it is worth thinking about.
They definitely bought themselves as much certainty for 2012 as a team can hope for by signing Papelbon, whose track record is virtually unblemished. But in doing so, they took three big leaps of faith: one, that veteran Jose Contreras and young relievers Michael Stutes and Antonio Bastardo will provide enough depth behind their star closer; two, that John Mayberry Jr. and Laynce Nix will provide enough offense in left field; three, that Placido Polanco, Jimmy Rollins, Chase Utley and Ryan Howard will be healthy and productive enough to justify their decision not to add another significant hitter to the mix.
---