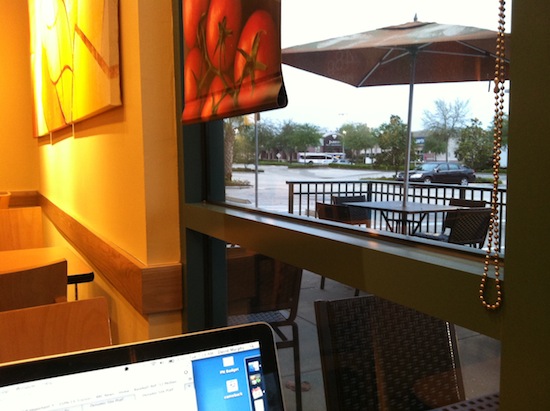 By now you are used to baseball writers taunting you with instagrammed photos of palm trees and sandy beaches and cleav... well, let's just call it warm weather.
But I can assure you that the majority of Florida looks more like the picture you see above. That's the Panera off of Gulf-to-Bay boulevard here in Clearwater, about a half mile from Bright House Field. It's in a strip mall. Florida has a lot of strip malls.
Anyhow, the big news in baseball today is that the last outfield domino has finally fallen on the free agent market with the Cleveland Indians surprising some people by signing Michael Bourn to a four-year, $48 million contract with a vesting option for a fifth year. It's actually a pretty reasonable deal -- I'd rather have $48 million locked up in Michael Bourn than $75 million in B.J. Upton. That being said, I'm not sure I'd want to have either, and the Phillies clearly felt the same way, which is why they opted to deal for Ben Revere, who will earn around $500,000 this season.