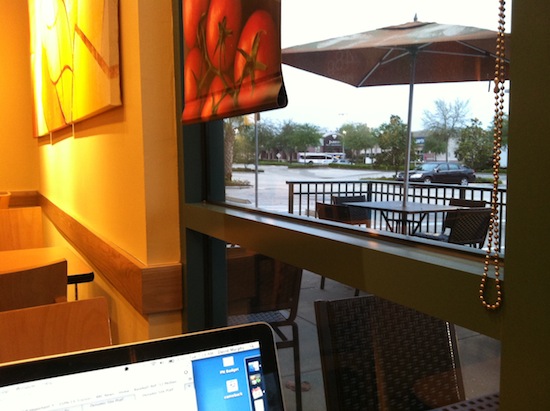 By now you are used to baseball writers taunting you with instagrammed photos of palm trees and sandy beaches and cleav... well, let's just call it warm weather.
But I can assure you that the majority of Florida looks more like the picture you see above. That's the Panera off of Gulf-to-Bay boulevard here in Clearwater, about a half mile from Bright House Field. It's in a strip mall. Florida has a lot of strip malls.
Anyhow, the big news in baseball today is that the last outfield domino has finally fallen on the free agent market with the Cleveland Indians surprising some people by signing Michael Bourn to a four-year, $48 million contract with a vesting option for a fifth year. It's actually a pretty reasonable deal -- I'd rather have $48 million locked up in Michael Bourn than $75 million in B.J. Upton. That being said, I'm not sure I'd want to have either, and the Phillies clearly felt the same way, which is why they opted to deal for Ben Revere, who will earn around $500,000 this season.
So now that all is said and done, how did the Revere deal compare to the centerfield strategies employed by other teams?
Here's a quick breakdown of the moves:
1) Washington Nationals acquire Denard Span for RHP Alex Meyer
The national punditry liked this one a lot for the Nationals, and it is easy to see why. Span is a good defensive center fielder who brings solid contact and on base numbers, plus speed, to a premium position. That being said, he has not come close to duplicating the production he showed in his first two years in the majors, when he OBP'ed .380+ and OPS'ed .807+ in 2008-09. Meyer has big upside, but he has exactly one year of minor league service. The Nationals drafted him No. 23 overall in 2011. He finished last year at high-Class A Potomac, where he posted a 2.31 ERA, 7.4 K/9, 2.5 BB/9 and 0.5 HR/9 in 7 starts. By comparison, the Phillies traded Trevor May and Vance Worley to the Twins for Revere. At this time last year, May was at a juncture similar to Meyer: he was 21 years old, coming off a full season at high-A Clearwater, he was the Phillies' top pitching prospect, a Top 75 in the game according to Baseball America, and had posted a 3.63 ERA, 12.4 K/9, 4.0 BB/9 and 0.5 HR/9 during the 2011 season. May obvioulsy had a down year in 2012, but that was at Double-A Reading, a level Meyer has yet to see. You can certainly argue that the Phillies gave up more for Revere than the Nationals did for Span. That being said, you can also argue that Revere is the more attractive asset at this point in his career. For starters, Span is guaranteed $11.25 million over the next two years, with a $9 million option and $500,000 buyout for 2015, when he will be 31. Revere, by contrast, will make around $500,000 this year before entering the arbitration process, at which point he will still be a bargain (say, $3 million in 2014 and $5 million in 2015, when he will be 27 years old.
Revere likely has yet to reach his physical peak. And his numbers last year -- .294/.333/.342, 40 steals -- are not much different from the ones Span has posted over the previous 3 seasons (.271/.334/.367, 16 steals-per-season). That being said, I'll give the edge to the Nationals because Span is a surer bet to improve their playoff odds this season, and because they did not trade away a member of their rotation.
2) Phillies acquire Revere for Trevor May and Vance Worley
I get the sense that the Phillies were a bit leery about Worley's conditioning, which was an issue at times in the minors and which slipped a bit last season. Still, the decision to part with the young righthander could easily come back to haunt them if John Lannan or Kyle Kendrick pitches down to the level they are capable of. That being said, the Phillies were wise to avoid the free agent market at all costs. You can argue that they would have been better off with Bourn at the deal he signed while keeping Worley and May in the fold, but if the Phillies were players for Bourn there is a good chance his price would have ballooned, so it is tough to revise history in that sense. I keep wanting to not like this trade because the Phillies did not really address any of their offensive needs for this season with it. Really, though, I'm not sure that addressing those needs was a realistic option given the ridiculous contracts that guys like B.J. Upton and Angel Pagan ended up signing. And at the very least the Phillies got a good defender at a cheap salary who will make contact and steal bases. And if he develops a little more gap power and learns to take a walk or two, he could turn into Bourn at that age.
3) Indians sign Michael Bourn to four-year, $48 million deal
In addition to best-in-the-majors defense and base-stealing ability, Bourn brings a better OBP (.348 since 2009) and better gap power (a .378 SLG, or .098 ISO) than Span or Revere. And he has been more consistent than Pagan. The only question is whether the Indians were wise to make this move. Cleveland actually made two signings that would have drastically improved the Phillies' chances this year, landing Nick Swisher and Bourn.
Imagine this lineup:
Michael Bourn CF (LHB)
Chase Utley 2B (LHB)
Nick Swisher RF (SH)
Ryan Howard 1B (LHB)
Michael Young 3B (RHB)
Jimmy Rollins SS (SH)
Domonic Brown LF (LHB)
Carlos Ruiz C (RHB)
PITCHER
That being said, we're assuming the Phillies have an unlimited payroll, and clearly they do not. Which is why they did not sign either Bourn or Swisher. Cleveland has a ton of potential in its lineup with Bourn-Kipinis-Cabrera-Swisher-Santana-Reynolds-Brantley-Chisenhall, and you can at least see a scenario in which things break right in their rotation with Jimenez-Masterson-Myers-McAllister-Matsuzaka. That said, I think they are setting themselves up to make a big splash with a starting pitcher either at the trade deadline or next offseason. And as long as they are willing to spend money, I could see them being a contender by either the second or third year of the Bourn deal.
4) Giants re-sign Angel Pagan to four-year, $40 million deal
Pagan will be 31 years old in 2013, meaning he will be 34 when this deal expires. And $10 million AAV seems awfully high for a guy who was cast off by the Mets last season. Still, you can't argue with his career averages -- .281/.333/.424, 29 steals per season. In fact, you can argue that the was the best offensive center fielder available this offseason. Thing is, he only has three seasons with more than 400 plate appearances. And he is the oldest among the players who changed teams. I'd rather have Bourn at 4/48 than Pagan at 4/40. But that's just me.
5) Reds throw crap against wall, hope it sticks
Shin Soo-Choo is a solid player. More than solid, really. But is he really going to play center field? And are the Reds really going to ignore what they learned against the Phillies in the 2010 NLDS, that while defense does not win championships in baseball, it can, and often does, cost championships.
6) Braves sign B.J. Upton to a five-year, $75 million deal
In my opinion, a huge overpay. That being said, over the summer I compared Upton's situation to the one Adrian Beltre was in before he began his renaissance with the Red Sox. If Upton realizes his potnetial, the deal will look fair. But that is a big IF.
---