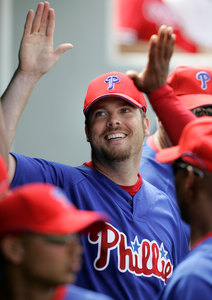 Charlie Manuel didn't say the exact words, but anybody who was in the manager's office in Fort Myers yesterday realized that Adam Eaton would enter the season as the Phillies' No. 5 starter. We asked him several times if Eaton had won the job, and he never answered directly, but he said everything he possibly could without saying "it."
"He's had it all along, really," manager Charlie Manuel said. "I haven't seen anybody take it away from him."
Watching Eaton's performance in person was almost as impressive as looking at his final line (four hits, one run, five and a third pitched). His fastball looked great coming out of his hand, and he routinely got ahead in counts, keeping hitters on their toes. All day, it looked like the Twins were trying to keep up with him, and not the other way around.
Yes, it's only spring training. But if he can bottle his performance yesterday up and unleash it all season, it'd be a huuuuuge boost for this rotation. Manuel said after the game what all of us already know: outside of Brett Myers and Cole Hamels, the Phillies don't need pitchers who are going to single-handedly win them games. They need guys who are going to give them six innings and allow the team's line-up to score runs. That's what the Phillies thought they were getting last season when they signed Eaton to a three-year, 24.5 million dollar contract. It didn't work out that way. Luckily, a guy named Kyle Kendrick rescued the bottom portion of the rotation. That said, if the Phillies can get both Eaton and Kendrick clicking this year, it'd be a huge improvement.
Again, it's only spring training. Two exhibition outings aren't enough to label Eaton the Messiah.
Still, you have to be happy with his performance this past week.