First Look: Spring Training Roster/Depth Chart Breakdown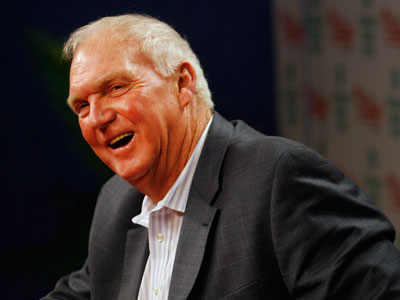 Updated - 2:50 p.m. (includes Carpenter and Villarreal)
First Look: Spring Training Roster/Depth Chart Breakdown

Updated - 2:50 p.m. (includes Carpenter and Villarreal)
By our count, the Phillies currently have 59 players scheduled to attend spring training, which begins on Feb. 18 when pitchers and catchers hold their first workouts. Last year, 63 players were on the roster when spring training began. The Phillies are still looking to add a veteran lefty reliever on a minor league contract, some depth for the rotation, and perhaps another bullpen arm or two. I could also see them bringing in a veteran right-handed bat on a minor league contract, should one happen to fall into their laps.

But the 2010 Opening Day roster will almost certainly be comprised of 25 of the following names. Over the course of the week, we'll break down some of the subplots to keep your eyes on, particularly in the early days of spring training before the Grapefruit League schedule begins.

For now, though, here is a look at a rough depth chart for the start of spring training. Included is the age the player either has turned or will turn in 2010. I've broken each position down into categories:
LOCK: Player is assured a spot on the Opening Day (or soon thereafter) roster
LIKELY: Player will likely be on the Opening Day (or soon thereafter) roster
CONTENDER: Player will have a serious opportunity to earn a roster spot in spring training.
DOWN THE ROAD: Player won't be on Opening Day roster, but could contribute later in the season thanks to injury.
INVENTORY: Non-prospect likely to begin season at Triple-A Lehigh Valley.
MAYBE IN '11: Player is still a prospect who likely will spend entire year in minors.
INJURY QUESTION: Player enters spring training with a pre-existing injury that could sideline him for at least the first few weeks of the season.


Relievers

RHP Ryan Madson (30 on Aug. 28)
RHP Brad Lidge (34 on Dec. 23)
RHP Danys Baez (33 on Sep. 10)
RHP Chad Durbin (33 on Dec. 3)
RHP Jose Contreras (39 on Dec. 6)
LHP J.C. Romero (34 on June 4)
LHP Antonio Bastardo (25 on Sept. 21)
LHP Sergio Escalona (26 on Aug. 3)
RHP David Herndon (25 on Sept. 4)
RHP Scott Mathieson (26 on Feb. 27)
RHP Oscar Villarreal (29 on Nov. 22)
LHP Mike Zagurski (27 on Jan. 27)
RHP B.J. Rosenberg (25 on Sept. 17)
RHP Ehren Wasserman (30 on Dec. 6)
LHP Bill White (32 on Nov. 20)
RHP J.C. Ramirez (22 on Aug. 16)

LOCKS: Madson, Lidge, Baez, Durbin, Contreras

LIKELY: Bastardo

CONTENDER: Escalona, Herndon, Mathieson, Villarreal, Zagurski

DOWN THE ROAD: Rosenberg

INVENTORY: White, Wassmerman

MAYBE in '11: Ramirez

INJURY QUESTION: Romero

Starters
RHP Roy Halladay (33 on May 14)
LHP Cole Hamels (27 on Dec. 27)
RHP Joe Blanton (30 on Dec. 11)
LHP J.A. Happ (28 on Oct. 19)
RHP Kyle Kendrick (26 on Aug. 26)
LHP Jamie Moyer (48 on Nov. 18)
RHP Ryan Vogelsong (33 on July 22)
RHP Andrew Carpenter (25 on May 18)
LHP Joe Savery (25 on Nov. 4)
LHP Yohan Flande (24 on Jan. 27)
RHP Drew Naylor (24 on May 31)
RHP Phillipe Aumont (21 on Jan. 7)
RHP Jesus Sanchez (23 on Sept. 24)

LOCKS: Halladay, Hamels, Blanton Happ

LIKELY: Kendrick

CONTENDERS: Vogelsong, Carpenter

DOWN THE ROAD: Savery, Flande

INVENTORY: Naylor

MAYBE IN '11: Aumont, Sanchez

INJURY QUESTION: Moyer


TOTAL PITCHERS: 27

Catchers
RH Carlos Ruiz (31 on Jan. 22)
LH Brian Schneider (34 on Nov. 26)
RH Paul Hoover (34 on April 14)
RH Tuffy Gosewisch (27 on Aug. 17)
RH Dane Sardinha (31 on April 8)
RH Kevin Nelson (29 on April 8)
LH John Suomi (30 on Oct. 5)

LOCKS: Ruiz, Schneider

DOWN THE ROAD: Sardinha, Hoover

INVENTORY: Gosewisch, Nelson, Suomi

TOTAL CATCHERS: 7

First Base
LH Ryan Howard (31 on Nov. 19)
LH Ross Gload (34 on April 5)
LH Greg Dobbs (32 on July 2)
LH Andy Tracy (37 on Dec. 11)

LOCKS: Howard, Gload, Dobbs

INVENTORY: Tracy


Second Base
LH Chase Utley (32 on Dec. 17)
RH Juan Castro (38 on June 20)
RH Brian Bocock (25 on March 9)
RH Cody Ransom (34 on Feb. 17)
SH Ozzie Chavez (27 on July 13)

LOCKS: Utley, Castro

INVENTORY: Bocock, Ransom, Chavez


Short Stop
SH Jimmy Rollins (32 on Nov. 27)
RH Juan Castro (38 on June 20)
RH Wilson Valdez (32 on May 20)
SH Ozzie Chavez (27 on July 13)
SH Freddy Galvis (21 on Nov. 14)
RH Cody Ransom (34 on Feb. 17)

LOCKS: Rollins, Castro

MAYBE IN '11: Galvis

INVENTORY: Valdez, Chavez, Ransom


Third Base
RH Placido Polanco (35 on Oct. 10)
LH Greg Dobbs (32 on July 2)
RH Juan Castro (38 on June 20)
RH Cody Ransom (34 on Feb. 17)

LOCKS: Polanco, Dobbs, Castro

DOWN THE ROAD: Ransom
TOTAL INFIELDERS: 13

Corner Outfield
RH Jayson Werth (31 on May 20)
LH Raul Ibanez (38 on June 2)
RH Ben Francisco (29 on Oct. 23)
LH DeWayne Wise (32 on Feb. 24)
LH Ross Gload (34 on April 5)
LH Greg Dobbs (32 on July 2)
RH John Mayberry (27 on Dec. 21)
LH Chris Duffy (30 on April 20)
RH Domonic Brown (23 on Sept. 3)
LH Quintin Berry (26 on Nov. 21)

LOCKS: Werth, Ibanez, Francisco, Gload, Dobbs

DOWN THE ROAD: Wise, Mayberry, Duffy

MAYBE IN '11: Brown, Berry

Center Field
SH Shane Victorino (30 on Nov. 30)
RH Ben Francisco (29 on Oct. 23)
LH DeWayne Wise (32 on Feb. 24)
LH Chris Duffy (30 on April 20)
LH Quintin Berry (26 on Nov. 21)
LH Tyson Gillies (22 on Oct. 31)

LOCKS: Victorino, Francisco

DOWN THE ROAD: Wise, Duffy

MAYBE IN '11: Berry, Gillies.

TOTAL OUTFIELDERS: 10