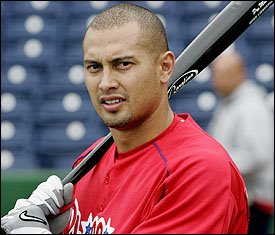 Shane Victorino isn't a patient hitter. It kind of fits with his personality. But over the past couple weeks, he appears to have become more disciplined at the plate. When he was struggling early in the season, he was swinging at any pitch that came close to the plate. The result were strikeouts, and a lot of weakly hit balls that went for easy outs.
But after going 3-for-4 last night, he has a 10-game hitting streak. He has reached base 50 percent of the time over the last two weeks. He has struck out just once during that timeframe.
I talked to a few different people about Victorino's progress at the plate. Charlie Manuel brought up Jimmy Rollins' name. Early in his career, Rollins only had a sliver of the plate discipline that he has today, and his numbers illustrate that.
Keep in mind that Victorino is only in his third season as a regular major league player. His numbers are actually better than Rollins' were in his third full season in the majors.