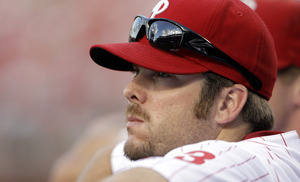 Adam Eaton will push his next appearance back a few days thanks to back problems that have hampered him all spring. The good news is, the pitcher thinks he knows the source of the problem. An MRI yesterday revealed a partially herniated disc, as well as some arthritis in the back. I asked Eaton where that news ranked on a scale from good to bad, and he said "good." The biggest issue, it seems, was finally being able to point to something concrete as the cause of the soreness that has plagued him.
However, arthritis isn't something that just goes away. These aren't muscular issues, as Red Sox ace Josh Beckett is currently suffering. So there's no telling how long they might linger. To combat the conditions, Eaton will focus more on core exercises with head trainer Scott Sheridan. But there really is no long-term prognosis. Eaton is scheduled to return to the mound March 15 against the Twins. Eaton's most recent appearance was on Thursday, meaning he will go eight days between appearances.
For more, check out our coverage from Paul Hagen in tomorrow's paper
*****
Tomorrow, Phils are in Bradenton. Brad Lidge and Kris Benson will both be pitching bullpen sessions before the bus leaves. We'll keep an eye on it for you.
*****
Interesting column here from the Cincinnati Enquirer's Paul Daugherty, who takes "Statboys" to task for their over-reliance on facts and figures rather than the feel of the game.
A sampling:
"Baseball's cerebral side involves numbers. While I believe in baseball-card wisdom - you are who the back of your card says you are - it's just a little piece of the whole. When some of us (OK, me mostly) advocated dealing, say, Votto and Homer Bailey for Oakland pitcher Joe Blanton, the Statboys came out flame-throwing numbers:
Blanton's a creation of his spacious home ballpark! Look at his ERA, home and away! Blanton's a flyball pitcher! Check out his ratio of groundballs to flies!
If you shot back that Blanton has won 42 times in the last three years - and that he went 7-5 at home last year and 7-5 on the road - if you suggested that no number matters but Games Won, you were dismissed as an illiterate.
(Actually, maybe Blanton won as many on the road as at home, even with a much higher road ERA, because Oakland's hitters worked under the same conditions as their pitcher. Allow more runs, score more runs. And factually, flyball man Blanton gave up only 16 home runs in 230 innings last year. But never mind.)
Numbers are fun to look at but dangerous to dwell on. Baker understands this. If Dunn walks 30 fewer times this year, he'll drive in 15 more runs. His on-base percentage will dip. Oh, no.
If Votto takes fewer first-pitch strikes, his run production will improve.
And so on. Here's a stat: Wins as manager: Dusty Baker, 1,162; Bill James, 0."
******